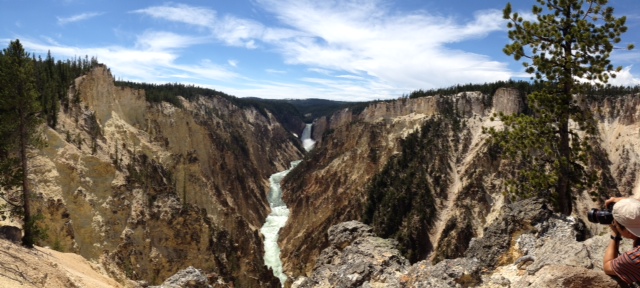 Yellowstone (July 2014, Michael Thiel)
There has been a lot of seismic activity lately. Notice the following related to Yellowstone:
Final call to save the world from 'climate catastrophe'

8 October 2018

It's the final call, say scientists, the most extensive warning yet on the risks of rising global temperatures.

Their dramatic report on keeping that rise under 1.5 degrees C says the world is now completely off track, heading instead towards 3C.

Keeping to the preferred target of 1.5C above pre-industrial levels will mean "rapid, far-reaching and unprecedented changes in all aspects of society". …

We can stay below it – but it will require urgent, large-scale changes from governments and individuals and we will have to invest a massive pile of cash every year, about 2.5% of global gross domestic product (GDP), the value of all goods and services produced, for two decades. https://www.bbc.com/news/science-environment-45775309

October 8, 2018
Limiting warming to 0.9 degrees from now means the world can keep "a semblance" of the ecosystems we have. Adding another 0.9 degrees on top of that — the looser global goal — essentially means a different and more challenging Earth for people and species, said another of the report's lead authors, Ove Hoegh-Guldberg, director of the Global Change Institute at the University of Queensland, Australia.

But meeting the more ambitious goal of slightly less warming would require immediate, draconian cuts in emissions of heat-trapping gases and dramatic changes in the energy field. While the U.N. panel says technically that's possible, it saw little chance of the needed adjustments happening.

In 2010, international negotiators adopted a goal of limiting warming to 2 degrees C (3.6 degrees F) since pre-industrial times. It's called the 2-degree goal. In 2015, when the nations of the world agreed to the historic Paris climate agreement, they set dual goals: 2 degrees C and a more demanding target of 1.5 degrees C from pre-industrial times. The 1.5 was at the urging of vulnerable countries that called 2 degrees a death sentence. …

To limit warming to the lower temperature goal, the world needs "rapid and far-reaching" changes in energy systems, land use, city and industrial design, transportation and building use, the report said. Annual carbon dioxide pollution levels that are still rising now would have to drop by about half by 2030 and then be near zero by 2050. Emissions of other greenhouse gases, such as methane, also will have to drop. Switching away rapidly from fossil fuels like coal, oil and gas to do this could be more expensive than the less ambitious goal, but it would clean the air of other pollutants. And that would have the side benefit of avoiding more than 100 million premature deaths through this century, the report said. https://www.apnews.com/de0bbfb74e544823a3fe2b375cf7e4eb/UN-report-on-global-warming-carries-life-or-death-warning
Will human efforts, such as those suggested above, prevent massive overheating of planet Earth?
No.
That would take something more unprecedented than the UN related report calls for.
It would require international repentance.
Since that is NOT prophesied to happen, notice something that will happen:
8 Then the fourth angel poured out his bowl on the sun, and power was given to him to scorch men with fire. 9 And men were scorched with great heat, and they blasphemed the name of God who has power over these plagues; and they did not repent and give Him glory. (Revelation 16:8-9)
Now, the above prophecy is for several years into the future–we are not too near that yet. But I believe that this will happen in the 21st century–probably within the next decade or two.
The Bible is clear that God controls the weather and various calamities, but wants people to heed His prophets:
6… If there is calamity in a city, will not the Lord have done it?

7 Surely the Lord God does nothing, Unless He reveals His secret to His servants the prophets. (Amos 3:6-7)
The Bible tells of weather-related blessings for obedience and weather-related curses for disobedience. Weather is not as random as many people seem to want to believe.
The Bible shows:
30 God … commands all men everywhere to repent (Acts 17:30)
And weather-problems are one tool that God uses to urge people to repent (cf. Haggai 2:17; Amos 4:7-12). But most will not. Nor will most Christians as they should (cf. Revelation 3:14-18; see also The Laodicean Church Era).
Most will ignore weather changes and simply believe that weather changes all the time and the changes do not have to do with God or disobeying His laws.
There is another human effort related to trying to cool part of the Earth. This is related to NASA and Yellowstone:
Could NASA's Plan to Cool Yellowstone Backfire?

October 8, 2018

The Yellowstone Caldera, in the middle of the continental United States, is an enormous time bomb that, when it explodes, will have globally cataclysmic implications. After initially denying that the unusual amount of seismic activity witnessed last year was an indication of imminent danger, NASA scientists are proposing a solution that could save half the world while admitting that their intervention could initiate the explosion it was intended to prevent. …

Yellowstone is listed as one of the top volcanic hotspots in the world. An eruption of the supervolcano would have global implications. An estimated 87,000 people would be killed immediately and two-thirds of the United States would become uninhabitable. The large spew of ash into the atmosphere would block out sunlight, resulting in an artificially long and intense winter worldwide, inhibiting agriculture and leading to global starvation. …

The NASA scientists came to the conclusion that the most logical solution would be to simply to cool the magma down while it is still underground. The solution is similar to cooling industrial power plants. Yellowstone is estimated to generate heat equivalent to six industrial power plants. The caldera currently expels about 60 percent of its heat into the atmosphere via water which seeps into the magma chamber through cracks. The remainder builds up underground inside the magma, generating volatile gases and dissolving surrounding rocks. Once this heat reaches a certain threshold, then an explosive eruption is inevitable.

The NASA scientists estimate that if a 35 percent increase in heat transfer could be achieved, venting heat from the magma chamber, Yellowstone would no longer pose a threat.  …

When asked if the NASA scientists were guilty of hubris, of playing god with the fate of the world, Professor Natan Aviezer, a physics professor at Bar Ilan University who is a learned and devout Jew, answered emphatically that they were. https://www.breakingisraelnews.com/114795/scientists-playing-god-yellowstone/
Scientists can debate whether they can cool the Earth and Yellowstone.
The Bible, as quoted earlier, shows that high heat is coming.
But what about supervolcanoes, do they pose any real risk?
Yes.
Notice also the following report:
At least two potential super-volcanos have the attention of scientists worldwide because of the devastation any of them – two in the U.S. and one in Japan – could wreak on the planet, killing tens of millions and ravaging global economies.

Saturday's rumblings at the Yellowstone Caldera in America's most famous national park caught the attention of seismologists over the weekend because of its cataclysmic potential. Scientists warn that a major eruption of the Wyoming volcano would kill an estimated 87,000 people immediately and render two-thirds of the U.S. uninhabitable because of an ash cloud that would spark rapid climate change.

If that scenario sounds apocalyptically scary, consider the other volcano being watched worldwide off the shore of Japan. Just last week, Japanese scientists were warning an eruption at the Kikai Caldera, about 50 miles south of Japan's main island, could kill 100 million people and set off catastrophic global climate change that would make the world forget about "global warming" scares.

Meanwhile, in Yellowstone, scientists say a massive eruption could be 6,000 times more powerful that Washington state's Mount St. Helens in 1980, which killed 57 people an deposited ash in 11 different states and five Canadian provinces.

If the volcano explodes, a climate shift could ensue as the volcano would spew massive amounts of sulphur dioxide into the atmosphere, which can form a sulphur aerosol that reflects and absorbs sunlight.

If all that is not enough to worry about, there are three more volcanos in California alone that are have threat levels listed as "very high" – Mount Shasta, Lassen Volcanic Center and Long Valley Volcanic Region. Three more are listed at "high threat" levels – Clear Lake Volcanic Field, Medicine Lake Volcano and Salton Buttes. http://www.wnd.com/2018/02/volcano-alerts-you-want-to-talk-catastrophic-climate-change/#CYLMrwKzVIRTzPfU.99
Yes, there is a real risk of massive proportions.
The perceived risk of a soon supereruption is believed to be low, though those saying so simply cannot measure all factors that would be involved–and one thing measured suggests it could be sooner than thousands of years. The reality is that no one really knows when this could happen. And that the results of such a supereruption could be quite catastrophic.
Is Yellowstone really dangerous?
Yes.
It has the potential to cause massive destruction.
For many years, I have warned readers that Yellowstone poses a threat (e.g New Madrid earthquake risk and Iceland's subglacial volcano erupting; any risk from Yellowstone?).
Of course, it is not just North America that could be affected by supervolcanoes.
Consider also New Zealand:
The North Island of New Zealand is chock full of volcanoes—and big volcanoes at that. No less than four major calderas sit in the Taupo Volcanic Zone (TVZ) that stretches from White Island in the north to Ruapehu in the south. One of the most violent volcanic eruptions in human history took place in ~186 AD from Lake Taupo. That rhyolitic (high silica) eruption produced an ash plume that may have towered 50 kilometers (164,000 feet!) over the caldera, what we call an "ultraplinian" eruption (and anything that is "ultra" has to be big). More recently, Tarawera in the Okataina caldera erupted in 1886 in one of the most explosive basaltic (low silica) eruptions on record that had ash plume that reached 10 kilometers (~32,000 feet) and buried a number of towns along with blasting a new valley out of the landscape. The North Island is definitely a place where volcanic unrest is taken seriously.

So, the somewhat surprising steam explosions that took place this week at Lake Rotorua have caught a lot of people's attention. On November 28, a large steam explosion occurred near Ohinemutu near the shores. Then, on December 30, the caldera had a second, smaller explosion. The first explosion sent water and volcanic gases 25-30 meters (80-100 feet) up in a geyser-like blast. The event was brief and over by morning, so very few people actually saw the explosion happen. This was the first hydrothermal explosion at Rotorua in 15 years and came as a surprise to GNS Science, the volcano monitoring agency of New Zealand. People near the explosion reported hearing low, rumbling noises prior to the blast, which likely were caused by the movement of hot water and steam subsurface. 12/01/16 https://www.wired.com/2016/12/steam-explosions-rock-new-zealands-rotorua-caldera/
My family and I have visited Rotorua and Taupo, New Zealand. We have also visited Iceland, which also has supervolcanoes.
Now could Yellowstone, Rotorua, Iceland, or some other area with major volcanic potential possibly explode before (Mark 13:8) or during the time of the Great Tribulation?
It would seem possible.
Jesus warned about a time of earthquakes and troubles:
8 … And there will be earthquakes in various places, and there will be…troubles. These are the beginnings of sorrows. (Mark 13:8)
The beginning of sorrows is BEFORE the start of the Great Tribulation.
A supervolcanic eruption such as one at Yellowstone or elsewhere could cause major "troubles," and truly impact the USA and Canada. An earthquake could trigger this. Volcanic eruptions spew out melted elements and can cause much destruction.
While in New Zealand last Fall, we made a video about this while I was standing on top of a supervolcano:
Are supervolcanoes, such as Yellowstone in the USA or various ones in New Zealand a real threat? If so, what type of threat? Are supervolcano issues consistent with biblical prophecies? If so, which ones? Could the eruption of a supervolcano make the USA, New Zealand, or other lands vulnerable to takeover in the Great Tribulation (Matthew 24:21). Dr. Thiel answers these questions while standing atop a supervolcano in a geothermal area of Rotorua, New Zealand.

Here is a link to our video: Are supervolcanoes a real threat?
For years (e.g. Weather Affected Fall of Rome, Will it Affect the USA's Fall?), I have warned that the USA could be hit with a 'perfect storm' of events and disaster that could weaken it during the 'beginning of sorrows' so that it would be easier for it to be taken over at the start of the Great Tribulation. Now, we see that the space agency NASA sees Yellowstone as a serious risk. And while some will scoff and say that the probability is too low, less statistically 'probable' events have happened. Plus, because of the decline in morality in the USA, destructive events are going to hit it.
Of course, it is not just North America that could be affected by supervolcanoes before the coming Great Tribulation (Matthew 24:21).
There are volcanoes in many parts of the world and nearly all can cause major problems. But as Yellowstone is in the USA, it would be those in the USA, and probably Canada, that would be the most affected by it should it erupt.
Consider also what God inspired the Apostle Peter to write:
1 Beloved, I now write to you this second epistle (in both of which I stir up your pure minds by way of reminder), 2 that you may be mindful of the words which were spoken before by the holy prophets, and of the commandment of us, the apostles of the Lord and Savior, 3 knowing this first: that scoffers will come in the last days, walking according to their own lusts, 4 and saying, "Where is the promise of His coming? For since the fathers fell asleep, all things continue as they were from the beginning of creation." 5 For this they willfully forget: that by the word of God the heavens were of old, and the earth standing out of water and in the water, 6 by which the world that then existed perished, being flooded with water. 7 But the heavens and the earth which are now preserved by the same word, are reserved for fire until the day of judgment and perdition of ungodly men.

8 But, beloved, do not forget this one thing, that with the Lord one day is as a thousand years, and a thousand years as one day. 9 The Lord is not slack concerning His promise, as some count slackness, but is longsuffering toward us, not willing that any should perish but that all should come to repentance.

10 But the day of the Lord will come as a thief in the night, in which the heavens will pass away with a great noise, and the elements will melt with fervent heat; both the earth and the works that are in it will be burned up. 11 Therefore, since all these things will be dissolved, what manner of persons ought you to be in holy conduct and godliness, 12 looking for and hastening the coming of the day of God, because of which the heavens will be dissolved, being on fire, and the elements will melt with fervent heat? 13 Nevertheless we, according to His promise, look for new heavens and a new earth in which righteousness dwells.

14 Therefore, beloved, looking forward to these things, be diligent to be found by Him in peace, without spot and blameless; 15 and consider that the longsuffering of our Lord is salvation — as also our beloved brother Paul, according to the wisdom given to him, has written to you, 16 as also in all his epistles, speaking in them of these things, in which are some things hard to understand, which untaught and unstable people twist to their own destruction, as they do also the rest of the Scriptures.

17 You therefore, beloved, since you know this beforehand, beware lest you also fall from your own steadfastness, being led away with the error of the wicked; 18 but grow in the grace and knowledge of our Lord and Savior Jesus Christ.

To Him be the glory both now and forever. Amen. (2 Peter 3:1-18).
Things will not remain as they have. Yellowstone could erupt.
Even if it does not, high heat is coming.
Elements will melt.
Get your spiritual life in order.
Again, here is a link to our video: Are supervolcanoes a real threat?
Some items of possibly related interest may include:
The 'Unpardonable Sin' and 'Climate Change'? On September 7, 2016, Olav Fykse Tveit, Church of Norway Pastor, and the General Secretary of the World Council of Churches, essentially declared that those who ignore 'climate change' are committing the 'unpardonable sin' against the Holy Spirit. Are those two even related? In this video, Dr. Thiel answers that and explains from the Bible what the 'unpardonable sin' is and how you can avoid it. He also discusses aspects of Christianity and the environment. This is a video.
Are supervolcanoes a real threat? Are supervolcanoes, such as Yellowstone in the USA or various ones in New Zealand a real threat? If so, what type of threat? Are supervolcano issues consistent with biblical prophecies? If so, which ones? Could the eruption of a supervolcano make the USA, New Zealand, or other lands vulnerable to takeover in the Great Tribulation (Matthew 24:21). Dr. Thiel answers these questions while standing a top of a supervolcano in a geothermal area of Rotorua, New Zealand. This is a video.
Earthquakes Today and Bible Prophecy Contains a cool up-to-the-hour update of earthquakes around the world from USGS. It also explains what did Jesus teach about earthquakes and how the Bible describes "the big one" (as well as when it is expected).
Comets, Wormwood, and Planet Nibiru Will the Earth be devastated by Planet X or Comet Encke? What about Planet Nine? Could it happen in 2019? Here is a link to two YouTube videos Planet Nibiru to Destroy Earth by 2017? and Could Comet ISON be Wormwood of Bible Prophecy?
The Bible, Christians, and the Environment How should Christians view the environment? Does the Bible give any clues? What are some of the effects of air, water, and land pollution? Is environmental pollution a factor in autism and death? Do pollutants seem to double the autism risk? What will Jesus do? Here is a link to a related sermon: Christians and the Environment (there is also YouTube video available titled Air Pollution, Autism, and Prophecy).
Laudato Si: Pope's Agenda or Kingdom of God? Pope Francis' 2nd encyclical is titled 'Laudato Si.' In it, he goes over his views related to environmental, economic, social, moral, agricultural, and spiritual issues. He advocates international cooperation to solve various problems he believes are affecting humanity. Is that Pope's agenda the solution? What about the Kingdom of God? does the Bible teach? Two related articles include Laudato Si: Will Pope Francis' economic actions match his words? and Laudato Si: A call for a one-world government?
United Nations: Humankind's Last Hope or New World Order? Is the UN the last hope for humanity? Or might its goals end up with sinister results? Two related videos include UN's 'New Universal Agenda' is a False Gospel! and United Nations and Vatican Are Planning the New World Order.
Is God Calling You? This booklet discusses topics including calling, election, and selection. If God is calling you, how will you respond? Here is a link to a related sermon: Could God be Calling You?
Christian Repentance Do you know what repentance is? Is it really necessary for salvation? A related sermon is also available titled: Real Christian Repentance.
Just What Do You Mean — Repentance? Do you know what repentance is? Have you truly repented? Repented of what? Herbert W. Armstrong wrote this as a booklet on this important subject.
Weather Blessings and Sorrows Are weather problems a warning? What should be done? Here is a related YouTube video Does God Use Weather?
The Gospel of the Kingdom of God This free online pdf booklet has answers many questions people have about the Gospel of the Kingdom of God and explains why it is the solution to the issues the world is facing. Here are links to three related sermons: The World's False Gospel, The Gospel of the Kingdom: From the New and Old Testaments, and The Kingdom of God is the Solution.
When Will the Great Tribulation Begin? 2018, 2019, or 2020? Can the Great Tribulation begin today? What happens before the Great Tribulation in the "beginning of sorrows"? What happens in the Great Tribulation and the Day of the Lord? Is this the time of the Gentiles? When is the earliest that the Great Tribulation can begin? What is the Day of the Lord? Who are the 144,000? Here is a version of the article in the Spanish language: ¿Puede comenzar la Gran Tribulación en 2018 o 2019? ¿Es el Tiempo de los Gentiles? You can also see the English language sermon videos: The Great Tribulation from the Mount of Olives and Can the Great Tribulation begin before 2020? A shorter video is: Can the Great Tribulation begin in 2018?
Does God Have a 6,000 Year Plan? What Year Does the 6,000 Years End? Was a 6000 year time allowed for humans to rule followed by a literal thousand year reign of Christ on Earth taught by the early Christians? Does God have 7,000 year plan? What year may the six thousand years of human rule end? When will Jesus return? 2026 or 20xx?
Physical Preparation Scriptures for Christians. We all know the Bible prophecies famines. Should we do something? Here is a version in the Spanish language Escrituras sobre Preparación física para los Cristianos. Here is a link to a related sermon: Physical preparedness for Christians.
Anglo – America in Prophecy & the Lost Tribes of Israel Are the Americans, Canadians, English, Scottish, Welsh, Australians, Anglo-Saxon (non-Dutch) Southern Africans, and New Zealanders descendants of Joseph? Where are the lost ten-tribes of Israel? Who are the lost tribes of Israel? What will happen to Jerusalem and the Jews in Israel? Will God punish the U.S.A., Canada, United Kingdom, and other Anglo-Saxon nations? Why might God allow them to be punished first? Here is a link to the Spanish version of this article: Anglo-América & las Tribus Perdidas de Israel. Information is also in the YouTube sermons titled Where are the Ten Lost Tribes? Why does it matter? and British are the Covenant People. A short YouTube of prophetic interest may be Barack Obama and the State of the Apocalypse.
Will the Anglo-Saxon Nations be Divided and Have People Taken as Slaves? Will the lands of the United States, United Kingdom, Canada, Australia, and New Zealand be divided? What about Jerusalem? What does Bible prophecy teach? Are there non-biblical prophecies that support this idea? Who will divide those lands? Who will end up with the lands and the people? Here is a link to a video titled Will the USA and other Anglo-nations be Divided and Their People Made Slaves? Here is a related item in the Spanish language ¿Serán divididas las naciones anglosajonas?