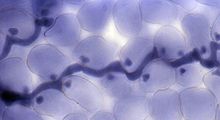 Hyphae of Fungus Hyaloperonospora Parasitica Haustoria
Two readers sent me articles today on a particular fungal problem:
Deadly strain of airborne fungus spreading among healthy people and animals in U.S., scientists warn

Daily Mail, UK – April 23, 2010

A deadly strain of fungus is quietly spreading among animals and people in the U.S. and Canada, scientists have warned.

The airborne Cryptococcus gattii usually only infects transplant and Aids patients and others with weak immune systems.

http://www.dailymail.co.uk/news/worldnews/article-1268297/Deadly-strain-airborne-fungus-spreading-healthy-people-animals-scientists-warn.html

Potentially Lethal Airborne Fungus May Spread to California

Unlike typical strains, new pathogen can attack healthy people, researchers say

Businessweek – April 22, 2010

THURSDAY (HealthDay News) — A strain of potentially lethal airborne fungus recently discovered in Oregon may soon spread to California and other neighboring areas, scientists warn.

Several people in Oregon have died after being infected with the new VGIIc genotype of Cryptococcus gattii. In the 21 Pacific Northwest cases analyzed by researchers, the strain has a death rate of about 25 percent…

More information

The U.S. Centers for Disease Control and Prevention has more about cryptococcus.

— Robert Preidt

SOURCE: Duke University Medical Center, news release, April 22, 2010

http://www.businessweek.com/lifestyle/content/healthday/638292.html
Fungi are a unique type of organism that can reproduce quite rapidly–far beyond the rate of normal pathogens like bacterium or viruses.
Because of their reproductive and invasive abilities, I have long felt that various fungi could be part of the pestilences that the Bible warned about for the end times.   Jesus taught:
7…And there will be famines, pestilences, and earthquakes in various places.  8 All these are the beginning of sorrows.  (Matthew 24:6-8)
We may be in or very near the time Jesus called "the beginning of sorrows".  There have been "earthquakes in various places" this year.  There are some famines (though so far not more than happens most years).  If the fungal problem expands, it could be a possible sign that the "sorrows" have began.
As Jesus said:
37 And what I say to you, I say to all: Watch! (Mark 13:36-37)
Two articles of related interest may include:
Anglo – America in Prophecy & the Lost Tribes of Israel Are the Americans, Canadians, British, Scottish, Welsh, Australians, Anglo-Southern Africans, and New Zealanders descendants of Joseph? Where are the lost ten-tribes of Israel? Who are the lost tribes of Israel? Will God punish the U.S.A., Canada, United Kingdom, and other Anglo nations? Why might God allow them to be punished first?
Can the Great Tribulation Begin in 2010, 2011, or 2012? Can the Great Tribulation begin today? When is the earliest that the Great Tribulation can begin? What happens in the "beginning of sorrows"? What is the Day of the Lord?