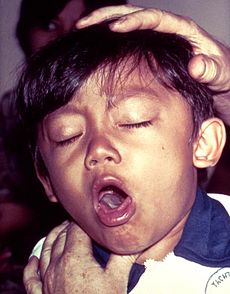 Tuberculosis is a problem in part of Los Angeles:
Persistent strain of TB claims victims on L.A.'s skid row…

The Centers for Disease Control and Prevention has dispatched scientists to Los Angeles to help local health officials determine why the disease is spreading and how to stop it.

Officials say 11 have died since 2007. Sixty of the 78 cases were among homeless people who live on and around skid row.

Scientists have recently linked the outbreak to a tuberculosis strain that is unique to Los Angeles, with a few isolated cases outside the area.

"This is the largest outbreak in a decade," said Jonathan Fielding, director of the Los Angeles County Department of Public Health. "We are really putting all of our resources into this."

Health workers have identified about 4,650 people who were probably exposed and are trying to track them down for testing and treatment.   http://www.latimes.com/news/local/la-me-tb-outbreak-20130222,0,4394287.story
While there are various reasons why those on "skid row" (a term referring to areas in cities where more homeless, alcoholics, and drug-addicts tend to reside), are more susceptible to various strains of tuberculosis, it could (directly or indirectly if it changes) infect more of the general population.
Tuberculosis often can be a deadly virus.
Infections are part of the pestilences that the Bible warned about for the end times. Jesus taught:
7…And there will be famines, pestilences, and earthquakes in various places. 8 All these are the beginning of sorrows. (Matthew 24:6-8)
We seem to be in the time Jesus called "the beginning of sorrows". There have been "earthquakes in various places" this past year. There are some famines and they may increase soon. Candida, other fungi, bacteria, and viruses are not the only pestilences starting to rise up either.
As Jesus said:
37 And what I say to you, I say to all: Watch! (Mark 13:36-37)
Three articles of related interest may include:
Anglo – America in Prophecy & the Lost Tribes of Israel Are the Americans, Canadians, British, Scottish, Welsh, Australians, Anglo-Southern Africans, and New Zealanders descendants of Joseph? Where are the lost ten-tribes of Israel? Who are the lost tribes of Israel? Will God punish the U.S.A., Canada, United Kingdom, and other Anglo nations? Why might God allow them to be punished first?
Can the Great Tribulation Begin in 2013 or 2014? Can the Great Tribulation begin today? When is the earliest that the Great Tribulation can begin? What happens in the "beginning of sorrows"? What is the Day of the Lord?
Fourth Horseman of the Apocalypse What is the pale horse of death and pestilence? What will it bring and when?