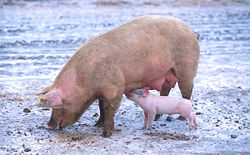 Swine flu is in the news again:
Los Angeles Times -3 August 2012

The US Centers for Disease Control has words of caution for people planning to attend a local fair this summer: Watch out for sick pigs, which could be infected with the H3N2 swine influenza virus.
Swine flu is an issue from time to time.  We will see how serious it gets this Summer, Fall, and Winter.
Relatively soon, serious pestilences are prophesied as they are part of what Jesus called "the beginning of sorrows":
7 For nation will rise against nation, and kingdom against kingdom. And there will be famines, pestilences, and earthquakes in various places. 8 All these are the beginning of sorrows. (Matthew 24:7-8)
If humans quit eating pigs, the "swine flu" problem would probably go away.  But since many still do, it is possible that something more serious may happen.
Some articles of possibly related interest may include:
Can the Great Tribulation Begin in 2012, 2013, or 2014? Can the Great Tribulation begin today? What is the "beginning of sorrows"? When is the earliest that the Great Tribulation can begin? What is the Day of the Lord?
The New Testament Church and Unclean Meats Are foods considered to have been unclean in the Old Testament considered to be food in the New Testament? This article discusses this from the perspective of the New Testament. It also has a list of clean and unclean animals. It also answers the question, is pork healthy or is pork dangerous?
Fourth Horseman of the Apocalypse What is the pale horse of death and pestilence? What will it bring and when?