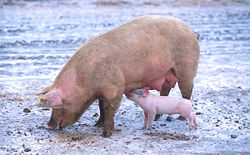 Another swine disease is in the news:
Pig fever sweeps across Russia

Deadly virus may be poised to spread to neighbouring states.

Nature – Aug 28, 2012

Russian authorities have incinerated tens of thousands of pigs and closed roads in the past few weeks, in an attempt to contain an emerging outbreak of African swine fever, a viral disease so lethal to the animals that it has been likened to Ebola. The spread of the disease comes with a heavy economic toll — last year, the Russian Federation lost 300,000 of the country's 19 million pigs to swine fever, at an estimated cost of about 7.6 billion roubles (US$240 million).

African swine fever was also detected for the first time in Ukraine in late July, and European and Asian countries are on the alert to deal with outbreaks that could cost their pork industries billions of dollars. With no vaccine or cure for the disease, mass culls and vigilant hygiene offer the main defence.

Scientists first encountered African swine fever in the 1920s in domestic pigs in Kenya, where the vicious haemorrhagic fever felled nearly every animal infected. The virus, which is also carried by warthogs and ticks without causing disease, is now endemic in much of sub-Saharan Africa, limiting pig farming there. It does not infect humans…http://www.nature.com/news/pig-fever-sweeps-across-russia-1.11294

Russia culled and destroyed 54,962 pigs in the west of the country to contain an outbreak of the deadly porcine disease African Swine Fever, the World Organisation for Animal Health reported. Pigs were culled at 11 locations in July and August after pigs died from the disease at a dozen farms and villages, based on a notification from Russia's Ministry of Agriculture to the Paris-based animal-health organization published…African Swine Fever is harmless to people, and caused by a virus for which there is no vaccine. The disease may have been introduced in the region in 2007 when pigs at a dump in the Black Sea port of Poti ate garbage from a ship, the United Nations' Food & Agriculture Organization says.  http://www.businessweek.com/news/2012-08-17/russia-culls-54-962-pigs-to-control-african-swine-fever-disease
Pig fever has, and will, cost Russia and the Ukraine a lot of money.  Pigs are an item that humans should not consider, nor rely on, as part of the food supply.  Yet, having less pigs at this stage could contribute to food inflation in those nations and elsewhere.
Swine also have diseases that can pass to humans.
Some articles of possibly related interest may include:
Russia: Its Origins and Prophesied Future Russia in prophecy. Where do the Russians come from? What about those in the Ukraine? What is prophesied for Russia and its allies? What will they do to the Europeans that supported the Beast in the end?
Is Russia the King of the North? Some claim it is. But what does the Bible teach?
The New Testament Church and Unclean Meats Are foods considered to have been unclean in the Old Testament considered to be food in the New Testament? This article discusses this from the perspective of the New Testament. It also has a list of clean and unclean animals. It also answers the question, is pork healthy or is pork dangerous?