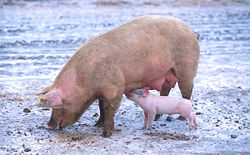 Swine flu again? Notice the following:
Scientific American: U.S. Pig Farms May Be 'Flu Factories'

December 23, 2010

by Eliza Barclay

Last year's H1N1 pandemic was a wake-up call to many scientists to how unpredictable and dangerous viruses circulating in the animal world can be if they jump to humans. The outbreak of avian flu in 2006 was our first clue.

Since then, there's been a lot of talk about monitoring the health of the animals most likely to pass on a flu virus with pandemic potential — pigs and birds.

But an article just published in Scientific American says our pig monitoring is pretty bad. So bad that American pigs farms are virtually "flu factories," according to author Helen Branswell, a Nieman Fellow in global health reporting at Harvard University.  http://www.npr.org/blogs/health/2010/12/23/132256243/scientific-american-u-s-pig-farms-may-be-flu-factories
Pigs have always carried diseases that could hurt humans.  The flu connection isn't really new, but it may be news to some people.  Pigs may cause various diseases to break forth.
Relatively soon, serious pestilences are prophesied as we are prophetically at/near the point Jesus called "the beginning of sorrows"–which includes pestilences (Matthew 24:7-8).  Whether or how pigs may be involved is not mentioned in scripture.
If humans quit eating pigs, the "swine flu"  and certain other infectious problems would probably go away. But since many still do, it is possible that something may happen with this. H1N1 of 2009 may have been a warning.
FWIW, there is no scripture in the Bible that shows that any one called of God in either the Old or New Testaments ever ate pork.  Some may be surprised to hear that.
Some articles of possibly related interest may include:
Can the Great Tribulation Begin in 2010, 2011, or 2012? Can the Great Tribulation begin today? What is the "beginning of sorrows"? When is the earliest that the Great Tribulation can begin? What is the Day of the Lord?
The New Testament Church and Unclean Meats Are foods considered to have been unclean in the Old Testament considered to be food in the New Testament? This article discusses this from the perspective of the New Testament. It also has a list of clean and unclean animals. It also answers the question, is pork healthy or is pork dangerous?