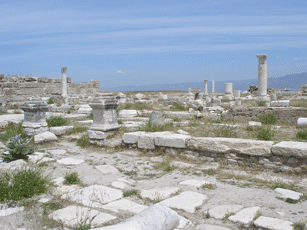 Laodicea has many  ineffective structures

Today, UCG posted the following:
We believe that the current long and hard trial within the United Church of God is nearing its end. In the past few days we have received a number of resignations of ministers and former administrators. We do not rejoice in seeing these resignations. In fact, as the apostle Peter noted, we are grieved. It remains deeply painful to see new church groups start up in some pockets of the country and former ministers still publishing or putting on the Internet statements that have little or no basis in fact. Based on recent information sent to us from a number of sources, we now know with certainty that former trusted ministers have been and are now actively and openly trying to draw away faithful members, like yourself, to new groups. As they will find, separating into other groups will not solve their problems.

The Council of Elder  is in possession of irrefutable documentation that demonstrates complicity by certain ministers and members in secretive efforts to undermine and destroy the very organizational fabric of the United Church of God. We are greatly saddened to see this, as it hurts to know as a fact that some have essentially said one thing regarding reconciliation or resolution of differences while working behind the scenes with a completely different agenda.

This documentation, authored by a former home office administrator, lays bare organized efforts at a very high level to break away. It distorts the record and generally reflects a grievous state of mind among those who are fracturing current relationships and trying to influence members of the United Church of God into following them.
We will all see if the crisis in UCG is almost over or not.   I saw something earlier today that indicated that COGA's website was registered in early November 2010.  So, there must have been plans by some who had a history involving UCG to probably put together COGA back then.
Based on the number of ministers that UCG has lost, it may be that it may not lose too many more.  On the other hand, I heard a figure today  that I will not report here yet, that suggests that more ministerial losses are coming for UCG.
If so, or even if not, I believe that those affected by this crisis who wish to support a more effective gospel-proclaiming organization should consider LCG.
Some articles of possibly related interest may include:
Polycarp, Herbert W. Armstrong, and Roderick C. Meredith on Church Government What form of governance did the early church have? Was it hierarchical? Which form of governance would one expect to have in the Philadelphia remnant? The people decide and/or committee forms, odd dictatorships, or the same type that the Philadelphia era itself had?
Unity: Which COG for You? Why so many groups? Why is there lack of unity in the Churches of God? Has it always been this way? What can/should be done about it?
Differences between the Living Church of God and United Church of God This article provides quotes information from the two largest groups which had their origins in WCG as well as commentary.
There are Many COGs: Why Support the Living Church of God? This is an article for those who wish to more easily sort out the different COGs. It really should be a MUST READ for current and former WCG/GCI members or any interested in supporting the faithful church. It also explains a lot of what the COGs are all about.
Should the Church Still Try to Place its Top Priority on Proclaiming the Gospel or Did Herbert W. Armstrong Change that Priority for the Work? Some say the Church should mainly feed the flock now as that is what Herbert W. Armstrong reportedly said. Is that what he said? Is that what the Bible says? What did Paul and Herbert W. Armstrong expect from evangelists?
The Laodicean Church Era has been predominant circa 1986 A.D. to present. These are non-Philadelphians who mainly descended from the old WCG.