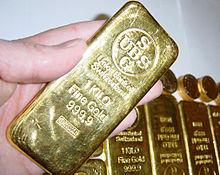 The Wall Street Journal ran the following:
Gold Will Get a Rise if It Goes With the Grain

Wall Street Journal – Aug 2, 2012

Gold is poised to get a boost from surging corn and soybean prices, as investors look to the metal as a hedge against the growing risk of global inflation.

Gold has floundered in recent months, held back by lackluster physical and investor demand. In New York on Thursday, gold closed at $1,587.40 a troy ounce, up 1.4% since the start of the year.  http://online.wsj.com/article/SB10000872396390443866404577564362406672118.html
While prices fluctuate, the price of gold was up and some grains were down (at least at some point) today (see Crude Rises; Gold Snaps Four-Day Decline).  Overall, both grain and gold prices are up this year, with certain grain prices up more than gold (see Corn Prices Rise 33%, More Food Problems Ahead and Heat Affecting USA Wheat Crop).
The Bible is tells of a time that there will be food shortages and much more serious food inflation:
5 When He opened the third seal, I heard the third living creature say, "Come and see." So I looked, and behold, a black horse, and he who sat on it had a pair of scales in his hand. 6 And I heard a voice in the midst of the four living creatures saying, "A quart of wheat for a denarius, and three quarts of barley for a denarius; and do not harm the oil and the wine." (Revelation 6:5-6)
The sorrows and troubles are just beginning and will get much worse. Hopefully, people will wake up.
Although the Bible shows that gold will be valuable into the the Great Tribulation (cf. Daniel 11:39-43; Revelation 18:11-16), the Bible is clear that later, gold will, for a while during the Day of the Lord, be less than worthless. Notice:
19 They will throw their silver into the streets, And their gold will be like refuse; Their silver and their gold will not be able to deliver them In the day of the wrath of the Lord; They will not satisfy their souls, Nor fill their stomachs, Because it became their stumbling block of iniquity. (Ezekiel 7:19).

13 Therefore their goods shall become booty, And their houses a desolation; They shall build houses, but not inhabit them; They shall plant vineyards, but not drink their wine." 14 The great day of the Lord is near; It is near and hastens quickly. The noise of the day of the Lord is bitter;There the mighty men shall cry out. 15 That day is a day of wrath, A day of trouble and distress, A day of devastation and desolation, A day of darkness and gloominess, A day of clouds and thick darkness, 16 A day of trumpet and alarm Against the fortified cities And against the high towers. 17 "I will bring distress upon men, And they shall walk like blind men, Because they have sinned against the Lord; Their blood shall be poured out like dust,And their flesh like refuse." 18 Neither their silver nor their gold Shall be able to deliver them In the day of the Lord's wrath; But the whole land shall be devoured By the fire of His jealousy, For He will make speedy riddance Of all those who dwell in the land. (Zephaniah 1:13-18)
Gold will be worthless because gold cannot be eaten (in times of massive and severe food shortages many people will not be interested in it) and because of the fact that if nuclear weapons are exploded, and people are ill or dying from radiation sickness, that they will not want to have gold near them (for some details, see The Plain Truth About Gold in Prophecy).
But while we are not yet to that time, the time we are now in is serious, as Jesus said:
7 For nation will rise against nation, and kingdom against kingdom. And there will be famines, pestilences, and earthquakes in various places. 8 All these are the beginning of sorrows.
(Matthew 24:7-8)

37 And what I say to you, I say to all: Watch! (Mark 13:36-37)
Tougher times are coming. And for some parts of the world these tougher time may be here now. People who can prepare, should: both spiritually and physically.
Some articles of possibly related interest may include:
The Plain Truth About Gold in Prophecy. How Should a Christian View Gold? What do economists and the Bible teach about gold? Gold and silver may drop in value. Inflation/deflation? What do Christians need to know about gold?
Physical Preparation Scriptures for Christians. We all know the Bible prophecies famines. Should we do something?
When Will the Great Tribulation Begin? 2012, 2013, or 2014? Can the Great Tribulation begin today? What happens before the Great Tribulation in the "beginning of sorrows"? What happens in the Great Tribulation and the Day of the Lord? Is this the time of the Gentiles? When is the earliest that the Great Tribulation can begin? What is the Day of the Lord? Who are the 144,000?
2012 and the Rise of the Secret Sect This is a link related to a book by Bob Thiel (COGwriter). This also has YouTube videos related to 2012. The book contains documented prophecies as well as an end time sequence of events that Christians should study and understand. Including the role of gold, food shortages, Western nation problems, etc.
2012 und das Auftreten der geheimen Sekte (German Edition) 2012 Buch von Dr. Thiel in deutscher Sprache.