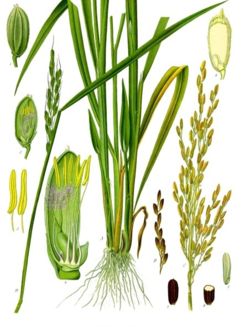 Rice (Oryza sativa)
A problem with a rice pestilence is concerning farmers in Australia:
Australia Fears Locust Plague

Insects Threaten the 2011 Rice Harvest; 'They Take Anything Green With Them'

Wall Street Journal – April 26, 2010
The Philippines is also facing some rice shortages (Philippine Rice Situation).
The have been problems in other areas, like the USA and Africa, as well:
A New Initiative to Feed the World Over the last few decades the developed world lost interest in agricultural development. Now's the time for change.

By TIMOTHY GEITHNER AND BILL GATES   April 26, 2010
…A steep rise in food prices in 2008 and the recent global economic crisis have pushed the number of hungry people in the world to more than one billion…

Today, many Africans face food shortages in part because the average African farmer produces half the amount of crops per acre of an Indian farmer, one-fourth that of a Chinese farmer, and just one-fifth that of an American farmer.  http://www.modernghana.com/news/273143/1/a-new-initiative-to-feed-the-world-over-the-last-f.html

Wholesale prices rise in March as food costs jump

Associated Press – April 22, 2010   excerpt…

Food prices jumped by 2.4 percent in March, the most since January 1984. Vegetable prices soared by more than 49 percent, the most in 15 years. A cold snap wiped out much of Florida's tomato and other vegetable crops at the beginning of this year. http://www.google.com/hostednews/ap/article/ALeqM5jfuYCNDwSbDlL48PB87SrT8ZBSPAD9F87CL81

Meat-Price Outlook
Bloomberg – April 26, 2010

Retail prices may hit records in the next 90 days as U.S. demand peaks during summer grilling season, said John Nalivka, a former USDA economist and the president of meat consultant Sterling Marketing Inc. in Vale, Oregon. The previous records were in 2008 for pork at $3.026 a pound in September, based on monthly averages tracked by the USDA since 1970, and for beef at $4.526 a pound in August. Chicken's peak was $1.857 a pound in May 2009.

More expensive pork and beef may revive food inflation that dropped last year for the first time since 1961. Meat prices tracked by the United Nations Food and Agriculture Organization are up 5 percent this year, even as food costs fell 5.8 percent. http://www.bloomberg.com/apps/news?pid=20601109&sid=a41ys1pP9w.c&pos=14

U.S. Food Inflation Spiraling Out of Control

NIA – April 22, 2010

The Bureau of Labor Statistics (BLS) today released their Producer Price Index (PPI) report for March 2010 and the latest numbers are shocking. Food prices for the month rose by 2.4%, its sixth consecutive monthly increase and the largest jump in over 26 years.

NIA believes that a major breakout in food inflation could be imminent, similar to what is currently being experienced in India.Some of the startling food price increases on a year-over-year basis include, fresh and dry vegetables up 56.1%, fresh fruits and melons up 28.8%, eggs for fresh use up 33.6%, pork up 19.1%, beef and veal up 10.7% and dairy products up 9.7%. On October 30th, 2009, NIA predicted that inflation would appear next in food and agriculture, but we never anticipated that it would spiral so far out of control this quickly.

http://inflation.us/foodinflationspiralingoutofcontrol.html
Jesus warned that "famines" would be part of the "beginning of sorrows" (Matthew 24:7-8).  In the Book of Revelation, food price inflation is predicted with the ride of the third horseman (Revelation 6:6).
Evangelist Richard Ames wrote:
The third seal presents a rider on a black horse, representing the scarcity of food and the resulting famine…Cynics say there have always been wars, famines and pestilences. But, as time goes on, we will see the four horsemen of the apocalypse intensify their ride, with increasing global consequences. (Ames R. The Middle East in Prophecy. Living Church of God, 2006, p. 24)
While we are not yet to the final ride of that horseman, we may be near the start of the "beginning of sorrows".  Food shortages will affect more than Africa–they will also affect the United States.
As Jesus said:
37 And what I say to you, I say to all: Watch! (Mark 13:36-37)
Articles of related interest may include:
Four Horsemen of the Apocalypse What is the Book of Revelation trying to tell us about them? Does the first one deceive many?
Physical Preparation Scriptures for Christians. We all know the Bible prophecies famines. Should we do something?
Africa: Its Biblical Past and Prophesied Future What does the Bible teach about Africa and its future? Did the early Church reach Africa? Will God call all the Africans?
Anglo – America in Prophecy & the Lost Tribes of Israel Are the Americans, Canadians, British, Scottish, Welsh, Australians, Anglo-Southern Africans, and New Zealanders descendants of Joseph? Where are the lost ten-tribes of Israel? Who are the lost tribes of Israel? Will God punish the U.S.A., Canada, United Kingdom, and other Anglo nations? Why might God allow them to be punished first?
Can the Great Tribulation Begin in 2010, 2011, or 2012? Can the Great Tribulation begin today? When is the earliest that the Great Tribulation can begin? What is the Day of the Lord?