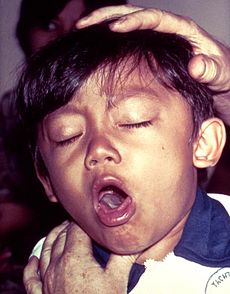 Boy with Whooping Cough

The current outbreak of Whooping cough in the USA is getting attention:
Reported cases of pertussis are at their highest level in 50 years, a top official with the US Centers for Disease Control and Prevention said Thursday…Dr. Anne Schuchat, director of National Center for Immunization and Respiratory Diseases, said doctors across the nation have reported more than 18,000 cases of pertussis so far this year. That is more than twice as many cases as there were at this time in 2011 and the first time since 1959 that so many cases have been reported by this time in the year…Nine infants have died from pertussis so far this year in the United States.
Wikipedia states:
Pertussis, also known as whooping cough, is a highly contagious bacterial disease caused by Bordetella pertussis. In some countries, this disease is called the 100 days' cough or cough of 100 days.  Symptoms are initially mild, and then develop into severe coughing fits, which produce the namesake high-pitched "whoop" sound in infected babies and children when they inhale air after coughing.  The coughing stage lasts approximately six weeks before subsiding.
Infections, like pertussis, may be part of the pestilences that the Bible warned about for the end times. Jesus taught:
7…And there will be famines, pestilences, and earthquakes in various places. 8 All these are the beginning of sorrows. (Matthew 24:6-8)
We seem to be in the time Jesus called "the beginning of sorrows."  There have been "earthquakes in various places" this year. There are some famines and they may increase soon. Candida, other fungi, bacteria, and viruses are not the only pestilences starting to rise up either.
As Jesus said:
37 And what I say to you, I say to all: Watch! (Mark 13:36-37)
Three articles of related interest may include:
Anglo – America in Prophecy & the Lost Tribes of Israel Are the Americans, Canadians, British, Scottish, Welsh, Australians, Anglo-Southern Africans, and New Zealanders descendants of Joseph? Where are the lost ten-tribes of Israel? Who are the lost tribes of Israel? Will God punish the U.S.A., Canada, United Kingdom, and other Anglo nations? Why might God allow them to be punished first?
Can the Great Tribulation Begin in 2012, 2013, or 2014? Can the Great Tribulation begin today? When is the earliest that the Great Tribulation can begin? What happens in the "beginning of sorrows"? What is the Day of the Lord?
Fourth Horseman of the Apocalypse What is the pale horse of death and pestilence? What will it bring and when?