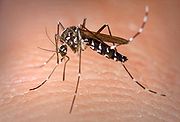 The West Nile virus is causing more deaths and infections in places like Texas:
6 September 2012

DALLAS — It's the worst year ever for West Nile virus in Texas, which has seen about half of the country's deaths from the illness this year, health officials said Wednesday.

At least 43 people have died from the virus in Texas, and the state has recorded at least 510 cases of neuroinvasive West Nile, considered the most serious form of the illness because it affects the nervous system, according to the Texas Department of State Health Services…

Texas has been working with the CDC this summer to help eliminate mosquitos that carry the disease, including aerial spraying of insecticide in parts of North Texas. Texas Department of State Health Services Commissioner Dr. David Lakey said…"Transmission is contingent on mosquitoes," Lakey said. "The more you have, the greater likelihood of an outbreak."

Mosquitoes get the virus from feeding on infected birds and then spread the virus to people they bite…Petersen said more than 70 percent of the cases this year come from Texas, South Dakota, Mississippi, Oklahoma, Michigan and Louisiana. All states except Alaska and Hawaii have found West Nile virus in people, birds or mosquitoes this year.

Symptoms for both forms of West Nile can include headaches and fever, but those with the neuroinvasive form can also suffer from symptoms including coma, convulsions and paralysis.

http://www.cbsnews.com/8301-505245_162-57507217/worst-year-ever-for-west-nile-in-texas-43-dead/
Whether it will be types of viruses or other illnesses, Jesus foretold pestilences as part of the beginning of sorrows: :
7…And there will be famines, pestilences, and earthquakes in various places. 8 All these are the beginning of sorrows (Matt 24:7b-8).

5 And Jesus, answering them, began to say: "Take heed that no one deceives you.  6 For many will come in My name, saying, 'I am He,' and will deceive many.  7 But when you hear of wars and rumors of wars, do not be troubled; for such things must happen, but the end is not yet.  8 For nation will rise against nation, and kingdom against kingdom. And there will be earthquakes in various places, and there will be famines and troubles. These are the beginnings of sorrows.    (Mark 13:5-8)
Jesus said to watch:
 33 Take heed, watch and pray; for you do not know when the time is.  34 It is like a man going to a far country, who left his house and gave authority to his servants, and to each his work, and commanded the doorkeeper to watch.  35 Watch therefore, for you do not know when the master of the house is coming — in the evening, at midnight, at the crowing of the rooster, or in the morning —   36 lest, coming suddenly, he find you sleeping.  37 And what I say to you, I say to all: Watch!"  (Mark 13:33-37).
Although some prefer to not pay attention to prophecy, the Bible teaches:
10…Worship God! For the testimony of Jesus is the spirit of prophecy. (Revelation 19:10)
Hence, Christians should heed Jesus' words and "watch" prophetic fulfillments which are unfolding at this time (Mark 13:37).
Two articles of possibly related interest may include:
Fourth Horseman of the Apocalypse What is the pale horse of death and pestilences? What will it bring and when?
Can the Great Tribulation Begin in 2012, 2013, or 2014? Can the Great Tribulation begin today? What is the "beginning of sorrows"? When is the earliest that the Great Tribulation can begin? What is the Day of the Lord?