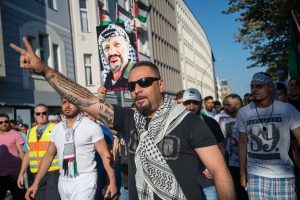 Anti-Semitic protestor in Berlin (Boris Niehaus)

Anti-Semitic crimes continue to rise in Germany, as well as in France:
Report: 4 anti-Semitic crimes a day in Germany in 2017

February 12, 2018

Berlin's Tagesspiegel newspaper cites Monday a report prepared for The Left party in parliament showing that, based on preliminary figures, 1,453 anti-Semitic incidents were reported in 2017. Of those, 32 were acts of violence and 160 involved property damage, with 898 classified as "incitement," like hate speech.

That compared with 1,468 incidents in 2016 and 1,366 in 2015.

Germany averaged four anti-Semitic crimes per day in 2017, report says

The rising trend of anti-Semitic crimes in Germany shows no signs of abating, according to a newspaper report on last year's crime statistics that was published on Sunday.

In 2017, German police registered a total of 1,453 crimes that targeted Jews or Jewish institutions, reported German newspaper Tagesspiegel, citing figures from the German government. The data was compiled in response to an inquiry from Bundestag vice president and Left party lawmaker Petra Pau.

Last year's crimes included 32 acts of violence, 160 instances of property damage, and 898 cases of incitement.

The German government expects the figures to rise even further since the data provided by the states is not yet final, the paper said. …

Last month, German lawmakers passed a bill to implement tougher laws to tackle anti-Semitism, including the creation of a commissioner post to develop and carry out a strategy for rooting out anti-Semitic sentiment and crime.  02/11/18 http://www.dw.com/en/germany-averaged-four-anti-semitic-crimes-per-day-in-2017-report-says/a-42538545

The increase in antisemitic attacks in France recorded in 2017 disguises an even bigger picture of hate crimes against Jewish people, community leaders say.

French Interior Ministry figures indicated that there were 92 violent antisemitic incidents last year, a 28 per cent increase.

There were a further eight attacks in January 2018, including on a young boy on his way to after-school tutoring.

It prompted Edouard Philippe, France's Prime Minister to say this week that a "new type" of antisemitism had emerged in France that was "violent and brutal". 02/09/18 https://www.thejc.com/news/world/antisemitic-attacks-surge-in-france-1.458478
Hating people for their race/ethnic group is wrong.
While you may not think that anti-Semitism could affect you, consider the following poem by Martin Niemöller:
First they came for the Socialists, and I did not speak out—
Because I was not a Socialist.

Then they came for the Trade Unionists, and I did not speak out—
Because I was not a Trade Unionist.

Then they came for the Jews, and I did not speak out—
Because I was not a Jew.

Then they came for me—and there was no one left to speak for me.
Martin Niemöller (1892–1984) was a prominent Protestant pastor who emerged as an outspoken public foe of Adolf Hitler and spent the last seven years of Nazi rule in concentration camps. It was not just Adolf Hitler's regime that restricted speech and arrested dissenters.
Although you might think that if you have done nothing wrong, you have nothing to fear from surveillance or speech restrictions, consider that many in the governments of the West consider that those not supporting homosexual marriages, etc. are extremist. I also saw someone once on a documentary that stated that people who believed in the millennium could not be trusted and should be considered as potential terrorists. The fact that we in the Continuing Church of God would be considered pacifists, does not change the fact that, since we hold to millennial and other biblical views, we can be improperly classified as extremist by government employees with various agendas. Having biblical views are becoming more problematic in the world (see ZH: Germany has killed freedom of speech and expects the rest of the EU to do the same). Canada does not want certain biblical verses to even be quoted (watch Canadian censoring of the Bible).
While the Europeans and North Americans decry internet and speech restrictions in various countries in Asia and Africa, they are also implementing restrictions themselves.
The West tends to be more subtle about it–at least for now.
Sadly, antisemitism was not just a phenomena during WWII as its roots go much further back.
Notice some of the teachings of the Protestant Reformer Martin Luther, who wrote in the 16th century:
My heart is fuller of these thoughts than my tongue can tell. I have come to the conclusion that the Jews will always curse and blaspheme God as all the prophets have predicted. He who neither reads nor understands this, as yet knows no theology, in my opinion. And so I presume the men of Cologne cannot understand the Scripture, because it is necessary that such things take place to fulfill prophecy. If they are trying to stop the Jews blaspheming, they are working to prove the Bible and God liars ("Martin Luther's to George Spalatin," from Luther's Correspondence and Other Contemporan, Letters, trans. by P. Smith (1913), Vol. 1, pp. 28-29).
Furthermore he wrote:
I had made up my mind to write no more either about the Jews or against them. But since I learned that those miserable and accursed people do not cease to lure to themselves even us, that is, the Christians, I have published this little book, so that I might be found among those who opposed such poisonous activities of the Jews and who warned the Christians to be on their guard against them…They are so blind and stupid that they see neither the words found in Genesis 17 nor the whole of Scripture, which mightily and explicitly condemns this lie…They are real liars and bloodhounds who have not only continually perverted and falsified all of Scripture with their mendacious glosses from the beginning until the present day. Their heart's most ardent sighing and yearning and hoping is set on the day on which they can deal with us Gentiles as they did with the Gentiles in Persia at the time of Esther…The worse a Jew is, the more arrogant he is, solely because he is a Jew — that is, a person descended from Abraham's seed, circumcised, and under the law of Moses. David and other pious Jews were not as conceited as the present-day, incorrigible Jews…I wanted to present this to us Germans so that we might see what rascals the blind Jews are and how powerfully the truth of God in our midst stands with us and against them (Medieval Sourcebook: Martin Luther (1483-1546): On the Jews and Their Lies, 1543)
Of course, anti-Semitism is not limited to Protestants.
It perhaps show be pointed out that sometimes those in the true Church of God have been considered to be secretly Jews by some in Greco-Roman faiths:
In the Middle Ages, the Popes and the Councils were successful in destroying the Jewish revolutionary movements which appeared within Christianity in the form of false teaching and which were introduced by those who were Christians in appearance but Jews in secret. The latter then recruited upright and good Christians for the arising heretical movement by persuading the latter in a crafty way.

The secret Jews organised and controlled in secret manner the movements, which were the creative and driving force of wicked false teachings, such as those of the Iconoclasts, the Cathars, the Patarines, the Albigensians, the Hussites, the Alumbrados and others. (Pinay, Maurice. The Plot Against the Church, Part Four Chapter One. Translated from the German and Spanish editions of the same work. 1962)
The above book is still recommended by and for many Catholics (though some others distance themselves from it). Hence, some of the Greco-Romans have considered some of whom we in the Continuing Church of God include in our tracing of our spiritual ancestors (like some of the Cathars and Albigenses) to have been a secret Jewish group that only professed Christ. This will set the stage for more persecution against those who hold to Church of God teachings that the Catholics tend to consider to be 'Jewish.'
Consider that Jesus taught:
2… yes, the time is coming that whoever kills you will think that he offers God service. 3 And these things they will do to you because they have not known the Father nor Me. 4 But these things I have told you, that when the time comes, you may remember that I told you of them. And these things I did not say to you at the beginning, because I was with you (John 16:2-4).
Consider that Martin Luther advised his followers:
…to burn down Jewish schools and synagogues, and to throw pitch and sulphur into the flames; to destroy their homes; to confiscate their ready money in gold and silver; to take from them their sacred books, even the whole Bible; and if that did not help matters, to hunt them of the country like mad dogs (Luther's Works, vol. Xx, pp. 2230-2632 as quoted in Stoddard JL. Rebuilding a Lost Faith, 1922, p.99).

Accordingly, it must and dare not be considered a trifling matter but a most serious one to seek counsel against this and to save our souls from the Jews, that is, from the devil and from eternal death. My advice, as I said earlier, is: First, that their synagogues be burned down, and that all who are able toss in sulphur and pitch (Martin Luther (1483-1546): On the Jews and Their Lies, 1543 as quoted from Luther's Works, Volume 47: The Christian in Society IV, (Philadelphia: Fortress Press, 1971). pp 268­293).
Many people hate others, and the Jews tend to be one of the more hated groups. But that is not how people are to live.
Notice something that God had Moses record:
8 You shall not take vengeance, nor bear any grudge against the children of your people, but you shall love your neighbor as yourself: I am the Lord. (Leviticus 19:18)
It is not just Jews that are hated or will be in the future. Throughout history, true Christians have sometimes been called "Jews" and have been subject to persecution supposedly directed towards Jews. True Christians also had to suffer through the so-called Inquisition, which utilized torture against those that had Church of God beliefs–and more is expected in the future (see Persecutions by Church and State). Protestant leaders have also promoted antisemitism and Church of God persecution (see The Similarities and Dissimilarities between Martin Luther and Herbert W. Armstrong) and Eastern Orthodox (see John Chrysostom, Bishop of Constantinople and Antisemite).
It is not just physical, ethnic Jews that are at risk–spiritual ones are as well (cf. Romans 2:28-29; John 15:20; see also The Spanish Inquisition and Early Protestant Persecutions).
Those in the true Church of God have always been on the side being persecuted and has never been on the side of the persecutors. And this will be true again in the future.
Sadly, many in Europe and elsewhere still hold anti-Semitic views, and some take direct anti-Semitic actions.
Sadly, real Christians will also see persecution greatly increase before Jesus returns (cf. Daniel 7:25; 11:30-35; see also Persecutions by Church and State)–this will affect Philadelphian Christians.
All the faithful will be subject to persecution and being betrayed by professing believers (Matthew 24:9-13, Mark 13:12-13; Luke 21:16-18; Daniel 11:32-35).
In the past, Christians were persecuted because they:
In the future, according to Catholic teachings, they also will be persecuted for:
Christians have been persecuted for holding doctrines that we in the Continuing Church of God hold and are clearly expected to be persecuted in the future for holding Continuing Church of God doctrines.
Persecution is a fact of history. It has happened before and we should be prepared for the fact that it will happen again.
The underlying antisemitism in Europe and throughout the world will allow for this, especially when the time comes when the Beast's government mandates it (Revelation 13:15-17).
Some items of related interest may include:
Persecutions by Church and State This article documents some that have occurred against those associated with the COGs and some prophesied to occur. Will those with the cross be the persecutors or the persecuted–this article has the shocking answer. There is also a YouTube video sermon you can watch: The Coming Persecution of the Church.
The Spanish Inquisition and Early Protestant Persecutions Was the Church of Rome really responsible for this? What happened? A video of related interest is titled: The Past and Future Inquisition.
Why Terrorism? Is Terrorism Prophesied? What does the Bible teach? Which nations may be affected? Here is a link to a related sermon: Terrorism, Christianity, and Islam.
Beware of the 'Ecumenical Cross' The Catholic Encyclopedia' reported that in the first millennium of the Christian era, there were those who consider that the 'cross' would be the 'mark of the beast.' Is this too far-fetched to be possible now? As it turns out, in the 21st century, the World Council of Churches, the Vatican, and the Lutheran have embraced the 'Lund Cross,' also known as the Salvadoran cross, for purposes of ecumenical unity. Furthermore, writings by various Catholic saints and some claiming to see Marian apparitions have pointed to a group that will wear some type of cross to persecute those that do not in the end times. Is the cross an original symbol that early Christians venerated? Could a cross be 'a' or 'the' mark of the beast or the mark of final Antichrist? Dr. Thiel addresses this as well as other aspects of the ecumenical agenda in this video.
God's Grace is For All Is being Jewish a hindrance to salvation? What about not being a descendant of Israel? What does the Bible really teach? Here is a link to a related sermon titled Race and Grace; Do you view race as God does?
The 'Lost Tribe' of Reuben: France in Prophecy? What is the origin of this in France? What is prophesied to happen to them? A two-part sermon related to history and prophecy is available online: The 'Lost Tribe' of Reuben and France and Prophecy.
John Chrysostom, Bishop of Constantinople and Anti-Semite This late fourth/early fifth century Bishop of Constantinople is considered to be a 'saint' and 'doctor' by the Church of Rome, Church of England, and the Eastern Orthodox, but he did not teach Christ's love.
The Similarities and Dissimilarities between Martin Luther and Herbert W. Armstrong This article clearly shows some of the doctrinal differences between in the two. At this time of doctrinal variety and a tendency by many to accept certain aspects of Protestantism, the article should help clarify why the genuine Church of God is NOT Protestant. Do you really know what the Protestant Reformer Martin Luther taught and should you follow his doctrinal example? Here is a related sermon video: Martin Luther and Herbert Armstrong: Reformers with Differences.
When Will the Great Tribulation Begin? 2018, 2019, or 2020? Can the Great Tribulation begin today? What happens before the Great Tribulation in the "beginning of sorrows"? What happens in the Great Tribulation and the Day of the Lord? Is this the time of the Gentiles? When is the earliest that the Great Tribulation can begin? What is the Day of the Lord? Who are the 144,000? Here is a version of the article in the Spanish language: ¿Puede comenzar la Gran Tribulación en 2018 o 2019? ¿Es el Tiempo de los Gentiles? You can also see the English language sermon videos: The Great Tribulation from the Mount of Olives and Can the Great Tribulation begin before 2020? A shorter video is: Can the Great Tribulation begin in 2018?
The Philadelphia Church Era was predominant circa 1933 A.D. to 1986 A.D. The old Radio Church of God and old Worldwide Church of God, now basically the most faithful in the Church of God, like who hold to the beliefs and practices of the Continuing Church of God.