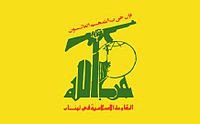 Hezbollah Flag

Hezbollah and Israel have again attacked and threatened each other.
Hezbollah chief vows retaliation for future Israeli strikes in Lebanon

August 8, 2021

Hezbollah Secretary-General Hassan Nasrallah said Saturday that his terror group does not seek escalation with Israel, but will respond in kind to any Israeli airstrikes in southern Lebanon.

"We wanted to tell our Israeli enemy that any airstrike against Lebanon will absolutely be met with a response — but in an appropriate, proportional way," he said. …

Israel struck targets in south Lebanon early Thursday in response to what the Israel Defense Forces said was rocket fire by Palestinian terror groups in the area.

On Friday, Hezbollah fired 19 missiles toward open areas in the north of Israel, its heaviest barrage since the 2006 Second Lebanon War. Israel responded with several rounds of artillery strikes. Witnesses reported artillery fire by Israeli forces on the Lebanese side of Shebaa Farms and outside the town of Kafr Shouba after the attack. https://www.timesofisrael.com/hezbollah-chief-vows-retaliation-for-future-israeli-strikes-in-lebanon/

Bennett: Israel won't accept rocket attacks from Lebanon

August 8, 2021

Lebanon must reign in the terrorists shooting rockets at Israel, regardless of who they are, Prime Minister Naftali Bennett warned at the start of Sunday's cabinet meeting.

"The State of Lebanon and the Lebanese Army must take responsibility for what is happening in their backyard…It is less important to us whether it's a Palestinian group of independent rebels," Bennett said.

The prime minister added a warning: "Israel will not accept shooting into its territory."
Here is some information about Hezbollah:
Hezbollah is a political and militant Shi'ite Muslim group based in Lebanon. Hezbollah, whose name means "Party of God" in Arabic, was founded in 1982 following Israel's invasion of Lebanon in the First Lebanon War.

The group, which is currently led by Sheikh Hassan Nasrallah, has close political and military ties with Syria and Iran, and is designated by the United States and other Western nations as a terrorist group. The political arm of Hezbollah is deeply involved in Lebanese politics, with seats in the government, and the group has a history of providing social programs, schools and health care to the Lebanese Shi'ite community.

Hezbollah opposes the West and Israel, and seeks to create in Lebanon an Islamic state modeled on Iran. Accessed 12/26/18: https://www.haaretz.com/misc/tags/TAG-hezbollah-1.5598890
The situation between Israel and its neighbors remains difficult. Pretty much all of Israel's neighbors want it to cease to exist, and Hezbollah's ties with Iran suggest they would work militarily together against Israel.
Hezbollah is an ally of Iran, and also essentially Syria.
Notice something from late 2018:
Hezbollah threatens Israel: In the next war, we will be with Iran

December 26, 2018

"In the event of any war against Hezbollah, the movement is not going to be alone." These words came from an Iraqi Shiite paramilitary group after the Israel Defense Forces discovered a fourth underground invasion tunnel from Lebanon across the border into Israel. The first invasion tunnel was discovered on December 4.

Hezbollah's spokesman voiced support on December 14, telling Iran's Tasnim News Agency that, should Hezbollah be attacked, "all, including Nujaba, will be standing by its side." https://www.ifmat.org/12/26/hezbollah-threatens-israel/
Notice a report from a few days ago:
August 5, 2021

Defense Minister Benny Gantz was asked directly in an interview published Thursday with YNet News whether Israel is prepared to launch a military attack on Iran, to which he replied simply with, "Yes".

Gantz explained Israel's military stands ready to engage in a "multi-front" conflict – likely a reference to Syria where it's already conducting weekly airstrikes against "Iran-backed" groups allied with Assad. https://www.zerohedge.com/geopolitical/israel-ready-strike-iran-response-tanker-attacks.
Israel's "multi-front" conflict means it is looking at a possible regional war against Iran, Syria, and at least parts of Lebanon and possibly Gaza and other areas (such as in Iraq and the West Bank).
The Bible has the following incident and caution:
1 Now Ben-Hadad the king of Syria gathered all his forces together; thirty-two kings were with him, with horses and chariots. And he went up and besieged Samaria, and made war against it. 2 Then he sent messengers into the city to Ahab king of Israel, and said to him, "Thus says Ben-Hadad: 3 'Your silver and your gold are mine; your loveliest wives and children are mine.'"

4 And the king of Israel answered and said, "My lord, O king, just as you say, I and all that I have are yours."

5 Then the messengers came back and said, "Thus speaks Ben-Hadad, saying, 'Indeed I have sent to you, saying, "You shall deliver to me your silver and your gold, your wives and your children"; 6 but I will send my servants to you tomorrow about this time, and they shall search your house and the houses of your servants. And it shall be, that whatever is pleasant in your eyes, they will put it in their hands and take it.'"

7 So the king of Israel called all the elders of the land, and said, "Notice, please, and see how this man seeks trouble, for he sent to me for my wives, my children, my silver, and my gold; and I did not deny him."

8 And all the elders and all the people said to him, "Do not listen or consent."

9 Therefore he said to the messengers of Ben-Hadad, "Tell my lord the king, 'All that you sent for to your servant the first time I will do, but this thing I cannot do.'"

And the messengers departed and brought back word to him.

10 Then Ben-Hadad sent to him and said, "The gods do so to me, and more also, if enough dust is left of Samaria for a handful for each of the people who follow me."

11 So the king of Israel answered and said, "Tell him, 'Let not the one who puts on his armor boast like the one who takes it off.'" (1 Kings 20:1-11)
Iran, Hezbollah, Israel, and others have boasted that they can handle and win a military conflict. But, no, both sides will not truly 'win' a military conflict.
Despite Israeli military strength, it will have problems.
The Bible shows that God will allow the nation of Israel to be hit:
1 The burden against the Valley of Vision.

What ails you now, that you have all gone up to the housetops, 2 You who are full of noise, A tumultuous city, a joyous city? Your slain men are not slain with the sword, Nor dead in battle. 3 All your rulers have fled together; They are captured by the archers. All who are found in you are bound together; They have fled from afar. 4 Therefore I said, "Look away from me, I will weep bitterly; Do not labor to comfort me Because of the plundering of the daughter of my people."

5 For it is a day of trouble and treading down and perplexity By the Lord God of hosts In the Valley of Vision — Breaking down the walls And of crying to the mountain. 6 Elam bore the quiver With chariots of men and horsemen, And Kir uncovered the shield. 7 It shall come to pass that your choicest valleys Shall be full of chariots,And the horsemen shall set themselves in array at the gate.

8 He removed the protection of Judah. You looked in that day to the armor of the House of the Forest; 9 You also saw the damage to the city of David, That it was great; And you gathered together the waters of the lower pool. 10 You numbered the houses of Jerusalem, And the houses you broke down To fortify the wall. 11 You also made a reservoir between the two walls For the water of the old pool. But you did not look to its Maker, Nor did you have respect for Him who fashioned it long ago.

12 And in that day the Lord God of hosts Called for weeping and for mourning,For baldness and for girding with sackcloth. 13 But instead, joy and gladness, Slaying oxen and killing sheep, Eating meat and drinking wine: "Let us eat and drink, for tomorrow we die!"

14 Then it was revealed in my hearing by the Lord of hosts,"Surely for this iniquity there will be no atonement for you, Even to your death," says the Lord God of hosts. (Isaiah 22:1-14 NKJV)
Elam looks to be a reference to at least some in Iran and the Bible ties Syrians to Kir in several places (cf. Amos 1:5, 9:7; 2 Kings 16:). Iran is Syria's closest ally. Kir is a reference to at least some in Syria as well as perhaps some who refer to themselves as Palestinian.
In Isaiah 22: 8, "Judah" is a reference to those in the land commonly called Israel–God will allow Israel to be attacked! In Isaiah 22:9, consider that "the damage to the city of David" is a reference to at least part of Jerusalem (cf. 2 Kings 9:28)–and notice that the damage will be great.
While Israel may attack first or respond to an attack, understand that its famed 'Iron Dome' will NOT stop the coming great damage that will hit Jerusalem, when Isaiah 22 is fulfilled.
Elam seems to be a reference to at least some in Iran. Kir is of interest as it has several possibilities. One is that the Bible tells that after Tiglath-Pileser king of Assyria took over Damascus, he moved Syrians to Kir. While this does not mean that Kir must (or must only) be a reference to Syria, the fact that Syria is an ally of Iran is interesting. Some believe Kir is an area in the south of Iran, while others suggest closer to the Black Sea. The Bible tells of a time when Kir will be destroyed (Isaiah 15:1b) and also says that Syria's capital Damascus will be destroyed (Isaiah 17:1).
The point I wish to make is that Isaiah 22 shows, presuming that it has a future application, that a time is coming when God will take away the protection of Judah and the City of David (Jerusalem, cf. 2 Kings 9:28) and a confederation made up of peoples listed in Isaiah 22 has already basically formed.
Furthermore, based on prophecies, such as the following, it looks like Iran will be somewhat neutralized before the final King of the South rises up:
34 The word of the Lord that came to Jeremiah the prophet against Elam, in the beginning of the reign of Zedekiah king of Judah, saying, 35 "Thus says the Lord of hosts:

'Behold, I will break the bow of Elam,
The foremost of their might.
36 Against Elam I will bring the four winds
From the four quarters of heaven,
And scatter them toward all those winds;
There shall be no nations where the outcasts of Elam will not go.
37 For I will cause Elam to be dismayed before their enemies
And before those who seek their life.
I will bring disaster upon them,
My fierce anger,' says the Lord;
'And I will send the sword after them
Until I have consumed them.
38 I will set My throne in Elam,
And will destroy from there the king and the princes,' says the Lord. (Jeremiah 49:34-38)
That being said, the Bible also tells of a time when there will be a temporary 'peace deal' in the general region (see the article The 'Peace Deal' of Daniel 9:27).
Peace deals often come after war.
It should also be pointed out that, ultimately, lands that Israel currently claims will end up under control by those who are currently in opposition to Israel according to the Bible (Jeremiah 25:17-29; see also Gaza and the Palestinians in Bible Prophecy).
One day Israel will lose lands it now controls.
We look to be getting closer to a significant regional war.
Some items of possibly related interest may include:
Iran in Prophecy Is Iran in Bible prophecy? If so, what does the Bible teach? What names, other than Persia, may be used to describe Iran? There is also a YouTube video titled Iran in Prophecy. Here is a related video Iran In Prophecy.
Gaza and the Palestinians in Bible Prophecy What does the Bible teach about Gaza and the fate of the Palestinians? Here is a link to a related video: Gaza and Palestine in Prophecy.
The 'Peace Deal' of Daniel 9:27 This prophecy could give up to 3 1/2 years advance notice of the coming Great Tribulation. Will most ignore or misunderstand its fulfillment? Here is a link to a related sermon video Daniel 9:27 and the Start of the Great Tribulation.
How Will Middle East Peace be Brought About? Can humans bring peace to the Middle East? Here is a link to a related video: Middle East Peace? When?
Is the Future King of the South Rising Up? Some no longer believe there needs to be a future King of the South. Might Egypt, Islam, Iran, Arabs, or Ethiopia be involved? Might this King be called the Mahdi or Caliph? What does the Bible say? A YouTube video of related interest may be: The Future King of the South is Rising.
The Arab and Islamic World In the Bible, History, and Prophecy The Bible discusses the origins of the Arab world and discusses the Middle East in prophecy. What is ahead for the Middle East and those who follow Islam? What about the Imam Mahdi? What lies ahead for Turkey, Iran, and the other non-Arabic Muslims? An item of possibly related interest in the Spanish language would be: Líderes iraníes condenan la hipocresía de Occidente y declaran que ahora es tiempo para prepararse para el Armagedón, la guerra, y el Imán Mahdi.
Damascus and Syria in Prophecy Will Bashar Assad hold power as he has it? Does the Bible show that Damascus, the capital of Syria, will be destroyed? What will happen to Syria? Will the Syrians support the final King of the South that the Bible tells will rise up? Which scriptures discuss the rise and fall of an Arabic confederation? Does Islamic prophecy predict the destruction of Syria. This is a YouTube video.
When Will the Great Tribulation Begin? 2021, 2022, or 2023? Can the Great Tribulation begin today? What happens before the Great Tribulation in the "beginning of sorrows"? What happens in the Great Tribulation and the Day of the Lord? Is this the time of the Gentiles? When is the earliest that the Great Tribulation can begin? What is the Day of the Lord? Who are the 144,000? Here is a version of the article in the Spanish language: ¿Puede la Gran Tribulación comenzar en el 2020 o 2021? ¿Es el Tiempo de los Gentiles? A related video is: Great Tribulation: 2026 or 2027? Here is a video in the Spanish language: Es El 2021 el año  de La Gran Tribulación o el Grande Reseteo Financiero.