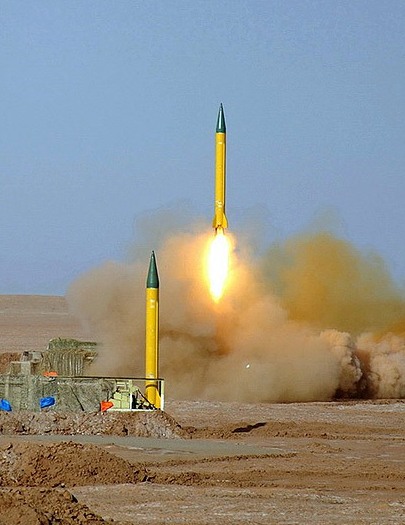 Iranian Shahab 3 missiles (Hossein Velayati)

Israel365News posted the following:
Israeli PM vows to fight against nuclearization of Iranian 'terror regime'

January 11, 2023

Israeli Prime Minister Benjamin Netanyahu on Tuesday warned the "terror regime" in Iran not to cross the Jewish state's "red lines," in remarks during a visit to the Israel Defense Forces Northern Command.

"The main enemy we are facing is the terror regime in Iran and its proxies in Syria and Lebanon," said Netanyahu. "We are determined to fight Iran's attempts to develop a nuclear arsenal. We are determined to fight any attempt by Iran to entrench itself on our border with Syria. We are determined to fight all attempts by Hezbollah to show aggression against us from Lebanon.

"And those who need a reminder of our red lines will receive it," he added.

Defense Minister Yoav Gallant, who accompanied Netanyahu, similarly vowed to prevent Tehran from establishing a permanent military presence in Syria, as well as to curb the flow of Iranian arms to Hezbollah.

"The quiet in the north is an important goal. Therefore, along with maintaining calm, we will act powerfully against any attempt to harm Israeli citizens and IDF soldiers," said Gallant.

It comes as Strategic Affairs Minister Ron Dermer is in Washington for high-level meetings with American officials that will focus on Iran's nuclear program. https://www.israel365news.com/365225/israeli-pm-vows-to-fight-against-nuclearization-of-iranian-terror-regime/
Yes, this statement by Benjamin Netanyahu is consistent with others he has voiced over the years.
But while he is targettng Iran,  Syria, and parts of Lebanon in his recent statement, according to the Bible, Israel itself will be hit by Iran and Syria. Meetings with the USA will not stop that.
The Bible shows that God will allow what looks to be a Iranian-Syrian confederation, to strike the nation of Israel:
1 The burden against the Valley of Vision.

What ails you now, that you have all gone up to the housetops, 2 You who are full of noise, A tumultuous city, a joyous city? Your slain men are not slain with the sword, Nor dead in battle. 3 All your rulers have fled together; They are captured by the archers. All who are found in you are bound together; They have fled from afar. 4 Therefore I said, "Look away from me, I will weep bitterly; Do not labor to comfort me Because of the plundering of the daughter of my people."

5 For it is a day of trouble and treading down and perplexity By the Lord God of hosts In the Valley of Vision — Breaking down the walls And of crying to the mountain. 6 Elam bore the quiver With chariots of men and horsemen, And Kir uncovered the shield. 7 It shall come to pass that your choicest valleys Shall be full of chariots, And the horsemen shall set themselves in array at the gate.

8 He removed the protection of Judah. You looked in that day to the armor of the House of the Forest; 9 You also saw the damage to the city of David, That it was great; And you gathered together the waters of the lower pool. 10 You numbered the houses of Jerusalem, And the houses you broke down To fortify the wall. 11 You also made a reservoir between the two walls For the water of the old pool. But you did not look to its Maker, Nor did you have respect for Him who fashioned it long ago.

12 And in that day the Lord God of hosts Called for weeping and for mourning, For baldness and for girding with sackcloth. 13 But instead, joy and gladness, Slaying oxen and killing sheep, Eating meat and drinking wine: "Let us eat and drink, for tomorrow we die!"

14 Then it was revealed in my hearing by the Lord of hosts,"Surely for this iniquity there will be no atonement for you, Even to your death," says the Lord God of hosts. (Isaiah 22:1-14 NKJV)
Elam is a reference to at least some in Iran. The Bible tells that after Tiglath-Pileser king of Assyria took over Damascus, he moved Syrians to Kir. While this does not mean that Kir must (or must only) be a reference to Syria, the fact that Syria is an ally of Iran is interesting.
In Isaiah 22: 8, "Judah" is a reference to those in the land commonly called Israel–God will allow Israel to be attacked! In Isaiah 22:9, consider that "the damage to the city of David" is a reference to at least part of Jerusalem–and notice that the damage will be great. This, in turn, would be expected to result in a massive Israeli, possibly with US involvement, attack against Iran and its allies, like Syria.
More death and destruction is prophesied to come–and that includes damage to Iran and Syria as well.
The Continuing Church of God (CCOG) put together the following Bible News Prophecy video on our Bible News Prophecy YouTube channel:
European Union foreign policy chief, Josep Borrel, has been brokering the nuclear negotiations involving Iran and said that he thinks the deal is "in danger." Iran blames the United States, whereas the USA says they are not delaying it. Israeli sources stated that Israel will stop Iran from getting a nuclear bomb. Joe Biden says the USA would use its own military power to prevent Iran from getting such a bomb if need be. In 2021, Iranian lawmakers have submitted a bill seeking the government by law to commit to Israel's destruction by the year 2040. Does the 22nd chapter of Isaiah point to damage coming to Israel from Iran and possibly Syria? Might Iran be concerned enough about limited progress with the USA to launch some type of attack? Is Iran the prophesied 'King of the South'? Is it reasonable to think that the prophesied peace deal of Daniel 9:27 will not happen until after a military conflict. like a regional war? Should Christians watch the Middle East? Dr. Thiel and Steve Dupuie discuss these matters.
Here is a link to our video: Iran and Israel Conflict.
We are in a time of wars and rumors of wars as Jesus foretold (Matthew 24:4-8).
Israel is not relying on God for its protection.
Things that it hopes to rely on are its 'laser sword' and 'Iron Dome' and similar defenses.
The Bible contains the following caution:
'Let not the one who puts on his armor boast like the one who takes it off.' (1 Kings 20:11)
Putting on armor does not mean one cannot be defeated or at least greatly harmed.
Iron Dome is essentially an anti-missile system intended to block rockets and missiles from hitting targets within Israel.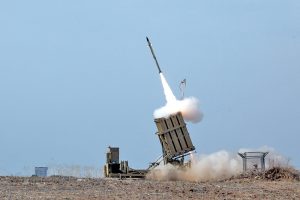 'Iron Dome' missile (Israel Defense Forces)
Here is some of what Wikipedia says about the Iron Dome:
Iron Dome (Hebrew: כִּפַּת בַּרְזֶל, kippat barzel) is a mobile all-weather air defense system[8] developed by Rafael Advanced Defense Systems and Israel Aerospace Industries.[7] The system is designed to intercept and destroy short-range rockets and artillery shells fired from distances of 4 kilometres (2.5 mi) to 70 kilometres (43 mi) away and whose trajectory would take them to an Israeli populated area.[9][10] Israel hopes to increase the range of Iron Dome's interceptions, from the current maximum of 70 kilometres (43 mi) to 250 kilometres (160 mi) and make it more versatile so that it could intercept rockets coming from two directions simultaneously.[11] (Iron Dome, Wikipedia, accessed 01/10/20)
Israel has mainly used the Iron Dome to deal with rockets from Gaza. But this, plus some version of its laser sword would probably be used in attacks from Iran. But it will not be enough to prevent the prophesied "great damage" which will come to Jerusalem.
We may very well be getting close to a regional war–or worse. The Bible tells of a time when Kir will be destroyed (Isaiah 15:1b) and also says that Syria's capital Damascus will be destroyed (Isaiah 17:1). Israeli threats and military targeting may, at least partially, trigger this.
Rockets, the Iron Dome, and laser swords are NOT the solution for the region.
The coming damage to Jerusalem would likely be a prelude to a temporal peace in the region (cf. Daniel 9:27).
True peace will not come until after the return of Jesus Christ and the establishment of the Kingdom of God.
Some items of possibly related interest may include:
Iran in Prophecy Is Iran in Bible prophecy? If so, what does the Bible teach? What names, other than Persia, may be used to describe Iran? There is also a YouTube video titled Iran in Prophecy. Here are links to two related videos Iran In Prophecy and  Iran and Israel Conflict.
Jerusalem: Past, Present, and Future What does the Bible say about Jerusalem and its future? Is Jerusalem going to be divided and eliminated? Is Jesus returning to the area of Jerusalem? There are also two related YouTube videos you can watch: Jerusalem To be divided and eliminated and God's and Satan's Plan for Jerusalem.
When Will the Great Tribulation Begin? 2023, 2024, or 2025? Can the Great Tribulation begin today? What happens before the Great Tribulation in the "beginning of sorrows"? What happens in the Great Tribulation and the Day of the Lord? Is this the time of the Gentiles? When is the earliest that the Great Tribulation can begin? What is the Day of the Lord? Who are the 144,000? Here is a version of the article in the Spanish language: ¿Puede la Gran Tribulación comenzar en el 2020 o 2021? ¿Es el Tiempo de los Gentiles? A related video is: Great Tribulation: 2026 or 2027? A shorter video is: Can the Great Tribulation start in 2022 or 2023? Notice also: Can Jesus return in 2023 or 2024? Here is a video in the Spanish language: Es El 2021 el año  de La Gran Tribulación o el Grande Reseteo Financiero.
Biden-Harris: Prophecies and Destruction Can the USA survive two full presidential terms? In what ways are Joe Biden and Kamala Harris apocalyptic? This book has hundreds of prophecies and scriptures to provide details.  A Kindle version is also available and you do not need an actual Kindle device to read it. Why? Amazon will allow you to download it to almost any device: Please click HERE to download one of Amazon s Free Reader Apps. After you go to your free Kindle reader app (or if you already have one or a Kindle),  you can go to: Biden-Harris: Prophecies and Destruction (Kindle) to get the book in seconds.