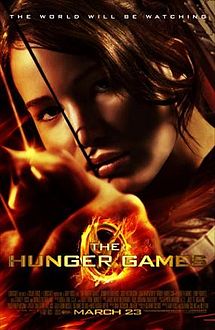 The movie The Hunger Games came out a few days ago and is wildly popular (it has the biggest three-day opening weekend take of any original, as opposed to sequel, movie, per Erica Orden.  'Hunger Games' Triumphs. Wall Street Journal, March 26, 2012, p. B9).  Here are some comments about it from an official website:
Every year in the ruins of what was once North America, the evil Capitol of the nation of Panem forces each of its twelve districts to send a teenage boy and girl to compete in the Hunger Games…
THE HUNGER GAMES is directed by Gary Ross, with a screenplay by Gary Ross and Suzanne Collins and Billy Ray, and produced by Nina Jacobson's Color Force in tandem with producer Jon Kilik.  Suzanne Collins' best-selling novel, the first in a trilogy published by Scholastic that has over 23.5 million copies in print in the United States alone, has developed a massive global following. It has spent more than 160 consecutive weeks/more than three consecutive years to date on The New York Times bestseller list since its publication.  www.thehungergamesmovie.com/
Though I have seen previews of the movie and talked to some who have seen it, I have not seen it yet.  Those who have seen it that I spoke with liked it. From what I know about the movie, it portrays a post-ruined USA in a better light than I believe that Bible prophecy allows (and no, I did not expect this Hollywood movie based upon a novel to try to convey biblical prophecy).  Yet, perhaps because it indicates that the USA can be ruined, The Hunger Games will give viewers reasons to consider that the USA is changing.  And mostly in a direction that is not good.
While hunger is not a game (and some of those behind the movie are trying increase people's awareness of hunger in the USA and elsewhere; see The Hunger Games Movie Teams Up Against Hunger.  http://feedingamerica.org/), the movie draws attention to untrusty powers that can cause problems for individuals.
And while I do not believe that the movie The Hunger Games goes into the details that biblically-immoral choices by the nation are a major hunger risk (it seems mainly focused on governmental immorality), the reality is that hunger is not just something that will affect children and poor in the USA, many in the USA will die from lack of food in the future and be taken captive.  Notice:
47 "Because you did not serve the Lord your God with joy and gladness of heart, for the abundance of everything, 48 therefore you shall serve your enemies, whom the Lord will send against you, in hunger, in thirst, in nakedness, and in need of everything; and He will put a yoke of iron on your neck until He has destroyed you. 49 The Lord will bring a nation against you from afar, from the end of the earth, as swift as the eagle flies, a nation whose language you will not understand, 50 a nation of fierce countenance, which does not respect the elderly nor show favor to the young. 51 And they shall eat the increase of your livestock and the produce of your land, until you are destroyed; they shall not leave you grain or new wine or oil, or the increase of your cattle or the offspring of your flocks, until they have destroyed you. (Deuteronomy 28:47-51)

9 Her uncleanness is in her skirts; She did not consider her destiny; Therefore her collapse was awesome; She had no comforter. "O Lord, behold my affliction, For the enemy is exalted!"  (Lamentations 1:9)

19 "Arise, cry out in the night, At the beginning of the watches; Pour out your heart like water before the face of the Lord. Lift your hands toward Him for the life of your young children, Who faint from hunger at the head of every street."  (Lamentations 2:19)

9 Those slain by the sword are better off than those who die of hunger; For these pine away, Stricken for lack of the fruits of the field. 10 The hands of the compassionate women have cooked their own children; They became food for them in the destruction of the daughter of my people.  (Lamentations 4:9-10)

4 We pay for the water we drink, And our wood comes at a price. 5 They pursue at our heels; We labor and have no rest. 6 We have given our hand to the Egyptians And the Assyrians, to be satisfied with bread. 7 Our fathers sinned and are no more, But we bear their iniquities.  8 Servants rule over us; There is none to deliver us from their hand". (Lamentations 5:4-8)

10 Then He said to them, "Nation will rise against nation, and kingdom against kingdom.  11 And there will be great earthquakes in various places, and famines and pestilences; and there will be fearful sights and great signs from heaven.  (Luke 21:10-11)

5 When He opened the third seal, I heard the third living creature say, "Come and see." So I looked, and behold, a black horse, and he who sat on it had a pair of scales in his hand. 6 And I heard a voice in the midst of the four living creatures saying, "A quart of wheat for a denarius, and three quarts of barley for a denarius; and do not harm the oil and the wine."  (Revelation 6:5-6)
It will probably take a "perfect storm" of events for this to occur including droughts, floods, earthquakes, civil unrest, hurricanes, tornadoes, gmo and other crop failure, combined with foreign events and/or the increasingly increased debt of the USA to trigger some of this (and not all will be related to, or limited to, the USA), but it will happen.
Towards the end of the last century, I started to get published for my positions against genetically-modified foods (Thiel R. Labeling of genetically modified foods should be a fundamental consumer right. HealthKeepers, 2000; 2 (3):16-19; Thiel R. ANMA's official position on genetically-modified foods. ANMA Monitor, 1999;3(4)5-8).  The increased dependance upon genetically-modified organisms (GMOs) for the American food supply is putting the USA at tremendous risk for famine and pestilences (cf. Matthew 24:7-8). This is a food concern for 2012.
In more recent times I warned:
In the "Great Depression" most Americans and Brits had skills in growing food. This is no longer the case. Furthermore, modern crops have gotten more complicated as so many seeds are hybrids that they will not actually grow the type of foods most in the USA and UK are used to having. The coming food problems will also get worse once one or more genetically-modified crops suffers from some type of pestilence. The USA, to cite one example, could lose virtually all of its wheat or corn because of the dependence on genetically modified versions (which is especially true for crops like corn and soy). Prophecy for famines will be fulfilled (Matthew 24:7-8). (From China Buying USA Food, In Depression Will Chinese Eat While Americans & Brits Starve? May 21, 2010)

Notice something that Ezekiel was inspired to write:

15 'So it shall be a reproach, a taunt, a lesson, and an astonishment to the nations that are all around you, when I execute judgments among you in anger and in fury and in furious rebukes. I, the Lord, have spoken. 16 When I send against them the terrible arrows of famine which shall be for destruction, which I will send to destroy you, I will increase the famine upon you and cut off your supply of bread. 17 So I will send against you famine and wild beasts, and they will bereave you. Pestilence and blood shall pass through you, and I will bring the sword against you. I, the Lord, have spoken.'" (Ezekiel 5:15-17)

Notice that this shows famine, then pestilence, and then the sword. The above sequence seems to be slightly different than that Jesus listed as part of the "beginning of sorrows" (Mathew 24:7-8) as the sword comes afterwards. But since the sword should begin the Great Tribulation, the time of Jacob's trouble (Jeremiah 30:7), this may be part of how the beginning of sorrows ties into the Great Tribulation–this also may suggest hunger and disease problems for the Anglo-nations prior to the start of the Great Tribulation.

The increasing use of genetically modified organisms for many of the grain crops in the USA is putting parts of humanity at major increased risk of unintended consequences such as famine and disease pestilences. Most of the corn and soy beans produced in the USA are genetically-modified. Soon, much of the wheat will be. Directly and indirectly, the USA and its Anglo-allies will cause most of the problems that it will be experiencing in the next several years.

As Jesus said:

37 And what I say to you, I say to all: Watch! (Mark 13:36-37)

Tougher times are coming. And for some parts of the world these tougher time may be here now. People who can prepare, should: both spiritually and physically. (From Super Wheat: Solution or Disaster Awaiting? June 10, 2011)

So, it may be that the Anglo-nations will experience some real hunger as well as disease and/or other pestilences (that could possibly at least partially be triggered by excessive reliance on genetically-modified organisms as part of their agricultural production) that will weaken them enough so that the USA and its Anglo-allies will then be considered attackable by some of their enemies…

Because of sin, greed, and ignorance, America has been into producing genetically-modified foods. These "foods" are genetically identical which makes them susceptible to total elimination via famine-causing pestilential organisms. I have long suspected that the time will come when some type of pestilence will hit America's genetically-modified grain crops like corn and wreak havoc on the land. Enough so, that this may embolden its enemies to attack Britain and/or the USA to begin the Great Tribulation. (Can the Great Tribulation Begin in 2011, 2012, or 2013? Spring 2011)
Basically, I have long suspected that likely crop failures associated with GMO grains are putting the USA at extreme risk of being destroyed economically and otherwise. Most Americans do not like to accept this, but it is nonetheless true.
The time is coming when the USA will have severe food shortages and many more Americans will be hungry.  This may happen at a time when the USA may have to provide grain to China and other creditors that it owes, despite the likelihood that many Americans will be starving.  The reliance on genetically-modified grain crops will likely contribute to disaster in the USA.  Problems in the past year with gmo-corn help demonstrate that this is starting to become a risk that others noticing (see Pestilence Issues and Genetically-Modified Corn).
While we are not there yet for a time of total crop failure, this time is coming soon (and is likely to be the result of weather and other factors as well). Famines and pestilences are part of what Jesus called "the beginning of sorrows: (Matthew 24:4-8).
A hunger future will, for a while, happen for many more.
Physical Preparation Scriptures for Christians. We all know the Bible prophecies famines. Should we do something?
End of Mayan Calendar 2012–Might 2012 Mean Something? Are there Mayan calendar predictions for change in 2012? Changes were centuries ago predicted by the Hopi Native Americans. Do Mayan/Hindu/Hopi/Buddhist/New Age/Nostradamus prophecies have any value here? Why might Satan have inspired this date? Does the Dresden codex show destruction of the earth by flood? Can the great tribulation start before 2012? How might Barack Obama be involved in 2012?
2012 and the Rise of the Secret Sect This is a link related to a book by Bob Thiel (COGwriter). This link also has YouTube videos. This book documents and explains hundreds of prophecies. And since it was published, world events have aligned with at least 20 predictions in the book and many more will to come to pass.
Anglo – America in Prophecy & the Lost Tribes of Israel Are the Americans, Canadians, English, Scottish, Welsh, Australians, Anglo-Southern Africans, and New Zealanders descendants of Joseph? Where are the lost ten-tribes of Israel? Who are the lost tribes of Israel? Will God punish the U.S.A., Canada, United Kingdom, and other Anglo nations? Why might God allow them to be punished first?
Asia in Prophecy What is Ahead for China? Is it a "King of the East"? What will happen to nearly all the Chinese, Russians, and others of Asia? China in prophecy, where?
Does God Have a 6,000 Year Plan? What Year Does the 6,000 Years End? Was a 6000 year time allowed for humans to rule followed by a literal thousand year reign of Christ on Earth taught by the early Christians? When does the six thousand years of human rule end?
Prophecies of Barack Obama? Are there biblical and non-biblical prophecies about Barack Obama. Did Nostradamus predict Barack Obama dealing with the Antichrist? Might Barack Obama set the stage for the kings of the North and South as his timing and at least one Shiite prophecy suggests? This is the longest and most detailed of the articles here at COGwriter related to prophecy and Barack Obama.
Barack Obama, Prophecy, and the Destruction of the United States Some claim that Barack Obama is the prophesied "son of Kenya". Might Bible prophecy be fulfilled since he is to be the USA president?
Can the Great Tribulation Begin in 2012, 2013, or 2014? Can the Great Tribulation begin today? When is the earliest that the Great Tribulation can begin? What is the Day of the Lord?