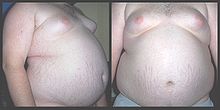 Obese Male
Americans are getting both hungrier and fatter:
Eighty-five percent of American households were food secure throughout the entire year in 2009, meaning that they had access at all times to enough food for an active, healthy life for all household members. The remaining households (14.7 percent) were food insecure at least some time during the year, including 5.7 percent with very low food security. In households with very low food security, the food intake of one or more household members was reduced and their  eating patterns were disrupted at times during the year because the household lacked money and other resources for food. (Nord M, et al. Household Food Security in the United States, 2009.  Economic Research Report, 108, November 2010.  http://www.ers.usda.gov/Publications/ERR108/ERR108.pdf)


According to a new report by the U.S. Department of Agriculture, 17.4 million American families – almost 15 percent of U.S. households – are now "food insecure," an almost 30 percent increase since 2006. This means that, during any given month, they will be out of money, out of food, and forced to miss meals or seek assistance to feed themselves.

Even those who get three meals a day may be malnourished. Americans increasingly eat cheap, sugary foods whose production is underwritten by government subsidies for the corn and dairy industries. As the New York Times reported this month, the USDA loudly promotes better eating habits while quietly working with Domino's to develop a new line of pizzas with 40 percent more cheese.

Obesity is related to hunger, too, thanks to our poor food choices and the lack of healthy food options in many communities. Many of us may be packing on the pounds, but they are life-threatening. We are dying not because we aren't eating, but because we're eating the wrong things.

(Five myths about hunger in America. Washington Post – Nov 21, 2010 http://www.washingtonpost.com/wp-dyn/content/article/2010/11/19/AR2010111902975.html)
Let me add here that according to another study (see Obesity and Prophecy) 26.7% of Americans are obese.  The obesity rate was highest in states like Mississippi, Louisiana, Alabama, Oklahoma, etc.  States like California were in the 20-25% range.
And before going into the aspect of hunger and prophecy, notice some of what Moses and Jeremiah wrote related to obesity:
15 You grew fat, you grew thick,
You are obese!
Then he forsook God who made him,
And scornfully esteemed the Rock of his salvation.
16 They provoked Him to jealousy with foreign gods;
With abominations they provoked Him to anger. (Deuteronomy 32:15-16)

11 "Because you were glad, because you rejoiced,
You destroyers of My heritage,
Because you have grown fat like a heifer threshing grain,
And you bellow like bulls,
12 Your mother shall be deeply ashamed;
She who bore you shall be ashamed.
Behold, the least of the nations shall be a wilderness,
A dry land and a desert. (Jeremiah 50:11-12)
God inspired the prophet Isaiah to write:
2 Why do you spend money for what is not bread,
And your wages for what does not satisfy?
Listen carefully to Me, and eat what is good (Isaiah 55:2).
But Americans do not often eat what is good.  And they eat a lot of white bread, which is really not real bread as it has had the wheat germ and other natural components removed.  This makes an inferior product which then is sprayed with synthetic B vitamins and other "nutrients" to "fortify" it.  If you notice "B vitamins" added to "fortify" refined grain products or in so-called "natural" vitamin supplements (like thiamin mononitrate, thiamin HCL, folic acid, pantothenic acid, pyridoxine hydrochloride, cyanocobalamin), realize that these are basically petroleum derivatives and are not the same form of vitamins that are actually found in real, natural, food.
But most Americans consume the synthetics and refined grains.
Despite the 30% rise in hunger, it will get much worse.  Bible prophecy indicates that 1/3 of the American people will die from famine and pestilence (Ezekiel 5:12).
Notice what Jesus and Jeremiah taught:
7…And there will be famines, pestilences, and earthquakes in various places.  8 All these are the beginning of sorrows. (Matthew 24:7-8)

19 "Arise, cry out in the night,
At the beginning of the watches;
Pour out your heart like water before the face of the Lord.
Lift your hands toward Him
For the life of your young children,
Who faint from hunger at the head of every street."  (Lamentations 2:19)

12 They say to their mothers, "Where is grain and wine?" (Lamentations 2:12)
Because of sin, greed, and ignorance America has been into producing genetically-modified foods. These "foods" are genetically identical which makes them susceptible to total elimination via famine causing pestilential organisms.  I have long suspected that the time will come when some type of pestilence will hit America's genetically-modified grain-crops like corn and wreak havoc on the land.  Enough so, that this may embolden its enemies to attack.
The Bible shows that hunger deaths will also come as a result of war and it will get really bad during the Great Tribulation:
21 For then there will be great tribulation, such as has not been since the beginning of the world until this time, no, nor ever shall be. (Matthew 24:21)

12 One-third of you shall die of the pestilence, and be consumed with famine in your midst; and one-third shall fall by the sword all around you; and I will scatter another third to all the winds, and I will draw out a sword after them. (Ezekiel 5:12)

47 "Because you did not serve the LORD your God with joy and gladness of heart, for the abundance of everything, 48 therefore you shall serve your enemies, whom the LORD will send against you, in hunger, in thirst, in nakedness, and in need of everything; and He will put a yoke of iron on your neck until He has destroyed you. 49 The LORD will bring a nation against you from afar, from the end of the earth, as swift as the eagle flies, a nation whose language you will not understand, 50 a nation of fierce countenance, which does not respect the elderly nor show favor to the young. 51 And they shall eat the increase of your livestock and the produce of your land, until you are destroyed; they shall not leave you grain or new wine or oil, or the increase of your cattle or the offspring of your flocks, until they have destroyed you. 52 They shall besiege you at all your gates until your high and fortified walls, in which you trust, come down throughout all your land; and they shall besiege you at all your gates throughout all your land which the LORD your God has given you (Deuteronomy 28:47-52).

9 Those slain by the sword are better off
Than those who die of hunger;
For these pine away,
Stricken for lack of the fruits of the field.

10 The hands of the compassionate women
Have cooked their own children;
They became food for them
In the destruction of the daughter of my people.

11 The Lord has fulfilled His fury,
He has poured out His fierce anger.
He kindled a fire in Zion,
And it has devoured its foundations. (Lamentations 4:9-11)

19 Through the wrath of the LORD of hosts
The land is burned up,
And the people shall be as fuel for the fire; No man shall spare his brother.
20 And he shall snatch on the right hand
And be hungry;
He shall devour on the left hand
And not be satisfied; Every man shall eat the flesh of his own arm. 21 Manasseh shall devour Ephraim, and Ephraim Manasseh; Together they shall be against Judah (Isaiah 9:19-21).
There is hunger in America.  And it will get much, much worse.
Food inflation has already started to begin, and this will increase hunger to those in poverty.  But ultimately, when crops fail and enemies attack, it will be worse than almost any American has ever imagined.
Some prophetic articles of possibly related interest may include:
Anglo – America in Prophecy & the Lost Tribes of Israel Are the Americans, Canadians, British, Scottish, Welsh, Australians, Anglo-Southern Africans, and New Zealanders descendants of Joseph? Where are the lost ten-tribes of Israel? Who are the lost tribes of Israel? Will God punish the U.S.A., Canada, United Kingdom, and other Anglo nations? Why might God allow them to be punished first?
Will the Anglo-Nations be Divided? Will the lands of the United States, United Kingdom, Canada, Australia, and New Zealand be divided? What does Bible prophecy teach? Are there non-biblical prophecies that support this idea? Who will divide those lands? Who will end up with the lands and the people?
Prophecies of Barack Obama? Eight reasons why Barack Obama is apocalyptic and eight reasons why Barack Obama is not the Antichrist. This article includes many biblical and non-biblical prophecies, from around the world, that seem to discuss Barack Obama. Did Nostradamus predict Barack Obama dealing with the Antichrist?  Might Barack Obama set the stage for the kings of the North and South as at least one Shiite prophecy suggests?  This is the longest and most complete article on this page on Barack Obama prophecies. Read it and decide for yourself if President Obama seems to be fulfilling various prophecies.
Barack Obama, Prophecy, and the Destruction of the United States Some claim that Barack Obama is the prophesied "son of Kenya", based up an early 20th century writing.
Who is the King of the North? Is there one? Do biblical and Roman Catholic prophecies point to the same leader? Should he be followed? Who will be the King of the North discussed in Daniel 11? Is a nuclear attack prophesied to happen to the English-speaking peoples of the United States, Great Britain, Canada, Australia, and New Zealand? When do the 1335 days, 1290 days, and 1260 days (the time, times, and half a time) of Daniel 12 begin?  Where is the nation of Israel in all of this?
Does God Have a 6,000 Year Plan? What Year Does the 6,000 Years End? Was a 6000 year time allowed for humans to rule followed by a literal thousand year reign of Christ on Earth taught by the early Christians? When does the six thousand years of human rule end?
Can the Great Tribulation Begin in 2010, 2011, or 2012? Can the Great Tribulation begin today? When is the earliest that the Great Tribulation can begin? What is the Day of the Lord?