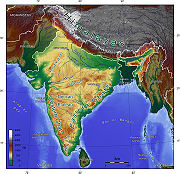 The leadership in India apparently does not feel that India will be affected too much by downgrade of the US government's credit rating:
August 08, 2011

Indian Economy Can Weather US Credit Downgrade, Says New Delhi

Anjana Pasricha…

India says it is in a better position than many other nations to manage the challenge arising from the downgrading of the U.S. government's credit worthiness…

Central Bank officials also moved to calm markets, which slid during the day, pointing out that the country's economy remained resilient despite the 2008 financial crisis and continued to grow at around seven per cent.

To a large extent, this was because India is sustained by a large domestic market and is less dependent on exports than many Asian economies.
It is interesting that India basically believes because it has relatively exports to the USA, that this is a reason that whatever happens to the USA will not affect it much.  On the other hand, Indians tend to buy a lot of gold, and gold hit a record (see Gold Breaks $1700 Wall Street Journal or for the latest price, which changes both up and down go to the Financial Information link).
Stocks, not surprisingly, have not done as well (and they may go back up):
Stocks on Wall Street opened sharply lower Monday as nervousness over the downgrade of the United States's long-term debt and Europe's fiscal problems continued to hang over global markets.
Now, although these things are troubling, the end is not yet:
5 And Jesus, answering them, began to say: "Take heed that no one deceives you. 6 For many will come in My name, saying, 'I am He,' and will deceive many. 7 But when you hear of wars and rumors of wars, do not be troubled; for such things must happen, but the end is not yet. 8 For nation will rise against nation, and kingdom against kingdom. And there will be earthquakes in various places, and there will be famines and troubles. These are the beginnings of sorrows. (Mark 13:5-8)
At most, we are in what Jesus referred to as "the beginning of sorrows", which precede the Great Tribulation (which will not start before 2015 and more likely a later year than that).
According to Bible prophecy, the end of the Anglo-dominance of the world is coming (Jeremiah 30:7), and the final age of the Gentiles (Luke 21:24) will be here in a relatively few years.
India, however, will outlast the USA, though it will have its own major issues a few years after the USA is no more.
Some articles of possibly related interest may include:
India, Its Biblical Past and Future: Any Witness? The Bible discusses the origins of those of Indian heritage and discusses some of the witness to them (including those in Bangladesh, Pakistan, and Sri Lanka).
Asia in Prophecy What is Ahead for Asia? Who are the "Kings of the East"? What will happen to nearly all the Chinese, Russians, Indians, and others of Asia? China in prophecy, where? Who has the 200,000,000 man army related to Armageddon?
The Plain Truth About Gold in Prophecy. How Should a Christian View Gold? What do economists and the Bible teach about gold? Gold and silver may drop in value. Inflation/deflation? What do Christians need to know about gold?
Anglo – America in Prophecy & the Lost Tribes of Israel Are the Americans, Canadians, British, Scottish, Welsh, Australians, Anglo (non-Dutch) Southern Africans, and New Zealanders descendants of Joseph? Where are the lost ten-tribes of Israel? Who are the lost tribes of Israel? What will happen to Jerusalem and the Jews in Israel? Will God punish the U.S.A., Canada, United Kingdom, and other Anglo nations? Why might God allow them to be punished first?
Will the Anglo-Nations be Divided and Have People Taken as Slaves? Will the lands of the United States, United Kingdom, Canada, Australia, and New Zealand be divided? What about Jerusalem? What does Bible prophecy teach? Are there non-biblical prophecies that support this idea? Who will divide those lands? Who will end up with the lands and the people?
Canada in Prophecy: What Does Bible Prophecy, Catholic Prophecy, and other Predictions Suggest About the Future of Canada? There are prophecies that suggest involvement with Canada. And many are not positive about its future.
Who is the King of the West? Why is there no End-Time King of the West in Bible Prophecy? Is the United States the King of the West?
Prophecies of Barack Obama? Eight reasons why Barack Obama is apocalyptic and eight reasons why Barack Obama is not the Antichrist. This article includes many biblical and non-biblical prophecies, from around the world, that seem to discuss Barack Obama. Did Nostradamus predict Barack Obama dealing with the Antichrist? Might Barack Obama set the stage for the kings of the North and South as at least one Shiite prophecy suggests? This is the longest and most complete article on this page on Barack Obama prophecies. Read it and decide for yourself if President Obama seems to be fulfilling various prophecies.
Barack Obama, Prophecy, and the Destruction of the United States Some claim that Barack Obama is the prophesied "son of Kenya", based up an early 20th century writing.
Does God Have a 6,000 Year Plan? What Year Does the 6,000 Years End? Was a 6000 year time allowed for humans to rule followed by a literal thousand year reign of Christ on Earth taught by the early Christians? When does the six thousand years of human rule end?
Can the Great Tribulation Begin in 2011, 2012, or 2013? Can the Great Tribulation begin today? When is the earliest that the Great Tribulation can begin? What is the Day of the Lord?
2012 and the Rise of the Secret Sect This is a link related to a book by Bob Thiel (COGwriter). This link also has YouTube videos. This book documents and explains hundreds of prophecies. And since it was published, world events have aligned with at least 15-16 predictions in the book and many more will to come to pass.
2012 y el surgimiento de la secta secreta 2012 libro del Dr. Thiel en Español.
2012 und das Auftreten der geheimen Sekte (German Edition) 2012 Buch von Dr. Thiel in deutscher Sprache.
2012 e o Surgimento da Seita Secreta (Portuguese Edition) 2012 livro do Dr. Thiel em português. Este livro documenta e explica centenas de profecias. E desde que foi publicado pela primeira vez, pelo menos 16 já começaram a acontecer.
2012 e o Surgimento da Seita Secreta (Brazilian Portuguese Edition) 2012 livro do Dr. Thiel. Edição em português do Brasil. Este livro documenta e explica centenas de profecias. E desde que foi publicado pela primeira vez, pelo menos 16 já começaram a acontecer.