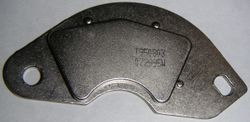 Neodymium Magnet on a Hard Drive
The world is concerned by the fact that China controls 95% or so of certain "rare earth elements"(like neodymium ) and now India is hoping to become a major producer of rare earth metals:
NEW DELHI—India has embarked on an ambitious plan to increase its output of rare-earth minerals used in electronics manufacturing at a time when the world's largest producer, China, has tightened its own exports of the minerals…
"The potential is good. This is at an exploratory phase," said Shailesh Nayak, the top bureaucrat in India's Ministry of Earth Sciences. "We have identified first-level mining sites over 2,500 square kilometers. Now we know where we have to concentrate."

Others say India's ambitions are unlikely to be fulfilled in the near term. Indian Rare Earths plans eventually to produce 11,000 metric tons a year from its new plant. Even if successful, this would leave India well behind China, which produced 130,000 tons of the minerals in 2010, according to the U.S. Geological Survey. In the same year, India, a very distant No. 2, had only 2,700 tons of output.  http://online.wsj.com/article/SB10000872396390443437504577546772533972202.html
If India does, in fact despite its problems, become a major producer, it and China will have additional reasons to cooperate and perhaps have a sort of informal (or more than that) cartel to control prices.  The Bible tells of an end time military confederation of the Kings of the East (Revelation 16:12), and this seems to include India and China–hence other forms of cooperation between these Asian "Kings" would be consistent with that.
The USA recognizes a problem here and has taken several steps, including hopefully having a mine open in California in 2012 (see Rare Earth Elements, China, and 2012).
But despite the steps by the American and Indians, the Chinese still have major control and expect to for the foreseeable future. This does not bode well for the USA.  Nor would a semi-monopoly involving India.
Some articles of possibly related interest may include:
India, Its Biblical Past and Future: Any Witness? The Bible discusses the origins of those of Indian heritage and discusses some of the witness to them (including those in Bangladesh, Pakistan, and Sri Lanka).
Asia in Prophecy What is Ahead for China? Who are the "Kings of the East"? What will happen to nearly all the Chinese, Russians, Indians, and others of Asia? China in prophecy, where? Who has the 200,000,000 man army related to Armageddon?
End of Mayan Calendar 2012–Might 2012 Mean Something? Are there Mayan calendar predictions for change in 2012? Changes were centuries ago predicted by the Hopi Native Americans. Do Mayan/Hindu/Hopi/Buddhist/New Age/Nostradamus prophecies have any value here? Why might Satan have inspired this date? Does the Dresden codex show destruction of the earth by flood?
Anglo – America in Prophecy & the Lost Tribes of Israel Are the Americans, Canadians, British, Scottish, Welsh, Australians, Anglo-Southern Africans, and New Zealanders descendants of Joseph? Where are the lost ten-tribes of Israel? Who are the lost tribes of Israel? Will God punish the U.S.A., Canada, United Kingdom, and other Anglo nations? Why might God allow them to be punished first?
2012 and the Rise of the Secret Sect This page contains some concepts and prophecies related to 2012 and a book. This also has YouTube videos related to 2012 and beyond.