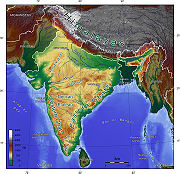 India
India has declared a winner in its latest election:
India has chosen the middle path

Kapil Komireddi
guardian.co.uk, Saturday 23 May 2009 16.00 BST

In giving a near-majority to the Congress-led United Progressive Alliance, Indian voters have sent a sharp message: that they reject the communalism of the right, represented by the Hindu-chauvinist BJP, and they repudiate the self-righteous isolationism of the left led by the CPI(M). Indians have chosen the middle path…

The setback suffered by the BJP in this election is largely because middle-class India, once the party's base, has abandoned it. During its time in power (1999-2004), the BJP opened up India's markets (building on the legacy of Manmohan Singh who was finance minister in the previous government), welcomed foreign investment, strengthened India militarily (although it capitulated to Pakistani terrorists who hijacked an Indian airliner, and was caught unawares as Pakistan's army infiltrated Indian territory in Kargil in 1999), and, following 9/11, turned India into a staunch ally of the west, inaugurating its arrival as a big power.

All of these successes – which suppressed too many failures – turned the BJP into an idée fixe of the Indian middle class, which after decades of marginalisation by the west, began to glory in the sudden adulation showered upon it.

The Indian middle class was once largely dominated by Congress-minded liberals who, despite a stagnant economy, rarely wavered on the question of secularism. But to the expanded middle class, its newfound affluence became linked to the idea of resurgent Hindutva: they saw India as emerging not just from the ashes of British colonial exploitation and the stygian pit of Congress socialism, but also from the "dark ages" of Islamic rule which had emasculated India. This made it possible for them to tolerate the BJP's Muslim-baiting and even positively acquiesce in it.  http://www.guardian.co.uk/commentisfree/2009/may/23/india-election-congress
This represents a shift in India away from the trend towards a more extremist Hindu position for that country.
The government of Sri Lanka (essentially Buddhist) declared victory in its 26 year civil war against the Hindu Tamils there:
Sri Lanka Leader Rejects War Crimes Investigation

By Emily Wax

Washington Post Foreign Service
Saturday, May 23, 2009

COLOMBO, Sri Lanka, May 22 — As hundreds of thousands of supporters cheered outside Parliament, Sri Lanka's President Mahinda Rajapaksa on Friday dismissed calls for an international investigation into alleged war crimes by government troops in their victorious offensive against the Tamil Tiger rebels…

Both sides in Sri Lanka's 26-year-long conflict have been accused of war crimes, especially during the past few months, when government troops cornered the Tamil Tigers on a narrow ribbon of land on the northeastern coast. Aid agencies say that the Tigers used terrified civilians, including children, as human shields, and that the government indiscriminately shelled hospitals and areas where civilians huddled in trenches…

The Tamil Tigers had fought to create a separate state it called Eelam, the Tamil word for homeland, in northern Sri Lanka.

More than 6,200 Sri Lankan soldiers were killed and nearly 30,000 wounded in the final two years of fighting, Defense Secretary Gotabhaya Rajapaksa, the president's brother, said Friday.

Also Friday, a ceremony was held to honor the government's war dead. Prayers were offered by Buddhist, Hindu, Muslim and Christian clergy representing this multiethnic island of 21 million people. Rajapaksa has been reaching out to the minority Tamils, although many here say they want to see him translate words into action. http://www.washingtonpost.com/wp-dyn/content/article/2009/05/22/AR2009052202336.html
If this truly leads to peace in Sri Lanka (a big question still), this may result in increasing cooperation between both Sri Lanka and India (India has a lot of Tamil Hindus in the southern part of that country).
The Bible indicates that towards the end, there will develop a major power-block in Asia.  These latest events seem to be supportive of that.
Three articles of possibly related interest may include:
India, Its Biblical Past and Future: Any Witness? The Bible discusses the origins of those of Indian heritage and discusses some of the witness to them (including those in Bangladesh, Pakistan, and Sri Lanka).
End of Mayan Calendar 2012–Might 2012 Mean Something?There is a Mayan calendar prediction for change in 2012. 2012 changes were also centuries ago predicted by the Hopi Native Americans. Do Mayan/Hindu/Hopi/Buddhist/New Age/Nostradaumus prophecies have any value here? Why might Satan have inspired this date? Does the Dresden codex show destruction of the earth by flood? Can the great tribulation start before 2012?
Asia in Prophecy What is Ahead for Asia? Who are the "Kings of the East"? What will happen to nearly all the Chinese, Russians, Indians, and others of Asia? China in prophecy, where? Who has the 200,000,000 man army related to Armageddon?