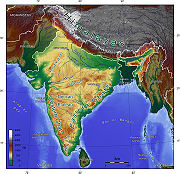 The Indians and EU are working towards greater cooperation:
EU-India relations in the spotlight
Pallavi Aiyar / Brussels December 10, 2010, 0:45 IST

Indian Prime Minister Manmohan Singh arrived in Brussels today, ahead of the 11th European Union (EU)-India summit on Friday. The summit will be the first one to be held since the Lisbon Treaty came into effect. The Lisbon Treaty was a series of changes to the European Union's rule book, meant in part to enhance the bloc's foreign policy and global strategic heft.

As a result, EU is keen to leverage the summit as a means of broadening its relationship with India beyond the largely one-dimensional economic focus it has thus far had. Although the ongoing India-EU free trade negotiations continue to be the cornerstone of ties, talks between Singh and his counterparts, European Council President Herman Van Rompuy and President of the European Commission, Jose Manuel Barroso, will thus focus on a range of bilateral and regional issues of strategic relevance.  http://www.business-standard.com/india/news/eu-india-relations-inspotlight/417762/
This type of cooperation may end up reducing British influence in India, despite the fact that Britain is in the EU.
Prophetically, it appears that India will cooperate with the final European power.  But at some point, it will realize that the final European beast power is not what it will pretend to be. It seems that India will likely become closer to Russia and China, militarily, and ultimately support their prophesied attack on Europe.  But that will not happen for at least seven years.  Until then, the increased intended cooperation between India and the EU will likely help both powers.
Some articles of possibly related interest may include:
Asia in Prophecy What is Ahead for Asia? Who are the "Kings of the East"? What will happen to nearly all the Chinese, Russians, Indians, and others of Asia? China in prophecy, where? Who has the 200,000,000 man army related to Armageddon?
India, Its Biblical Past and Future: Any Witness? The Bible discusses the origins of those of Indian heritage and discusses some of the witness to them (including those in Bangladesh, Pakistan, and Sri Lanka).
Europa, the Beast, and Revelation Where did Europe get its name? What might Europe have to do with the Book of Revelation? What about "the Beast"? Is an emerging European power "the daughter of Babylon"? What is ahead for Europe?