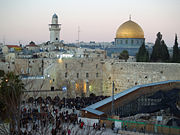 Jerusalem
LCG sent out the following as part of its TW News and Prophecy this morning:
German support of Israel.
President Wulff of Germany recently became the fifth German leader to visit the state of Israel. During his visit, he voiced Germany's support for Israel and also spoke out in support of the two-state solution to the Israeli-Palestinian conflict. He stated, "Germany considers that it has a responsibility concerning Israel's right to exist and to security."
In response, Israeli President Shimon Peres commented, "Relations with Germany are as important such as relations can ever be" (Deutsche Welle, November 28, 2010). Mr. Wulff also observed, "In this official visit, I see a sign of our responsibility towards the existence of Israel and the very relationship between our two countries" (Agence France Presse, November 27, 2010). In the guest book at the Holocaust Memorial, Mr. Wulff wrote, "The incomprehensible crimes of the Shoah [holocaust] have made the defense of Israel's right to exist a permanent duty for Germany and Germans" (Haaretz.com, November 29, 2010). Mr. Wulff's comments send a strong message to Israel's neighbors and also indicate a potential future path.

Will Germany continue to support peace in Jerusalem while also supporting a separate Palestinian state? Time will tell. Bible prophecies speak of a confederation that links Assyria (Germany) with Arab/Muslim nations that make a short-lived agreement (3½ years) to promote peace with Jews in Jerusalem (see Psalm 83:5-8 and Daniel 9:27). During this period the Temple Mount sacrifices will apparently begin once again. The budding Germany-Israel relationship may be setting the stage for future prophetic events.
The Bible tells of a leader who will be a "prince" that will make what appears to be a seven-year peace deal involving Israel (Daniel 9:26-27).  This same leader apparently breaks the peace deal after 3 1/2 years (Daniel 9:27) and invades Israel (Daniel 9:27; 11:31).
Since the final Beast power will have German support (and perhaps be headed by a German), it makes sense that Germany would at least make some outward moves towards Israel as that will help it be part of some type of peace arrangement in the Middle East that Israel will apparently decide that it has to accept.
And last month, Germany also indicated that it wanted to be part of a peace arrangement in the Middle East (see Germany Wants Middle East Peace Deal).
Many events continue to align with end time prophecy.
To learn more how Europe fits into all of this, the following articles may be of assistance:
Europa, the Beast, and Revelation Where did Europe get its name? What might Europe have to do with the Book of Revelation? What about "the Beast"? Is an emerging European power "the daughter of Babylon"? What is ahead for Europe?
Might German Baron Karl-Theodor zu Guttenberg become the King of the North? Is the German Defense Minister one to watch? What do Catholic, Byzantine, and biblical prophecies suggest?
Who is the King of the North? Is there one? Do biblical and Roman Catholic prophecies point to the same leader? Should he be followed? Who will be the King of the North discussed in Daniel 11? Is a nuclear attack prophesied to happen to the English-speaking peoples of the United States, Great Britain, Canada, Australia, and New Zealand? When do the 1335 days, 1290 days, and 1260 days (the time, times, and half a time) of Daniel 12 begin? When does the Bible show that economic collapse will affect the United States?
Can the Great Tribulation Begin in 2010, 2011, or 2012? Can the Great Tribulation begin today? Why is Daniel 9:26-27 talking about a European leader? What happens before the Great Tribulation in the "beginning of sorrows"? What happens in the Great Tribulation and the Day of the Lord? When is the earliest that the Great Tribulation can begin? What is the Day of the Lord?