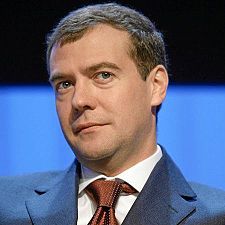 Dmitry Anatolyevich Medvedev

Russian President Medvedev once again proposed a non-Western currency:
EKATERINBURG, Russia —  Russian President Dmitry Medvedev said Tuesday the world needs new reserve currencies.

Medvedev told a regional summit that the creation of new reserve currencies in addition to the dollar is needed to stabilize global finances.

Medvedev has made the proposal before. It reflects both the Kremlin's push for greater international clout and a concern shared by other countries that soaring U.S. budget deficits could spur inflation and weaken the dollar.

Airing it at a summit meeting underlined the challenge to U.S. clout.

Medvedev spoke at a summit of the Shanghai Cooperation Organization, which includes China and four Central Asian nations.

Later Tuesday he hosts a summit of the BRIC group of leading emerging economies — Brazil, Russia, India and China.

The Kremlin's top economic adviser said Russia may put part of its currency reserves in bonds issued by Brazil, China and India.

Arkady Dvorkovich said Russia could make the move if the other three nations reciprocate. Brazil, Russia, India and China are the members of the BRIC group of leading emerging economies. http://www.foxnews.com/story/0,2933,526541,00.html
Such proposals would have been considered nonsense in the past, but now many nations are considering what to do with a US dollar expected to have major declines.
The Bible strongly suggests that Russia, China, and India will end up cooperating (for a short while at least) on military matters.  It is certainly possible that they may also cooperate more on economic ones.
Brazil, however, seems more likely to ultimately end-up supporting Europe.  There are a lot of cultural, language, and religious ties between Brazil and Europe, that simply do not exist between it and either Russia, China, or India.
But irrespective of type of agreements the "BRIC" nations have, none of them ultimately are expected to support the UK, USA, Canada, Australia, or New Zealand.
Some articles of possibly related interest may include:
Russia: Its Origins and Prophesied Future Where do the Russians come from? What is prophesied for Russia? What will it do to the Europeans that supported the Beast in the end?
India, Its Biblical Past and Future: Any Witness? The Bible discusses the origins of those of Indian heritage and discusses some of the witness to them (including those in Bangladesh, Pakistan, and Sri Lanka).
Asia in Prophecy What is Ahead for Asia? Who are the "Kings of the East"? What will happen to nearly all the Chinese, Russians, Indians, and others of Asia? China in prophecy, where? Who has the 200,000,000 man army related to Armageddon?
Mexico, Central America, South America, and Brazil in Prophecy [Español: México, America Central, Suramérica, y el Brasil en profecíal] [Português: México, América Central, Ámérica do Sul, e Brasil na profecia] What will happen to those of Latin America? Will they have prosperity? Will they cooperate with Europe? Will they suffer in the future? What rule might the various Caribbean nations/territories play?
Anglo – America in Prophecy & the Lost Tribes of Israel Are the Americans, Canadians, British, Scottish, Welsh, Australians, Anglo-Southern Africans, and New Zealanders descendants of Joseph? Where are the lost ten-tribes of Israel? Who are the lost tribes of Israel? Will God punish the U.S.A., Canada, United Kingdom, and other Anglo nations? Why might God allow them to be punished first?
Prophecies of Barack Obama? Are there biblical and non-biblical prophecies about Barack Obama. Did Nostradamus predict Barack Obama dealing with the Antichrist?  Might Barack Obama set the stage for the kings of the North and South as his timing and at least one Shiite prophecy suggests?  This is the longest and most detailed of the articles here at COGwriter related to prophecy and Barack Obama.
Barack Obama, Prophecy, and the Destruction of the United States Some claim that Barack Obama is the prophesied "son of Kenya". Might Bible prophecy be fulfilled since he is to be the USA president?
Europa, the Beast, and Revelation Where did Europe get its name? What might Europe have to do with the Book of Revelation? What about "the Beast"? What is ahead for Europe?