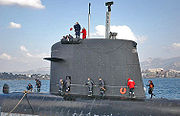 Upper "Sail" of French Nuclear Submarine Casabianca
For some time, I have reported that despite various reports about the so-called BRIC nations (Brazil, Russia, China, and India), that the economic and military future of Brazil would be more strongly tied to Europe than to the other nations that compose BRIC.
The following news item from the New York Times seems to also confirm that:
Brazil Signs Arms Deal With France
Brazil and France signed a defense agreement on Tuesday worth more than $12 billion that will give Brazil technology to develop its arms industry and build a nuclear-powered submarine, the two governments said. Under the accord, signed by President Luiz Inácio Lula da Silva of Brazil and President Nicolas Sarkozy of France in Rio de Janeiro, Brazil will buy 50 EC-725 Super Cougar helicopters from France, and the two countries will jointly develop a nuclear submarine and four diesel submarines. Brazil is increasing military spending as part of a new defense strategy that emphasizes protecting the Amazon and newly discovered deep-water oil fields.  (http://www.nytimes.com/2008/12/24/world/americas/24briefs-BRAZILSIGNSA_BRF.html)
The acquisition of French helicopters and ultimately a nuclear submarine by Brazil shows that the nation is clearly emerging on the world scene to be more than simply a supplier of natural resources and some manufactured goods.
This new deal seems to indicate that much of Brazil's future leading-edge military technology is likely to come from Europe.  But I also suspect that because of its manufacturing abilities that Brazil ultimately may sell some military hardware to Europe in a few years.
Some articles of possibly related interest may include:
Mexico, Central America, South America, and Brazil in Prophecy [Español: México, America Central, Suramérica, y el Brasil en profecíal] [Português: México, América Central, Ámérica do Sul, e Brasil na profecia] What will happen to those of Latin America? Will they have prosperity? Will they cooperate with Europe? Will they suffer in the future? What rule might the various Caribbean nations/territories play?
Europa, the Beast, and Revelation Where did Europe get its name? What might Europe have to do with the Book of Revelation? What about "the Beast"? What is ahead for Europe?
India, Its Biblical Past and Future: Any Witness? The Bible discusses the origins of those of Indian heritage (India, Sri Lanka, Pakistan, Bangladesh) and discusses some of the witness to them.
China, Its Biblical Past and Future, Part 1: Genesis and Chinese Characters This article provides information showing that the Chinese peoples must have known about various accounts in the Book of Genesis up until their dispersion after the Tower of Babel.
China, Its Biblical Past and Future, Part 2: The Sabbath and Some of God's Witness in China When did Christianity first come to China? And is there early evidence that they observed the seventh day sabbath?
Asia in Prophecy What is Ahead for China? Is it a "King of the East"? What will happen to nearly all the Chinese, Russians, and others of Asia? China in prophecy, where? Who has the 200,000,000 man army related to Armageddon?
Russia: Its Origins and Prophesied Future Where do the Russians come from? What is prophesied for Russia? What will it do to the Europeans that supported the Beast in the end?