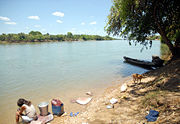 Parnaíba River in Piauí.  Piauí was one of the hardest hit states.
Brazil has had a lot of flooding problems this year:
At least 31 dead, 50,000 homeless in Brazil flooding

May 7, 2009 — Updated 2357 GMT

RIO DE JANEIRO, Brazil (CNN) — Rain-induced flooding over large parts of Brazil have killed at least 31 people and left another 500,000 homeless, the government's civil defense agency said Thursday.

About 270 towns and communities in 10 states have been flooded by swollen rivers. About one-third of the deaths have occurred in Ceara state in the northeastern part of the country, officials said.

The remaining deaths have occurred in four other states.

Food, supplies and other aid sent by the government can only reach some communities by helicopter because roads are flooded.

Rain has fallen steadily in some places for more than two weeks and is forecast to continue for another 10 days. http://edition.cnn.com/2009/WORLD/americas/05/07/brazil.floods/
Here is what Wikipedia reported a few days ago:
The 2009 Brazilian floods and mudslides is an ongoing natural disaster primarily in, but not limited to, five northeastern states of Brazil.
Because of the rains and certain economic difficulties, 2009 has been a rough year for Brazil.
It has been too wet in much of Brazil, while it has been too dry in the USA West.
While Latin America will have certain disasters, biblical prophecies indicate that perhaps sometime next decade, it will do much better than the U.S.A., Canada, and their Anglo-descended allies.
Two articles of possibly related interest may include:
Mexico, Central America, South America, and Brazil in Prophecy [Español: México, America Central, Suramérica, y el Brasil en profecíal] [Português: México, América Central, Ámérica do Sul, e Brasil na profecia] What will happen to those of Latin America? Will they have prosperity? Will they cooperate with Europe? Will they suffer in the future? What rule might the various Caribbean nations/territories play?
Anglo – America in Prophecy & the Lost Tribes of Israel Are the Americans, Canadians, British, Scottish, Welsh, Australians, Anglo-Southern Africans, and New Zealanders descendants of Joseph? Where are the lost ten-tribes of Israel? Who are the lost tribes of Israel? Will God punish the U.S.A., Canada, United Kingdom, and other Anglo nations? Why might God allow them to be punished first?