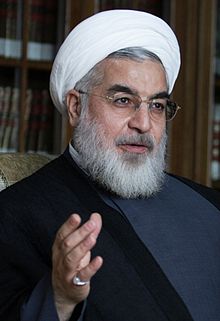 Iran's President-Elect Hassan Rouhani (Photo by Mojtaba Salimi )
Some are optimistic about Iran's new president, while others see problems with his message:
August 1, 2013
DUBAI — A wave of optimism has swept Iran since Hassan Rowhani was elected president last month, but as he takes office on Sunday the moderate cleric has a monumental task to resolve the nuclear dispute, ease stringent sanctions and revive a failing economy…
But no matter what progress, if any, Rowhani makes towards resolving Iran's myriad problems, President Mahmoud Ahmadinejad's eight years in office are at an end, to the relief of his critics at home and abroad…
"Before the election, everyone was saying anyone, anyone at all, has to be better than Ahmadinejad," said one Tehran resident. "Now people hope Rowhani might be able to change things, at least a bit."

Similar optimism has greeted Rowhani abroad where he has pledged to pursue a less confrontational approach to Iran's talks with six world powers over a nuclear program the West suspects is a veiled attempt to achieve a nuclear weapons capability. Iran says its efforts are entirely peaceful.

"The historic election of Hassan Rowhani last month in Iran was widely seen as a rejection of radicalism and an embrace of moderation. Hopes have risen that a negotiated solution to the nuclear stand-off may now be within reach," said Trita Parsi, president of the National Iranian American Council.

Rowhani is however very much an Islamic Republic insider with 16 years as head of the Supreme National Security Council and the last eight years as one of two personal representatives of Supreme Leader Ayatollah Ali Khamenei on the same body. Even so, Rowhani has still been making all the right noises.

"Of course our nuclear plans are fully transparent, but we are ready to show more transparency," said Rowhani, setting out his stall at his first post-election news conference. "Second, we will increase mutual trust between Iran and other countries."…
U.S. and EU sanctions are increasingly targeting Iran's oil and gas industry, the life-blood of an economy which generations of Iranian leaders have largely failed to properly diversify…
Though the government cash handouts are now much devalued, cutting them altogether, as well as implementing traditional means of battling inflation, could prove extremely unpopular and with revenues from oil and gas squeezed, Rowhani's room for maneuver could prove to be limited.

That could build up opposition at home with moderate Rowhani squeezed between hardline conservatives and reformists whose last minute endorsement helped him clinch his surprise win…

As ever, the key will be the stance of the leader. Rowhani and Khamenei go back some 40 years to the intrigues that helped topple the U.S.-backed shah in 1979…
Shaul Bakhash, professor at George Mason University in Virginia, said Rowhani was inheriting daunting challenges: A deteriorating economy, a disorganized government administration, a worsened human rights situation, and strengthened hardline and conservative political organizations.http://www.voanews.com/content/hopes-ride-on-iran-rowhani-but-huge-task-ahead/1714533.html
Iran's 'Supreme Leader' is that Ayatollah Ali Khamenei.
It seems to me that some in Iran, including its President-Elect Hassan Rouhani (spelled Rowhani in the above article), have read the ancient text The Art of War attributed to Sun Tzu.  One of the strategies in that book is to try to look like you want peace while you prepare for the war that you want.  And the government of Iran, including its Supreme leader have made it clear that they want nuclear weapons (Khamenei Has Claimed Iranian Nuclear Weapons Need for the Arrival of the 12th Imam) and intend to wage a war that will defeat Israel and/or the United States (Ayatollah Khamenei Claims America "Will Soon be Defeated").
Despite electing a new president, Iran still intends to move forward with its nuclear plans, and has again said so:
August 1, 2013

TEHRAN, Iran (AP) — Iran's foreign ministry says possible new U.S. sanctions will not change Tehran's nuclear policy, but could complicate talks with world powers.

Thursday's state TV report follows U.S. House passage of calls to tighten sanctions on Iran's oil sector, which already is under major pressures from Western economic measures seeking to rein in Iran's nuclear program.

The U.S. plan now moves to the Senate.

Iranian state TV quotes Foreign Ministry spokesman Abbas Araghchi as saying sanctions will not stop the country's nuclear advance.  http://www.chron.com/news/world/article/Iran-Proposed-new-US-sanctions-blow-to-nuke-talks-4700270.php
Thus, while hoping to have a different public speaker in Hassan Rouhani, Iran seems to have the same military goals and objectives.
As far as Iran goes, my reading and re-reading of Bible prophecy simply does not show that it will be a major player in Daniel 11:21-44 nor the deal of Psalm 83:4-8 (Arabs, Turks, and Europeans are); though Ezekiel 30:1-9 possibly implicates Iran as a supporter of an end-time confederation involving Egypt.
I have long felt that "neutralizing" Iran would allow most of the other Islamic states (like Saudi Arabia and Egypt) to continue to exist (Damascus the capital of Syria, is prophesied to be destroyed according to Isaiah 17:1) and allow for the rising of the prophesied King of the South of Daniel 11 to rise up (revolution in Iran, is also another possibility, for its "neutralization").
This neutralization may well happen under the administration of Hassan Rowhani, especially if Israel learns that Iran is saying one thing while doing another on its nuclear program.  Because of economic troubles in Iran, civil unrest is also possible.  But either way, Iran is going to end up with LESS influence in the Islamic world in the future according to my reading on Bible prophecy. And it may take a regional war and/or civil war to accomplish that.
It is certainly possible that Hassan Rowhani will have a part in contributing to this happening. That is how I view his words about nuclear negotiations and his crediting of the Imam Mahdi for his election.
Some items of possibly related interest may include:
The Arab World In the Bible, History, and Prophecy The Bible discusses the origins of the Arab world and discusses the Middle East in prophecy. What is ahead for the Middle East and those who follow Islam? What prophecies involve Iran? What does Islam teach about the Imam Mahdi?
Is the Future King of the South Rising Up? Some no longer believe there needs to be a future King of the South. Might Egypt, Islam, Iran, Arabs, or Ethiopia be involved? Might this King be called the Mahdi or Caliph? What does the Bible say?  A YouTube video of related interest may be: The Future King of the South is Rising.
Is There an Islamic Antichrist? Is Joel Richardson correct that the final Antichrist will be Islamic and not European? Find out.
The Future King of the South is Rising Does the Bible teach that there will be a future King of the South in Daniel 11? Is this kingdom rising up now? Did the old Worldwide Church of God (WCG) teach that there would be another one? And who is the King of the South? How will this involve Egypt? Is the final King of the South some type of Arab-Muslim confederation? Can Iran be involved? Is there a group that seems to be supporting the goals of the King of the South? Has the Obama Administration supported the rise of this power? This is a YouTube video.
The Muslim Brotherhood and the Rise of the King of the South The Bible tells of the formation of a power of nations that are in the Middle East and North Africa that are part of the final "King of the South" (Daniel 11:40-43) The Muslim Brotherhood wishes to have an Islamic empire with basically the same nations. This YouTube video explains what to expect from such a confederation.
Damascus and Syria in Prophecy Will Bashar Assad hold power as he has it? Does the Bible show that Damascus, the capital of Syria, will be destroyed? What will happen to Syria? Will the Syrians support the final King of the South that the Bible tells will rise up? Which scriptures discuss the rise and fall of an Arabic confederation? Does Islamic prophecy predict the destruction of Syria. This is a YouTube video.
Jerusalem: Past, Present, and Future What does the Bible say about Jerusalem and its future? Is Jerusalem going to be divided and eliminated? Is Jesus returning to the area of Jerusalem? There is also a related YouTube video you can watch titled Jerusalem To be divided and eliminated.
Who is the King of the North? Is there one? Do biblical and Roman Catholic prophecies for the Great Monarch point to the same leader? Should he be followed? Who will be the King of the North discussed in Daniel 11? Is a nuclear attack prophesied to happen to the English-speaking peoples of the United States, Great Britain, Canada, Australia, and New Zealand? When do the 1335 days, 1290 days, and 1260 days (the time, times, and half a time) of Daniel 12 begin? When does the Bible show that economic collapse will affect the United States? Here is a link to a video titled: Can You Prove that the Beast to Come is European?