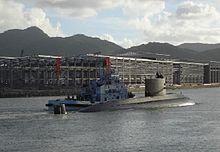 Chinese Submarine (Yuan-class SSK)
Some who overstate China's economic potential, realize it will not takeover the world militarily:
China may have the planet's second largest economy. But the Chinese are not going to rule the world.

Yes, China is the second largest economy in the world, and will one day be the biggest. With the largest population on the planet this is not so extraordinary. But the US economy is still more than twice as big as China's, and on a per capita basis America's is 12 times bigger.

Yes, China has been pouring money into its armed forces, and has become the dominant military power in Asia. But its navy cannot fight a war, or even sustain a significant presence more than 300 miles from Chinese shores (and it would certainly lose any maritime engagement with the Japanese navy.) China does not have a single foreign military base. Nor does it have any military allies, besides North Korea.   http://www.csmonitor.com/Books/Book-Reviews/2013/0731/China-Goes-Global

China will overtake the United States as the world's singular superpower. This is the conclusion of a 39-country survey of public opinion conducted by the Pew Research Center. Reading this piece of news, some Chinese have responded with excitement, others with doubts.

According to this survey, a majority of the public in 23 out of the 39 countries, including both China and the United States, believe that China has already or is going to replace the U.S. as the planet's No. 1 superpower.

So has China really become the world's greatest force? I'm afraid not. Militarily, America currently has 11 aircraft carriers compared to China's one, which happens to be only a training vessel, not fit for actual combat service…

Whether, and when, China becomes a superpower depends on whether and when China becomes a complete power. Until then, it's too early to draw any definitive conclusion.  http://www.worldcrunch.com/business-finance/why-china-is-still-no-superpower/china-usa-economy-superpower-confucius/c2s12860/
Let me clearly state that according to Bible prophecy, China will have an end-time militaristic role, but is not destined to rule the world either economically nor militarily.
It is true that the USA has problems with its economic model and will not stay on top.  But, because of social and other issues in China, it is not destined to lead the world economically.
China itself is becoming a military distraction for the USA (USA dropped inert bombs in Australia's Great Barrier Reef; Preparing for a war with China?) and others. While its theoretical threat appears carnally valid, the reality is that neither China nor Russia, of themselves, are prophesied to takeover the USA.
As I have written in the past, partially because of increasing Chinese naval and other military influence, the USA will apparently expend so much energy preparing for military possibilities involving China that it will not be prepared for what is coming out of Europe.
Some articles of possibly related interest may include:
China, Its Biblical Past and Future, Part 1: Genesis and Chinese Characters This article provides information showing that the Chinese peoples must have known about various accounts in the Book of Genesis up until their dispersion after the Tower of Babel.
China, Its Biblical Past and Future, Part 2: The Sabbath and Some of God's Witness in China When did Christianity first come to China? And is there early evidence that they observed the seventh day sabbath?
Asia in Prophecy What is Ahead for China? Is it a "King of the East"? What will happen to nearly all the Chinese, Russians, and others of Asia? China in prophecy, where?
Continuing Church of God The group striving to be most faithful amongst all real Christian groups to the word of God
CCOG.ASIA We in the Continuing Church of God also have the url www.ccog.asia which has a focus on Asia and has various articles in Mandarin Chinese as well as some in English, with some in items in the Tagalog language in progress that are intended to be added.
Europa, the Beast, and Revelation Where did Europe get its name? What might Europe have to do with the Book of Revelation? What about "the Beast"? Is an emerging European power "the daughter of Babylon"? What is ahead for Europe?
Anglo – America in Prophecy & the Lost Tribes of Israel Are the Americans, Canadians, English, Scottish, Welsh, Australians, Anglo (non-Dutch) Southern Africans, and New Zealanders descendants of Joseph? Where are the lost ten-tribes of Israel? Who are the lost tribes of Israel? What will happen to Jerusalem and the Jews in Israel? Will God punish the U.S.A., Canada, United Kingdom, and other Anglo nations? Why might God allow them to be punished first? A video of possible interest may be Will Will USA Spying Help the Beast Power? Various allegations have surfaced about the United States government spying on its own citizens as well as its supposed allies in the European Union. Whether or not all the espionage allegations are true, and the main ones have not been publicly denied by the government of the USA, the reality is that this does have prophetic ramifications and will help the Beast of Revelation. This video provides quotes from the Bible showing how this is so. The USA is placing itself in a position to be taken over and its response to the allegations will make it easier for the Europeans to do so.
Will the Anglo-Nations be Divided and Have People Taken as Slaves? Will the lands of the United States, United Kingdom, Canada, Australia, and New Zealand be divided? What about Jerusalem? What does Bible prophecy teach? Are there non-biblical prophecies that support this idea? Who will divide those lands? Who will end up with the lands and the people? Here is a link to a video titled Will the USA and other Anglo-nations be Divided and Their People Made Slaves?
Canada in Prophecy: What Does Bible Prophecy, Catholic Prophecy, and other Predictions Suggest About the Future of Canada? There are prophecies that suggest involvement with Canada. And many are not positive about its future.
Protestant and Church of God views of the United States in Bible Prophecy Is the USA mentioned in Bible prophecy? Some Protestants say yes, while others say no. What does the Bible really teach? Learn the truth about this. Is The United States Mentioned In Bible Prophecy?
Who is the King of the West? Why is there no Final End-Time King of the West in Bible Prophecy? Is the United States the King of the West?
Barack Obama, Prophecy, and the Destruction of the United States-Second Edition for Second Obama Term This is a 160 page book for people truly interested in prophecies related to Barack Obama and the United States, including learning about many that have already been fulfilled (which the book documents in detail) and those that will be fulfilled in the future. It also has a chapter about a Republican choice. This book is available to order at www.barackobamaprophecy.com. The physical book can also be purchased at Amazon from the following link: Barack Obama, Prophecy, and the Destruction of the United States: Is Barack Obama Fulfilling Biblical, Islamic Catholic, Kenyan, and other America-Related Prophecies? What About Republican Leaders? Second Edition for Second Obama Term.
Barack Obama, Prophecy, and the Destruction of the United States-Second Term-Amazon Kindle edition. This electronic version is available for only US$2.99. And you do not need an actual Kindle device to read it. Why? Amazon will allow you to download it to almost any device: Please click HERE to download one of Amazon s Free Reader Apps. After you go to for your free Kindle reader and then go to Barack Obama, Prophecy, and the Destruction of the United States-Second Term-Amazon Kindle edition.