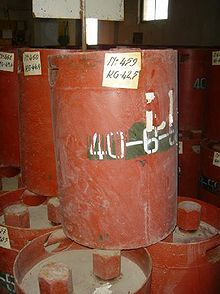 Chemical Weapons Canisters
Israel apparently attacked a target in Syria today:
January 30, 2013
JERUSALEM — Israeli Air Force planes reportedly struck a target in southern Syria near the border with Lebanon early Wednesday.

Quoting security sources, international wire services reported that Israeli aircraft attacked a convoy after an unusually high level of activity in nearby Lebanese airspace.

Israeli officials offered no comment. But the report comes amid rising concern in Israel that in the upheaval from Syria's civil war, Syria's chemical weapons' arsenal is vulnerable.

Israeli officials have been warning for days that as the Syrian government loses control of more territory, the risk is rising that some of its chemical and biological weapons could fall into the hands of militant anti-Israel groups.

Israeli officials say they are prepared to intervene militarily to prevent any transfer of chemical weapons from the Syrian stockpiles.

The head of the Israeli Air Force, Major-General Amir Eshel, said Syria is in the process of disintegrating and Israeli authorities are taking action on a daily basis in what he called an ongoing struggle to reduce the immediate threats of Syria's weapons falling into dangerous hands.

Eshel's remarks to a security conference in Tel Aviv this week followed the deployment of two batteries of the Israeli anti-missile defense system, called Iron Dome, to northern Israel…
The head of diplomatic security in Israel's Defense Ministry, Amos Gilad, told Israel's Channel One television that Syrian government control of chemical weapons and a huge quantity of poisonous gas could change at any time..
The greatest concern for Israel, he said, is that chemical weapons could come under the control of Lebanon's Hezbollah movement.

Israeli officials believe Hezbollah, which has sworn to destroy the Jewish state, has tens of thousands of rockets and missiles aimed at Israel from sites in southern Lebanon.

"Hezbollah, they possess first of all the launchers and the missiles and they can mount the chemical warheads on the missiles, something that the Salafists in Syria don't have so far," Sofin said.

Israeli Vice Premier Silvan Shalom told reporters the situation is endangering stability in the Middle East.  http://www.voanews.com/content/israeli-concerns-rise-over-syria-chemical-stockpile/1593806.html
Syria has, in the past, admitted to having both chemical and biological weapons. And directly or indirectly, President Assad's regime has told the world that to attack Syria would have a very high cost.  Israel does not want President Assad to pass any of these weapons to allies such as Hezbollah.
If President Assad uses chemical weapons himself, he realizes that he risks direct military intervention from the West. Thus, while he may feel cornered, he is likely considering many options.  He may also decide that the threat of using biological or chemical weapons against the USA and/or others may deter direct attacks against him. However, that would seem to be a mistake.
Both biblical and Islamic prophecy tell of the destruction of Syria's capital Damascus. Here is some of what Bible prophecies teaches:
7 thus says the Lord God: "It shall not stand, Nor shall it come to pass. 8 For the head of Syria is Damascus (Isaiah 7:7-8)

3 Thus says the Lord: "For three transgressions of Damascus, and for four, I will not turn away its punishment, Because they have threshed Gilead with implements of iron. (Amos 1:3)

1 The burden against Damascus. "Behold, Damascus will cease from being a city, And it will be a ruinous heap. (Isaiah 17:1)

23 Against Damascus. "Hamath and Arpad are shamed, For they have heard bad news. They are fainthearted; There is trouble on the sea; It cannot be quiet. 24 Damascus has grown feeble; She turns to flee, And fear has seized her. Anguish and sorrows have taken her like a woman in labor. 25 Why is the city of praise not deserted, the city of My joy? 26 Therefore her young men shall fall in her streets, And all the men of war shall be cut off in that day," says the Lord of hosts. 27 "I will kindle a fire in the wall of Damascus, And it shall consume the palaces of Ben-Hadad." (Jeremiah 49:23-27)
The Bible also suggests that Syria will be involved in a confederation of North African and Middle Eastern nations (Ezekiel 30:1-8; Psalm 83:4-8) who will support a leader that the Bible refers to as the final King of the South (Daniel 11:40-43). Since the Muslim Brotherhood wants a similar confederation, I have long believed that Syria will align with it or a group like it–and since Syria's President is opposed to that, he will have to go or change his views.
Syria's President Assad may decide to release chemical and/or biological weapons against his opposition and/or Israel.  The reactions to this may well result in the destruction of Damascus. The Bible teaches Damascus has to be destroyed (Isaiah 17:1), and probably relatively soon.
"And what I say to you, I say to all: Watch!" (Mark 13:37).

Some articles of possibly related interest may include:
Is There A Future King of the South? Some no longer believe there needs to be. Might Egypt, Islam, Iran, Arabs, or Ethiopia be involved? Might this King be called the Mahdi? What does the Bible say?
The Arab and Islamic World In the Bible, History, and Prophecy The Bible discusses the origins of the Arab world and discusses the Middle East in prophecy. What is ahead for the Middle East and those who follow Islam? What about the Imam Mahdi? What lies ahead for Turkey, Iran, and the other non-Arabic Muslims?
When Will the Great Tribulation Begin? 2012, 2013, or 2014? Can the Great Tribulation begin today? What happens before the Great Tribulation in the "beginning of sorrows"? Is there a needed peace deal first in the Middle East? What happens in the Great Tribulation and the Day of the Lord? Is this the time of the Gentiles? When is the earliest that the Great Tribulation can begin? What is the Day of the Lord? Who are the 144,000?
Anglo – America in Prophecy & the Lost Tribes of Israel Are the Americans, Canadians, English, Scottish, Welsh, Australians, Anglo (non-Dutch) Southern Africans, and New Zealanders descendants of Joseph? Where are the lost ten-tribes of Israel? Who are the lost tribes of Israel? What will happen to Jerusalem and the Jews in Israel? Will God punish the U.S.A., Canada, United Kingdom, and other Anglo nations? Why might God allow them to be punished first?
Barack Obama, Prophecy, and the Destruction of the United States-Second Edition for Second Obama Term This is a 160 page book for people truly interested in prophecies related to Barack Obama and the United States, including learning about many that have already been fulfilled (which the book documents in detail) and those that will be fulfilled in the future. It also has a chapter about a Republican choice. This book is available to order at www.barackobamaprophecy.com. The physical book can also be purchased at Amazon from the following link: Barack Obama, Prophecy, and the Destruction of the United States: Is Barack Obama Fulfilling Biblical, Islamic, Catholic, Kenyan, and other America-Related Prophecies? What About Republican Leaders? Second Edition for Second Obama Term.
Barack Obama, Prophecy, and the Destruction of the United States-Second Term-Amazon Kindle edition. This electronic version is available for only US$2.99. And you do not need an actual Kindle device to read it. Why? Amazon will allow you to download it to almost any device: Please click HERE to download one of Amazon s Free Reader Apps. After you go to for your free Kindle reader and then go to Barack Obama, Prophecy, and the Destruction of the United States-Second Term-Amazon Kindle edition.