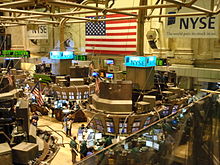 Trading floor of the New York Stock Exchange

Notice the following:
January 11, 2022

Last time Paul Tudor Jones made news on CNBC, the longtime macro manager proclaimed that the looming inflationary wave – still incipient at the time – would create serious ructions in both markets and the real economy.

Fast forward a few months, and with the S&P 500 headed for what would be the longest losing streak of the COVID era, …

"The things that performed the best since March of 2020 are going to probably perform the worst in this tightening cycle," he said.

[…]

"We're getting ready to see a major shift and it's going to have a lot of consequences for a variety of asset prices," he said.

[…]

"Clearly, all the inflation trades of the pandemic area are going to be challenged right now," the Tudor Investment CIO added.

Like Warren Buffett, PTJ remains exceedingly bullish on the US market's long-term promise compared with the rest of the world. But right now, valuations are so "lofty", that it's making him nervous.

PTJ said the Fed needs to "play catch-up" after remaining dovish too long and allowing inflation pressures to build up.

"I don't think [Fed Chair Jerome Powell] can catch up fast enough to try to deal with the inflation problem he has right now," Jones said. …

While PTJ's comments on the outlook for stocks will likely leave investors more than a little concerned, investors should take a beat before they really panic: after all, if the market does crash like PTJ expects, the Fed will have little choice but to quickly step back in and send valuations climbing higher yet again. https://www.zerohedge.com/markets/paul-tudor-jones-warns-major-shift-will-have-serious-consequences-markets
While supporting the stock market is NOT one the Fed's two 'official' duties, it has been doing that a lot since 2008.
What about a crash?
Financial commentator Jim Rickards wrote:
January 12th could mark the beginning of the biggest market crash in 92 years …

And according to to one ex-government insider, it all has to do with a number the Biden Administration is lying about. … it's game over for America. accessed 01/11/22 https://dailyreckoning.com/
Whether or not something will happen tomorrow or later this year to cause a massive crash remains to be seen. Jim Rickards has often been off on his timing.
That being said, in many ways, stock market 'fundamentals' have been impacted by government policies and actions.
For example, let me point out that between the Federal Reserve's legal counterfeiting called "quantitative easing" to the USA running trillion-plus dollar deficits for most of the past dozen years to artificially low interest rates (that the USA basically forced), the market has been phony for some time. Furthermore, now with some "quantitative tightening," increased inflation, and the prospect of higher interest rates, some are seeing stocks as overvalued.
Of course, markets often rise and fall. But despite past assertions from then Fed Chair Janet Yellen (who is now US Secretary of the Treasury), we were not past the time of financial crises (see Janet Yellen does not believe that there will be another financial crisis 'in our lifetimes').
Yes, the stock market will be affected by a financial crisis.
Now, irrespective of what happens to the stock markets in the USA and around the world, the Bible warns that people should not think that things will continue to go on as they have:
1 Beloved, I now write to you this second epistle (in both of which I stir up your pure minds by way of reminder), 2 that you may be mindful of the words which were spoken before by the holy prophets, and of the commandment of us, the apostles of the Lord and Savior, 3 knowing this first: that scoffers will come in the last days, walking according to their own lusts, 4 and saying, "Where is the promise of His coming? For since the fathers fell asleep, all things continue as they were from the beginning of creation." 5 For this they willfully forget: that by the word of God the heavens were of old, and the earth standing out of water and in the water, 6 by which the world that then existed perished, being flooded with water. 7 But the heavens and the earth which are now preserved by the same word, are reserved for fire until the day of judgment and perdition of ungodly men.

8 But, beloved, do not forget this one thing, that with the Lord one day is as a thousand years, and a thousand years as one day. 9 The Lord is not slack concerning His promise, as some count slackness, but is longsuffering toward us, not willing that any should perish but that all should come to repentance.

10 But the day of the Lord will come as a thief in the night, in which the heavens will pass away with a great noise, and the elements will melt with fervent heat; both the earth and the works that are in it will be burned up. 11 Therefore, since all these things will be dissolved, what manner of persons ought you to be in holy conduct and godliness, 12 looking for and hastening the coming of the day of God, because of which the heavens will be dissolved, being on fire, and the elements will melt with fervent heat? 13 Nevertheless we, according to His promise, look for new heavens and a new earth in which righteousness dwells.

Therefore, beloved, looking forward to these things, be diligent to be found by Him in peace, without spot and blameless; (2 Peter 3:1-14)
Jesus also warned about those who apparently did not believe things would get bad (cf. Matthew 24:36-44) as well as Christians who thought they did not need to change their lives (Revelation 3:14-19).
The economic reality is that the financial markets have NOT been normal, but have been manipulated by the US Federal Reserve and other government-related entities.
If it were NOT for the Federal Reserve counterfeiting money (in programs like 'quantitative easing) where it basically 'creates' money and then gets US Treasury pledges created, and deficit spending that amounts to basically the same thing, the US stock market would have a much lower valuation.
Because of manipulation of financial markets, many have invested in the stock market since banks, for example, are paying almost nothing in the way of interest (some banks in Europe charge 'negative interest,' which gets people to invest in almost anything, since why put funds in a bank that will charge you more and more money the longer you keep your funds there).
What the US Federal Reserve, US government, and other entities have done in creating 'money' to keep interest rates down is wrong.
This diluting of the value of coinage/currency is condemned in the Bible, when it uses the old term 'dross' (money that has been debased):
4 Take away the dross from silver (Proverbs 25:4a).
22 Your silver has become dross, Your wine mixed with water. (Isaiah 1:22)
25 I will turn My hand against you, And thoroughly purge away your dross, And take away all your alloy. (Isaiah 1:25)
18 "Son of man, the house of Israel has become dross to Me; they are all bronze, tin, iron, and lead, in the midst of a furnace; they have become dross from silver. 19 Therefore thus says the Lord God: 'Because you have all become dross, therefore behold, I will gather you into the midst of Jerusalem. 20 As men gather silver, bronze, iron, lead, and tin into the midst of a furnace, to blow fire on it, to melt it; so I will gather you in My anger and in My fury, and I will leave you there and melt you. 21 Yes, I will gather you and blow on you with the fire of My wrath, and you shall be melted in its midst. 22 As silver is melted in the midst of a furnace, so shall you be melted in its midst; then you shall know that I, the Lord, have poured out My fury on you.'" (Ezekiel 22:18-22)
Although the Bible warns against using dross and diluting the money supply, modern 'experts' have a different view. The wrong views on economics will lead to economic problems and ultimately the total crash of the dollar of the USA.
And there is also under-counting of inflation and under-counting of true unemployment in the USA.
Many economic numbers have been manipulated and/or improperly reported.
There are things that the Federal Reserve can do to prop up the market, but much of its 'ammunition' is more dangerous than most think (cf. Habakkuk 2:6-8).
Notice something that Jesus prophesied:
7 But when you hear of wars and rumors of wars, do not be troubled; for such things must happen, but the end is not yet. 8 For nation will rise against nation, and kingdom against kingdom. And there will be earthquakes in various places, and there will be famines and troubles. These are the beginnings of sorrows. (Mark 13:7-8)
We are having 'troubles' and the financial markets are being set up for even more severe troubles in the future. We are seeing signs of the 'beginning of sorrows.'
Financial troubles are expected to be a factor in the rise of the European Babylonian Beast power.
However, expect more volatility in the future first.
Some items of possibly related interest may include:
USA in Prophecy: The Strongest Fortresses Can you point to scriptures, like Daniel 11:39, that point to the USA in the 21st century? This article does. Two related sermon are available: Identifying the USA and its Destruction in Prophecy and Do these 7 prophesies point to the end of the USA?
Who is the King of the West? Why is there no Final End-Time King of the West in Bible Prophecy? Is the United States the King of the West? Here is a version in the Spanish language: ¿Quién es el Rey del Occidente? ¿Por qué no hay un Rey del Occidente en la profecía del tiempo del fin? A related sermon is also available: The Bible, the USA, and the King of the West.
Who is the King of the North? Is there one? Do biblical and Roman Catholic prophecies for the Great Monarch point to the same leader? Should he be followed? Who will be the King of the North discussed in Daniel 11? Is a nuclear attack prophesied to happen to the English-speaking peoples of the United States, Great Britain, Canada, Australia, and New Zealand? When do the 1335 days, 1290 days, and 1260 days (the time, times, and half a time) of Daniel 12 begin? When does the Bible show that economic collapse will affect the United States? In the Spanish language check out ¿Quién es el Rey del Norte? Here are links to two related videos: The King of the North is Alive: What to Look Out For and The Future King of the North.
The End of US Dollar Dominance Is the USA losing its economic status? What about the petro-gold-yuan? A related video is also available: US Dollar being challenged by Gold-Petro-Yuan.
The Plain Truth About Gold in Prophecy. How Should a Christian View Gold? What do economists and the Bible teach about gold? Gold and silver may drop in value. Inflation/deflation? What do Christians need to know about gold? A video of related interest may be: Germany, Gold, and the US Dollar.
Project Prophecy: Economic Collapse Starting in 2015? Jim Rickards once worked for the CIA and also was once part of a a USA government program called called 'Project Prophecy.' He has a video were he claims that starting in 2015, the USA may have economic collapse resulting in a 25-Year Great Depression. He mainly cites debt figures and claims advises alternatives to the USA dollar which he says will collapse? What did Rand Paul state? Can the USA dollar collapse?
Two Horned Beast of Revelation and 666 Who is 666? This article explains how the COG views this, and compares this to Ellen White. Here is a link to a prophetic video Six Financial Steps Leading to 666?
The Mark of Antichrist What is the mark of Antichrist? What have various ones claimed? Here is a link to a related sermon What is the 'Mark of Antichrist'?
Mark of the Beast What is the mark of the Beast? Who is the Beast? What have various ones claimed the mark is? What is the 'Mark of the Beast'?
Europa, the Beast, and Revelation Where did Europe get its name? What might Europe have to do with the Book of Revelation? What about "the Beast"? Is an emerging European power "the daughter of Babylon"? What is ahead for Europe? Here is a link to a video titled: Can You Prove that the Beast to Come is European?
European Technology and the Beast of Revelation Will the coming European Beast power would use and develop technology that will result in the taking over of the USA and its Anglo-Saxon allies? Is this possible? What does the Bible teach? Here is a related YouTube video: Military Technology and the Beast of Revelation.
Will the Anglo-Saxon Nations be Divided and Have People Taken as Slaves? Will the lands of the United States, United Kingdom, Canada, Australia, and New Zealand be divided? What about Jerusalem? What does Bible prophecy teach? Are there non-biblical prophecies that support this idea? Who will divide those lands? Who will end up with the lands and the people? Here is a link to a video titled Will the USA and other Anglo-nations be Divided and Their People Made Slaves? Here is a related item in the Spanish language ¿Serán divididas las naciones anglosajonas?
British are the Covenant People What do 'British' and 'Britain' mean in Hebrew? Are the descendants of the Anglo-Saxons people of the covenant? Does the British royal family connect to the throne of David? What does the Bible teach? What does history show us? Is there any DNA evidence related to British-Israelism? When did Christianity make it to the British Isles? Could Jeremiah have made it to the British Isles? What type of Christians made it to the British Isles? Did the last King of England believe in British Israelism?
USA in Prophecy: The Strongest Fortresses Can you point to scriptures, like Daniel 11:39, that point to the USA in the 21st century? This article does. A related sermon is titled: Do these 7 prophesies point to the end of the USA?
When Will the Great Tribulation Begin? 2018, 2019, or 2020? Can the Great Tribulation begin today? What happens before the Great Tribulation in the "beginning of sorrows"? What happens in the Great Tribulation and the Day of the Lord? Is this the time of the Gentiles? When is the earliest that the Great Tribulation can begin? What is the Day of the Lord? Who are the 144,000? Here is a version of the article in the Spanish language: ¿Puede comenzar la Gran Tribulación en 2018 o 2019? ¿Es el Tiempo de los Gentiles? You can also see the English language sermon videos: The Great Tribulation from the Mount of Olives and Can the Great Tribulation begin before 2020? A shorter video is: Can the Great Tribulation begin in 2018?
The Times of the Gentiles Has there been more than one time of the Gentiles? Are we in it now or in the time of Anglo-America? What will the final time of the Gentiles be like? A related sermon is available and is titled: The Times of the Gentiles.
Protestant and Church of God views of the United States in Bible Prophecy Is the USA mentioned in Bible prophecy? Some Protestants say yes, while others say no. What does the Bible really teach? Learn the truth about this. There is also a video available: Is The United States Mentioned In Bible Prophecy?
Physical Preparation Scriptures for Christians. We all know the Bible prophecies famines. Should we do something? Here is a version in the Spanish language Escrituras sobre Preparación física para los Cristianos. Here is a link to a related sermon: Physical preparedness for Christians.
The Plain Truth About Gold in Prophecy. How Should a Christian View Gold? What do economists and the Bible teach about gold? Gold and silver may drop in value. Inflation/deflation? What do Christians need to know about gold?
Does God Have a 6,000 Year Plan? What Year Does the 6,000 Years End? Was a 6000 year time allowed for humans to rule followed by a literal thousand year reign of Christ on Earth taught by the early Christians? Does God have 7,000 year plan? What year may the six thousand years of human rule end? When will Jesus return? 2029 or or 2031 or 20xx? There is also a video titled 6000 Years: When will God's Kingdom Come? Here is a link to the article in Spanish: ¿Tiene Dios un plan de 6,000 años?
Might the U.S.A. Be Gone by 2028? Could the USA be gone by the end of 2028 or earlier? There is a tradition attributed to the Hebrew prophet Elijah that humanity had 6,000 years to live before being replaced by God's Kingdom. There are scriptures, writings in the Talmud, early Christian teachings that support this. Also, even certain Hindu writings support it. Here is a link to a related video: Is the USA prophesied to be destroyed by 2028? In Spanish: Seran los Estados Unidos Destruidos en el 2028?
The Great Tribulation: What Happens First? What events have happened? What are some events that are now happening? And what events need to happen for the Great Tribulation to start? Here is a link to a related sermon video: Counting Down to the Great Tribulation. Here is a video in the Spanish language: Contando los eventos y el inicio de la Gran Tribulación.
When Will the Great Tribulation Begin? 2022, 2023, or 2024? Can the Great Tribulation begin today? What happens before the Great Tribulation in the "beginning of sorrows"? What happens in the Great Tribulation and the Day of the Lord? Is this the time of the Gentiles? When is the earliest that the Great Tribulation can begin? What is the Day of the Lord? Who are the 144,000? Here is a version of the article in the Spanish language: ¿Puede la Gran Tribulación comenzar en el 2020 o 2021? ¿Es el Tiempo de los Gentiles? A related video is: Great Tribulation: 2026 or 2027? A shorter video is: Can the Great Tribulation start in 2022 or 2023? Here is a video in the Spanish language: Es El 2021 el año  de La Gran Tribulación o el Grande Reseteo Financiero.
The Gospel of the Kingdom of God This free online pdf booklet has answers many questions people have about the Gospel of the Kingdom of God and explains why it is the solution to the issues the world is facing. Here are links to four related sermons:  The Fantastic Gospel of the Kingdom of God!, The World's False Gospel, The Gospel of the Kingdom: From the New and Old Testaments, and The Kingdom of God is the Solution.
Biden-Harris: Prophecies and Destruction Can the USA survive two full presidential terms? In what ways are Joe Biden and Kamala Harris apocalyptic? This book has hundreds of prophecies and scriptures to provide details.  A Kindle version is also available and you do not need an actual Kindle device to read it. Why? Amazon will allow you to download it to almost any device: Please click HERE to download one of Amazon s Free Reader Apps. After you go to your free Kindle reader app (or if you already have one or a Kindle),  you can go to: Biden-Harris: Prophecies and Destruction (Kindle) to get the book in seconds.
Is Tony Blair Apocalyptic? The former Prime Minister of the United Kingdom converted to Roman Catholicism shortly after leaving his o