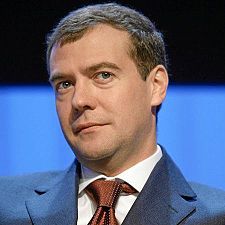 Dmitry Anatolyevich Medvedev, President of Russia
The following news item was of interest:
Panic as Russian market suspended
RUSSIA'S main stock market suspended trading today after plummeting more than 11 per cent, having lost more than half its value since May, as failing Wall Street banks caused panic on global markets.
The benchmark RTS index halted trade after a fall of 11.47 left it 54 per cent below its record close on May 19. The ruble-denominated Micex was also suspended for an hour after dropping 16.6 per cent.

"Panic has gripped the Russian stock market," read a headline on the Interfax news agency.

Those hardest hit on the RTS were energy companies, with state-controlled gas giant Gazprom falling 17.2 per cent and oil firm Rosneft losing 19.12 per cent.

"The turmoil on Wall Street and worries about fall in the oil price are keeping buyers away despite the cheap prices," said analyst Chris Weafer in a note from Moscow-based investment bank Uralsib.

"The only feeling is one of numbness, shock," he said. "The hope is that this is the final clear-out, that this week we will find a floor."

The fall came after repeated attempts by Russian President Dmitry Medvedev to calm market fears.

Yesterday he told a meeting of top businessmen that "we do not have a crisis", and ordered the government to pump money into the markets. http://www.news.com.au/business/money/story/0,25479,24359118-31037,00.html
No matter what any politician says, the financial markets can change quickly.
Several articles of possibly related interest may include:
Russia: Its Origins and Prophesied Future Where do the Russians come from? What is prophesied for Russia?
Asia in Prophecy What is Ahead for China? Is it a "King of the East"? What will happen to nearly all the Chinese, Russians, and others of Asia? China in prophecy, where?
Europa, the Beast, and Revelation Where did Europe get its name? What might Europe have to do with the Book of Revelation? What about "the Beast"?