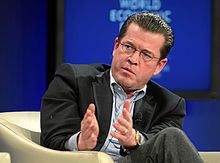 Karl-Theodor zu Guttenberg (World Economic Forum)
A recent survey found that 38% of Germans want their former German Defense Minister, Baron Karl-Theodor zu Guttenberg to make a political comeback (the following is machine translated from German to English):
A survey released on Tuesday shows 54 percent of Germans are against the retired Guttenberg re-entering the political arena.
Yet, 38% is more support than Adolf Hitler had for a while. So, do not write Baron Guttenberg off yet.
Baron Guttenberg was embarrassed by a plagiarism scandal in 2011, then resigned and went on a self-imposed exile to the USA.  He is one who, however, could possibly be the final Beast of biblical prophecy or at least one who may be involved in his rise.
Currently, Baron Guttenberg is involved in certain policy positions in various groups, including one that is part of the European Union.
Almost exactly two years have passed since Guttenberg stepped down from his position as German Defense Minister after the discovery that there were numerous plagiarized sections in his law school doctoral thesis, which was subsequently revoked. Not long after stepping down, Guttenberg, who has the title of baron, his wife Stephanie, born Countess von Bismarck-Schönhausen, and their two daughters moved from Germany to Greenwich, Connecticut…

Guttenberg has the run of CSIS offices. In Sept. 2011 the independent think tank bestowed the informal title of "distinguished statesman" on him, and he heads a forum for trans-Atlantic relations there that was created especially for him.

Based on his experience, the former secretary general of the Christian Social Union, former Federal Minister of Economics and Technology before going over to Defense – and former doctor of law – is recognized as an expert in the States…Yet a little over two years ago, Guttenberg was seen as the antithesis to unprincipled German party politics – a plain speaker who despite his aristocratic background placed little value on formalities and whose youthful stride could break all the encrusted structures wide open. The acknowledged AC/DC fan brought hard rock to Berlin's government scene and with lightening speed became the most popular German politician. Many thought he would become chancellor…

For Americans someone like this is a "distinguished statesman." But to the many Germans who continue to ostracize him, he's just a has-been.  http://www.worldcrunch.com/eyes-on-the-u.s./disgraced-former-german-defense-minister-is-quot-distinguished-statesman-quot-in-us/germany-karl-theodor-guttenberg-csis/c5s11132/#.UVGyRFeFVi0
While most in the media realize that Baron Karl-Theodor zu Guttenberg was disgraced by a plagiarism scandal that cost him his Ph.D. and persuaded him to leave politics for a time, few are aware that a disgraced individual is apparently one who will become the final King of the North or Beast of biblical prophecy.
Bible prophecy warns about a leader who was rejected and seemingly comes out of nowhere who will rise up and lead Europe per Daniel 11:21-44. One verse to focus on is verse 21. Here are four translations of it from Catholic and Protestant sources:
21 And there shall stand up in his place one despised, and the kingly honour shall not be given him: and he shall come privately, and shall obtain the kingdom by fraud. (Daniel 11:21, Douay-Rheims)

21 "'His place will be taken by a reject, a man spurned and passed over for advancement. He'll surprise everyone, seemingly coming out of nowhere, and will seize the kingdom. (Daniel 11:21 from THE MESSAGE: The Bible in Contemporary Language © 2002 by Eugene H. Peterson. All rights reserved.)

21 And in his place shall stand up a contemptible person, to whom they had not given the honor of the kingdom: but he shall come in time of security, and shall obtain the kingdom by flatteries. (Daniel 11:21, ASV)

21 'And stood up on his station hath a despicable one, and they have not given unto him the honour of the kingdom, and he hath come in quietly, and hath strengthened the kingdom by flatteries. (Daniel 11:21, Young's Literal Translation)
The fact that he has had problems, is out of political office, and has been rejected by various ones is consistent with biblical and other predictions. He has confirmed seven speculative predictions I posted related to him after I posted them (for details see Might German Baron Karl-Theodor zu Guttenberg become the King of the North?). It should be understood that just because he fulfilled various predictions does not prove that he must be the final King of the North. But they certainly give me reason, combined with biblical and other prophetic sources to consider that he could fulfill that role or at least aid the one who will have it.
Of course, Karl-Theodor zu Guttenberg could simply be a somewhat politician with many ups and downs. And all his intentions could be fine, despite him being repeatedly insulted. We will see.
It is important to remember that there are more than a dozen New Testament admonitions to watch and be alert to the signs of the times in the last days (see Matthew 24:42-44; 25:13; Mark 13:33-37; Luke 21:34-36; Acts 20:31; 1 Thessalonians 5:6, 20).
Although Karl Guttenberg may not become the Beast leader, at this time, it still seems that the Baron is one to watch.
Some links of possibly related interest may include:
Europa, the Beast, and Revelation Where did Europe get its name? What might Europe have to do with the Book of Revelation? What about "the Beast"?
Who is the King of the North? Is there one? Do biblical and Roman Catholic prophecies point to the same leader? Should he be followed? Who will be the King of the North discussed in Daniel 11? Is a nuclear attack prophesied to happen to the English-speaking peoples of the United States, Great Britain, Canada, Australia, and New Zealand? When do the 1335 days, 1290 days, and 1260 days (the time, times, and half a time) of Daniel 12 begin? What MUST happen BEFORE the Great Tribulation?
Might German Baron Karl-Theodor zu Guttenberg become the King of the North? Is the former German Defense Minister (who is also the former German Minister for Economics and Technology) one to watch? What do Catholic, Byzantine, and biblical prophecies suggest?
Is Russia the King of the North? Some claim it is. But what does the Bible teach?
Can You Prove that the Beast to Come is European? The Book of Revelation tells of a beast power that will rise up. Some think that this must be Russia or could be Islamic, while others say that this power is European. The Book of Daniel tells of the rise of an end time King of the North that some think must be referring to a Russian leader, while others say that this power is European. How can you be sure? This YouTube video has all the scriptural proofs that you should need to prove that this power must be a European one.