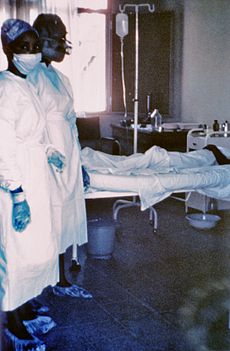 African nurses with Ebola patient

Ebola is in the news because of death, suspected cases, and a claimed cause:
August 21, 2014

The World Health Organization says 1,350 people have died in West Africa, with 576 of the deaths coming from Liberia.

Officials in Liberia have imposed a general quarantine on two suburbs of the capital in hopes of curbing the outbreak.

Liberian police on Wednesday fired bullets and tear gas in the West Point area to disperse stone-throwing protesters, who were upset by the sudden blockade of roads in and out of their neighborhood.  Witnesses say at least four people were injured.  http://www.voanews.com/content/us-ebola-patient-to-leave-hospital/2423069.html

August 20, 2014

American hospitals and state labs have handled at least 68 Ebola scares over the last three weeks, according to the U.S. Centers for Disease Control and Prevention.

Hospitals in 27 states alerted the CDC of the possible Ebola cases out of an abundance of caution amid the growing outbreak in Guinea, Liberia and Sierra Leone. Fifty-eight cases were deemed false alarms after CDC officials spoke with medical professions about patient exposures and symptoms, but blood samples for the remaining 10 were sent to the CDC for testing, the agency told ABC News today.

Seven of the samples tested negative for the virus and results for the remaining three are pending, the agency said. http://abcnews.go.com/Health/us-hospitals-68-ebola-scares-cdc/story?id=25039023

August 20, 2014

As the deadly Ebola virus continues to spread in Liberia, religious leaders there are claiming that "immoral acts" are responsible for the catastrophic outbreak. Christian leaders meeting at the Liberian Council of Churches unanimously agreed: "God is angry with Liberia." The statement released by the council declared, "Ebola is a plague. Liberians have to pray and seek God's forgiveness over the corruption and immoral acts (such as homosexualism, etc.) that continue to penetrate our society." Their recommended solution to the disease ravaging the nation is that everyone should stay indoors for a three-day period of fasting and prayer.

The belief that Ebola is a sign of judgment is shared by some in the evangelical community. … "Providence punishes national sins by national calamities," said the group Columbia Christians for Life. "We believe that God is in control of the weather," announced the head of the evangelical group Repent America. The specific mention by the Liberian council of "homosexualism" is also a familiar refrain: In the 1980s the religious right claimed that AIDS was a judgment on gay people.

In the Bible, where most people mentally situate the word "plague" and envision just the sort of grand catastrophes that are being invoked in the Ebola crisis—picture the 10 plagues of Egypt—the link between disease and divine punishment is pervasive. Individuals who offend God, or God's agents, are suddenly struck with a variety of ailments: skin disease, infertility, blindness, or just generalized "sickness" are all leveled as punishments by an angered deity. And, in turn, these conditions are "cured" only as a result of prayer, a display of faith, or beseeching the forgiveness of the offended God. Even if Jesus says on one occasion in the Gospel of John that a man's blindness is not the result of either his own or his parents' sins, the rest of the Gospels portray Jesus as a physician to sinners who constantly equates sin and sickness. The dominant biblical understanding of disease is that it is caused by sin and cured by God.  http://www.slate.com/articles/health_and_science/medical_examiner/2014/08/ebola_is_not_god_s_wrath_religious_leaders_say_disease_is_caused_by_sin.html
Ebola has been spread by the human consumption of bats and perhaps other biblically-unclean animals (see FAO warns of Ebola virus risk from eating fruit bats).
The Bible teaches:
7 Do not be deceived, God is not mocked; for whatever a man sows, that he will also reap. (Galatians 6:7)
Does this mean that those afflicted with Ebola are worse sinners than those who have not been?
No.
Notice the following:
1 There were present at that season some who told Him about the Galileans whose blood Pilate had mingled with their sacrifices. 2 And Jesus answered and said to them, "Do you suppose that these Galileans were worse sinners than all other Galileans, because they suffered such things?  3 I tell you, no; but unless you repent you will all likewise perish.  4 Or those eighteen on whom the tower in Siloam fell and killed them, do you think that they were worse sinners than all other men who dwelt in Jerusalem?  5 I tell you, no; but unless you repent you will all likewise perish." (Luke 13:1-5)
Repentance is needful.
Is there a connection between sin and disease?
Often yes (e.g. Deuteronomy 28:58-62).
Can this include Christians?
Yes (cf. 1 Corinthians 11:28032).
Is there a connection between societal sins and weather?
Sometimes, yes according to the Bible (see Weather Blessings and Sorrows).
Could sins such as sexual immorality and homosexuality trigger droughts and other weather problems?
Yes (e.g. Jeremiah 50:38-40; see also Weather Blessings and Sorrows).
Nearly 2000 years ago, Jesus taught that there will be disease pestilences and troubles:
7…And there will be famines, pestilences, and earthquakes in various places. 8 All these are the beginning of sorrows. (Matthew 24:7-8)

8 For nation will rise against nation, and kingdom against kingdom. And there will be earthquakes in various places, and there will be famines and troubles. These are the beginnings of sorrows. (Mark 13:3)
We seem to be in the time Jesus called "the beginning of sorrows."
The time for repentance is now, whether or not you have been directly affected by Ebola or weather problems.
Some items of related interest may include:
When Will the Great Tribulation Begin? 2014, 2015, or 2016? Can the Great Tribulation begin today? What happens before the Great Tribulation in the "beginning of sorrows"? What happens in the Great Tribulation and the Day of the Lord? Is this the time of the Gentiles? When is the earliest that the Great Tribulation can begin? What is the Day of the Lord? Who are the 144,000? Here is a version of the article in the Spanish language: ¿Puede comenzar la Gran Tribulación en 2013 o 2014? ¿Es el Tiempo de los Gentiles? You can also see the English language video The Great Tribulation Will Not Begin Before 2017.
The New Testament Church and Unclean Meats Are foods considered to have been unclean in the Old Testament considered to be food in the New Testament? This article discusses this from the perspective of the New Testament. It also has a list of clean and unclean animals. It also answers the question, is pork healthy or is pork dangerous? There is also a sermon-length video on this: Christians and Unclean Meats.
Weather Blessings and Sorrows Are weather problems a warning? What should be done? What does the Bible teach about weather? What about floods, droughts, heat, earthquakes, tornadoes, and solar storms? Here is a related YouTube video Does God Use Weather? A related item in the Spanish language would be Bendiciones y maldiciones del clima.
Four Horsemen of the Apocalypse What do each of the four horseman of the Apocalypse represent? Have they began their ride? Did Jesus discuss the any of this? Might their rides coincide with the "beginning of sorrows? Do they start their ride prior to the Great Tribulation? Did Nostradamus or any other 'private prophets' write predictions that may mislead people so that they may not understand the truth of one or more of the four horseman? There is also a related YouTube video titled The Four Horsemen of the Apocalypse.
Fourth Horseman of the Apocalypse What is the pale horse of death and pestilences? What will it bring and when? Spanish: El cuarto jinete de Apocalipsis, el caballo pálido de muerte y pestilencia.
Africa: Its Biblical Past and Prophesied Future What does the Bible teach about Africa and its future? Did the early Church reach Africa? Will God call all the Africans?
Just What Do You Mean — Repentance? Do you know what repentance is? Have you truly repented? Repented of what? Herbert W. Armstrong wrote this as a booklet on this important subject.
When You Sin: Do You Really Repent? This is an article by Charles F. Hunting. A related sermon is Confess to God and truly repent.
Do Christians Sin? This is an article by Herbert W. Armstrong.
Overcoming Sin What is sin? How are Christians suppose to overcome it? Here is a link to a version in Mandarin Chinese: 克服是重要的. Here is also a link to a video in English titled How to Overcome Sin.
How to Prevent Sin This is an article by Herbert W. Armstrong. Here is a version in Mandarin: 如何不犯罪
Real Conversion Many think that they are converted Christians. But are they? Would you like to know more about conversion.
False Conversion Have you really been converted? Herbert W. Armstrong wrote this article on this important subject.
All About Water Baptism What is baptism? Would you like to know more about it. Herbert W. Armstrong wrote this as a booklet on this important subject. As far as early history, see also Baptism, the Early Church, and the Continuing Church.
God's Grace is For All Is being Jewish a hindrance to salvation? What about not being a descendant of Israel? What does the Bible really teach? Here is a link to a related sermon titled Race and Grace; Do you view race as God does?
Can those in the USA/UK see the Handwriting on the Wall? Is everything fine in the USA/UK or is it like the days of Noah? Can we learn from the handwriting that appeared on a wall thousands of years ago? Here is a link to a related YouTube video Can you see the 'Handwriting on the Wall'?