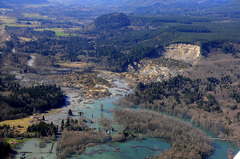 Oso, Washington Mudslide
A weather disaster has claimed at least 16 lives with many more missing and unaccounted for:
March 26, 2014

Sixteen people are now confirmed dead from last week's landslide in Washington state that destroyed dozens of homes in a rural community.

The death toll was revised after rescue workers recovered two more bodies in the town of Oso, located just north of Seattle. Officials said they believe they have located eight more bodies in the rubble, while another 176 people continue to be listed as missing.

Rescue crews are using heavy equipment, high tech cameras, search dogs and their bare hands to search and dig through the rubble in the search for possible survivors and victims.

Last Saturday's disaster occurred when hillside collapsed after several weeks of heavy rains.  http://www.voanews.com/content/death-toll-nearing-two-dozen-in-us-pacific-state-landslide/1879363.html

March 26, 2014

ARLINGTON, Wash. — With search and cadaver dogs leading the way, rescuers using small bulldozers and their bare hands pushed through sludge strewn with splintered homes and twisted cars to find 10 more bodies in the debris of a Washington state mudslide, authorities said.

Despite the grim discoveries as the search entered its fifth day Wednesday — and the likelihood that more bodies will be found — officials were still hoping to find survivors…

As the increasingly desperate search progressed, reports surfaced that warned of the potential for dangerous landslides in the community.

A 2010 report commissioned by Snohomish County to comply with a federal law warned that neighborhoods along the Stillaguamish River were among the highest-risk areas, The Seattle Times reported.

The hillside that collapsed Saturday outside of the community of Oso was one highlighted as particularly dangerous, said the report by California-based engineering and architecture firm Tetra Tech.

"For someone to say that this plan did not warn that this was a risk is a falsity," said report author and Tetra Tech program manager Rob Flaner.

A 1999 report by geomorphologist Daniel Miller, although not about housing, raises questions about why residents were allowed to build homes in the area and whether officials had taken proper precautions.

"I knew it would fail catastrophically in a large-magnitude event," though not when it would happen, said Miller, who was hired by the U.S. Army Corps of Engineers to do the study. "I was not surprised."

A year later, the U.S. Army Corps of engineers warned in another study that lives would be at risk if the hillside collapsed, The Daily Herald of Everett reported.  http://www.washingtonpost.com/national/officials-more-washington-mudslide-victims-found/2014/03/25/08c7c5c2-b47c-11e3-bab2-b9602293021d_story.html
Those affected are in my prayers.
While the Bible is clear that God uses weather as a warning (for related scriptures, see Weather Blessings and Sorrows),  Jesus made it clear that those who are killed in various disasters are not necessarily any worse people than those that are not.  A pdf booklet of interest may be Why Does God Allow Suffering?
Notice the following:
1 There were present at that season some who told Him about the Galileans whose blood Pilate had mingled with their sacrifices. 2 And Jesus answered and said to them, "Do you suppose that these Galileans were worse sinners than all other Galileans, because they suffered such things?  3 I tell you, no; but unless you repent you will all likewise perish.  4 Or those eighteen on whom the tower in Siloam fell and killed them, do you think that they were worse sinners than all other men who dwelt in Jerusalem?  5 I tell you, no; but unless you repent you will all likewise perish." (Luke 13:1-5)
All nations need repentance and all people need to properly repent.  Disasters bigger than mudslides are ahead.
Some items of possibly related interest may include:
Why Does Man Suffer? Herbert Armstrong gives biblical reasons on this topic. I also wrote and added a section titled Suffering Has a Future Purpose.
Why Does God Allow Suffering? This is a pdf booklet put out by the old Worldwide Church of God that also answers questions about why God allows war as well as babies to die.
Just What Do You Mean — Repentance? Do you know what repentance is? Have you truly repented? Repented of what? Herbert W. Armstrong wrote this as a booklet on this important subject.
When You Sin: Do You Really Repent? This is an article by Charles F. Hunting. A related sermon is Confess to God and truly repent.
Weather Blessings and Sorrows Are weather problems a warning? What should be done? What does the Bible teach about weather? What about floods, droughts, heat, earthquakes, tornadoes, and solar storms? Here is a related YouTube video Does God Use Weather? A related item in the Spanish language would be Bendiciones y maldiciones del clima.