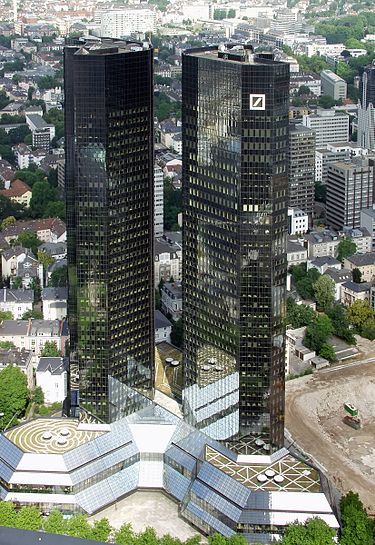 Deutsche Bank twin tower headquarters, Frankfurt, Germany (© Raimond Spekking)

Brexit is a factor accelerating the change of the financial world order:
Frankfurt Is Winning The Battle For London's Bankers

April 5, 2018

Since the UK voted to leave the EU, its biggest financial institutions have been observing the slow moving  Brexit negotiations with a degree of discomfort.  …
Bloomberg has kept track of banks announcing plans to relocate staff and the following infographic provides an overview of the situation with London's loss Frankfurt's gain.

You will find more infographics at Statista

Goldman Sachs recently announced to its investment bankers and traders that their future may well lie in in Germany's financial capital. The firm has already said it intends moving 1,000 of its 6,000 strong staff to Frankfurt.

It's just one of many organizations to announce a shift to other EU hubs with UBS planning to shift 1,500 of its workforce in the UK to Frankfurt and Paris. Depending on the outcome of talks on a future trade agreeement, these initial moves could just herald the start of London's financial exodus. https://www.zerohedge.com/news/2018-04-04/frankfurt-winning-battle-londons-bankers

April 4, 2018

More than half of UK international finance firms will have to move staff or restructure their businesses because of Brexit, according to a Reuters survey. One quarter said the UK leaving the EU would have no impact, while the remainder said they did not know the effects, or were still considering how to respond to Brexit.

However, the findings suggest London will remain Europe's largest financial centre in the short term at least. …

That said, a small exodus is underway. Earlier this month, ratings agency DBRS announced it was shifting staff from London to Frankfurt, while UBS is merging its UK entity with its Frankfurt-based European HQ before the Brexit deadline of end-March 2019. https://www.brand-e.biz/innovation/more-than-half-of-uk-international-finance-firms-will-have-to-move-staff-or-restructure-their-businesses-because-of-brexit
The UK has been losing international influence for some time. Now with the Brexit (its declaration for the BRitish to EXIT the European Union by March 2019), we are seeing bankers realizing that the financial hub of Europe will be on the continent and not the British Isles. This will take time to have more impact, but bankers are taking steps.
Of course, we have also seen actions to diminish the influence of the USA dollar (e.g, US Dollar being challenged by Gold-Petro-Yuan).
While the USA did not directly vote to leave any confederated union as the UK did in 2016, in 2016 it did elect Donald Trump as its president. He campaigned on an 'America First' platform that has offended many other nations. He pulled the USA out of the international Paris Climate Accords, pulled out of the Trans-Pacific Partnership agreement (TPP), threatened arrangements such as NATO and NAFTA, and this year announced tariffs that have upset many.
Although the USA still has the most economic influence of any single nation in the world (the EU in total, however, has more), the USA has major issues that will one day greatly weaken its ability to have that lead.
Consider the following that came out today:
April 5, 2018

The Commerce Department said on Thursday the trade gap rose 1.6 percent to $57.6 billion. That was the highest level since October 2008 and followed a slightly downwardly revised $56.7 billion shortfall in January.

The deficit has now risen for six straight months. The goods trade deficit was the highest since July 2008 and the surplus on services was the lowest since December 2012.

Economists polled by Reuters had forecast the trade gap widening to $56.8 billion in February from a previously reported $56.6 billion in the prior month.

Part of the rise in the trade deficit in February reflected commodity price increases. The politically sensitive goods trade deficit with China fell 18.6 percent to $29.3 billion. The deficit with Mexico surged 46.6 percent in February.

News of the worsening trade deficit comes as the United States and China are embroiled in tit-for-tat tariffs which have rattled global financial markets. https://www.cnbc.com/2018/04/05/us-trade-deficit-rises.html
Between trade deficits and increased national debt, the USA is setting itself up for an economic disaster and more (cf. Habakkuk 2:6-8).
One day the continental Europeans will take over the USA (Daniel 11:39) and the UK (cf. Daniel 8:24-25).
But Europe, itself, will have ups and downs first (cf. Daniel 2:41-43).
As far as banking and Europe goes, the late Herbert W. Armstrong stated the following in a sermon on July 7, 1984:
And I can see now, the event that is going to trigger the formation of the reunification in Europe; the resurrection of the medieval Holy Roman Empire that we've been looking forward to that is prophesied to come…

But I believe that some event is going to happen suddenly just like out a blue sky that is going to shock the whole world and is going to cause the nations in Europe to realize they must unite! … Well now I think I can see what may be the very event that is going to trigger…that is the economic situation in the world…

The whole banking structure in the United States is a network all jointed together. But not only that, one nation has to deal with other nations and imports and exports. And so they have to have a means of transforming money from one nation to another. And so the banking structure is international and interwoven…

Now when the financial structure breaks down, all civilization is going to break down…
It is quite likely that Europe will have a banking and/or other massive financial crisis next decade.
What will happen because of a major crisis in Europe? The one that will lead to the end?
The Bible shows that Europe will reorganize and turn power over to ten leaders who will turn power over to a dictator:
12 "The ten horns which you saw are ten kings who have received no kingdom as yet, but they receive authority for one hour as kings with the beast. 13 These are of one mind, and they will give their power and authority to the beast.  (Revelation 17:12-13)
These ten kings have no kingdom, but are to attain one. Thus, this is a type of reorganization in verse 12. Since they give their power to the Beast in verse 13, this is a second reorganization. The "beast" is not shown to have much power prior to Revelation 17:12-13. This beast would seem to have Assyrian roots per Isaiah 10:5-11, and hence would likely be someone from Germany or Austria (see also Germany in Biblical and Catholic Prophecy). This turnover of power to him results in a dictatorship–likely similar to the one led by Adolf Hitler (see also European Unity to be like Hitler?).
Notice that Revelation 17:12-13 does NOT say that ten existing nations will give their power to the Beast, but that ten kings who had not had a kingdom will get power and transfer it (for more on this, check out the article Must the Ten Kings of Revelation 17:12 Rule over Ten Currently Existing Nations?).
While Europe is NOT yet ready for that reorganization, we are seeing events that will lead to it.
We also continue to see steps showing that the Anglo-American dominated world order will come to an end (watch also End of the Anglo-American Order and/or The New World Order Is Leaving the US Behind).
Some items of possibly related interest may include:
The End of US Dollar Dominance Is the USA losing its economic status? What about the petro-gold-yuan? A related video is also available: US Dollar being challenged by Gold-Petro-Yuan.
USA in Prophecy: The Strongest Fortresses Can you point to scriptures, like Daniel 11:39, that point to the USA in the 21st century? This article does. A related sermon is titled: Do these 7 prophesies point to the end of the USA?
Who is the King of the West? Why is there no Final End-Time King of the West in Bible Prophecy? Is the United States the King of the West? Here is a version in the Spanish language: ¿Quién es el Rey del Occidente? ¿Por qué no hay un Rey del Occidente en la profecía del tiempo del fin?
Anglo – America in Prophecy & the Lost Tribes of Israel Are the Americans, Canadians, English, Scottish, Welsh, Australians, Anglo-Saxon (non-Dutch) Southern Africans, and New Zealanders descendants of Joseph? Where are the lost ten-tribes of Israel? Who are the lost tribes of Israel? What will happen to Jerusalem and the Jews in Israel? Will God punish the U.S.A., Canada, United Kingdom, and other Anglo-Saxon nations? Why might God allow them to be punished first? Here is a link to the Spanish version of this article: Anglo-América & las Tribus Perdidas de Israel. Information is also in the YouTube sermons titled Where are the Ten Lost Tribes? Why does it matter? and British are the Covenant People. A short YouTube of prophetic interest may be: Are Chinese threats against Australia for real?
Will the Anglo-Saxon Nations be Divided and Have People Taken as Slaves? Will the lands of the United States, United Kingdom, Canada, Australia, and New Zealand be divided? What about Jerusalem? What does Bible prophecy teach? Are there non-biblical prophecies that support this idea? Who will divide those lands? Who will end up with the lands and the people? Here is a link to a video titled Will the USA and other Anglo-nations be Divided and Their People Made Slaves? Here is a related item in the Spanish language ¿Serán divididas las naciones anglosajonas?
British are the Covenant People What do 'British' and 'Britain' mean in Hebrew? Are the descendants of the Anglo-Saxons people of the covenant? Does the British royal family connect to the throne of David? What does the Bible teach? What does history show us? Is there any DNA evidence related to British-Israelism? When did Christianity make it to the British Isles? Could Jeremiah have made it to the British Isles? What type of Christians made it to the British Isles? Did the last King of England believe in British Israelism?
The Times of the Gentiles Has there been more than one time of the Gentiles? Are we in it now or in the time of Anglo-America? What will the final time of the Gentiles be like? A related sermon is available and is titled: The Times of the Gentiles.
Europa, the Beast, and Revelation Where did Europe get its name? What might Europe have to do with the Book of Revelation? What about "the Beast"? Is an emerging European power "the daughter of Babylon"? What is ahead for Europe? Here is a link to a video titled: Can You Prove that the Beast to Come is European?
European Technology and the Beast of Revelation Will the coming European Beast power would use and develop technology that will result in the taking over of the USA and its Anglo-Saxon allies? Is this possible? What does the Bible teach? Here is a related YouTube video: Military Technology and the Beast of Revelation.
Must the Ten Kings of Revelation 17:12 Rule over Ten Currently Existing Nations? Some claim that these passages refer to a gathering of 10 currently existing nations together, while one group teaches that this is referring to 11 nations getting together. Is that what Revelation 17:12-13 refers to? The ramifications of misunderstanding this are enormous. A related sermon is titled Ten Kings of Revelation and the Great Tribulation.
WTO/TTIP and the Babylonian Beast Will international trade agreements like WTO/TTIP/CETA lead to the fulfillment of end time prophecies concerning the Babylonian Beast power that the Book of Revelation warns against? What does the Bible teach? A related video would be WTO Trade Deal and the Rise of the European Beast Power.
Spiritual Samaritans: Old and New Who were the Samaritans? Do the represent true Christianity or something else? Here is a link to a related sermon: USA in Prophecy: Samaria.
China, Its Biblical Past and Future, Part 1: Genesis and Chinese Characters Where did the Chinese people come from? This article provides information showing that the Chinese peoples must have known about various accounts in the Book of Genesis up until their dispersion after the Tower of Babel. Here is a link to a version of this article in Spanish: ¿Prueban los caracteres chinos la exactitud de la Biblia?
China, Its Biblical Past and Future, Part 2: The Sabbath and Some of God's Witness in China When did Christianity first come to China? And is there early evidence that they observed the seventh day sabbath?
Asia in Prophecy What is Ahead for Asia? Who are the "Kings of the East"? What will happen to nearly all the Chinese, Russians, Indians, and others of Asia? China in prophecy, where? Who has the 200,000,000 man army related to Armageddon? A YouTube video of interest may be Is China THE Threat to the United States of America?
The Eurasian Union, the Kings of the East, and Bible Prophecy Is there a Eurasian union that will be formed? Is one being formed right now? Are any leaders working on that in the 21st century? Does the Bible teach that there will be a Eurasian union? If some type of Eurasian union is formed, who might it benefit and who will it destroy? A related video would be Is The Eurasian Union Rising?
Russia and Ukraine: Their Origins and Prophesied Future Russia in prophecy. Where do the Russians come from? What about those in the Ukraine? What is prophesied for Russia and its allies? What will they do to the Europeans that supported the Beast in the end? There is also a video sermon available: Russia in the Bible and in Prophecy and a video sermonette available: Ukraine in Prophecy?
Is Russia the King of the North? Some claim it is. But what does the Bible teach? Here is a link to a video, also titled Is Russia the King of the North?
Ezekiel 38: For Russia & Iran in Our Day? Is Ezekiel 38 about to be fulfilled? A related video is available titled Ezekiel 38: For Russia, Ukraine, & Iran Now? Another could be Russia, Iran, Syria, & the Bible (Code).
Donald Trump in Prophecy Prophecy, Donald Trump? Are there prophecies that Donald Trump may fulfill? Are there any prophecies that he has already helped fulfill? Is a Donald Trump presidency proving to be apocalyptic? Two related videos are available: Donald: 'Trump of God' or Apocalyptic? and Donald Trump's Prophetic Presidency.
Trump Presidency Magic 8 Ball or Bible Prophecy? BBC reported that one might as well use a 'Magic Eight-Ball' to try to predict what will happen in the remaining time of Donald Trump's presidency. What is a 'Magic Eight-Ball'? Dr. Thiel not only explains that, but also briefly goes over 10 biblically-based warnings he wrote would happen if Donald Trump were elected that have already began to come to pass. He also goes over something he wrote back in 2008 that the Trump presidency is also helping lead to fulfillment. Should you trust Bible prophecy or not? Dr. Thiel says that Bible prophecy can be trusted, despite the view of skeptics and others that either overlook or despise the Bible. This is a video.
Donald Trump and America's Apocalypse This 188 page book is for people truly interested in prophecies related to Donald Trump and the United States, including learning about several that have already been fulfilled and those that will be fulfilled in the future. The physical book can be purchased at Amazon for $12.99 from the following link: Donald Trump and America's Apocalypse.
Donald Trump and America's Apocalypse-Kindle Edition This electronic version of the 188 page print edition is available for only US$3.99. And you do not need an actual Kindle device to read it. Why? Amazon will allow you to download it to almost any device: Please click HERE to download one of Amazon s Free Reader Apps. After you go to for your free Kindle reader and then go to Donald Trump and America's Apocalypse-Kindle Edition.
Germany in Biblical Prophecy Does Assyria in the Bible equate to an end time power inhabiting the area of the old Roman Empire? What does prophecy say Germany will do and what does it say will happen to most of the German people? Here are links to two sermon videos Germany in Bible Prophecy and The Rise of the Germanic Beast Power of Prophecy.
Might German Baron Karl-Theodor zu Guttenberg become the King of the North? Is the former German Defense Minister (who is also the former German Minister for Economics and Technology) one to watch? What do Catholic, Byzantine, and biblical prophecies suggest? A video of related interest would be: Karl-Theodor zu Guttenberg and Europe's Future.
Germany's Assyrian Roots Throughout History Are the Germanic peoples descended from Asshur of the Bible? Have there been real Christians in Germanic history? What about the "Holy Roman Empire"? There is also a You-Tube video sermon on this titled Germany's Biblical Origins.
World War III: Steps in Progress Are there surprising actions going on now that are leading to WWIII? Might a nuclear attack be expected? Does the Bible promise protection to all or only some Christians? How can you be part of those that will be protected? A related video would be Is World War III About to Begin? Can You Escape?
Who is the Man of Sin of 2 Thessalonians 2? Is this the King of the North, the ten-horned beast of Revelation 13:1-11, or the two-horned Beast of Revelation 13:12-16? Some rely on traditions, but what does the Bible teach? Here is a related link in Spanish/español: ¿Quién es el Hombre de Pecado de 2 Tesalonicenses 2? Here is a version in Mandarin: 主编: 谁是'大罪人'?Here is a link to a related YouTube video, in English, titled Who is the Man of Sin?
CCOG.EU German language page This has materials translated into the German language by native German speakers.