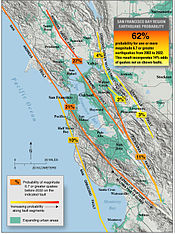 Earthquake Was Near Rodgers Creek Fault (Orange line with 27% on it)
The largest earthquake in decades hit northern California:
August 24, 2014
An earthquake of 6.0 magnitude, the largest in the region in 25 years, shook the San Francisco Bay Area early Sunday, causing some power outages but no major damage, according to initial reports. …
The USGS said numerous small aftershocks have occurred in the Napa wine country. At least one building was damaged in Napa.

USGS expert Jessica Turner told KCBS radio that aftershocks of up to 5.0 are likely in the next week.

Power outages, affecting more than 28,000 households were reported in Napa, according to the French news agency AFP. …

"It was a rolling quake," Oakland resident Rich Lieberman told The Associated Press. "It started very much like a rolling sensation and just got progressively worse in terms of length. Not so much in terms of shaking, but it did shake. It felt like a side-to-side kind of rolling sensation. Nothing violent but extremely lengthy and extremely active." http://www.voanews.com/content/quake-hits-san-francisco-bay-are-/2426188.html

August 24, 2014

long, rolling temblor pegged at 6.0 by the U.S. Geological Survey shook a wide swath of the Bay Area awake early Sunday, causing damage to buildings and sending at least 70 people to a hospital with non-life threatening injuries.

Centered about nine miles south of wine country's Napa at 3:20 a.m., the quake was felt as far south as Santa Cruz and into Sonoma County. It was the largest earthquake to strike the Bay Area since the 6.9 Loma Prieta temblor of 1989, the USGS said.

A little more than two hours after the quake, a shallow magnitude 3.6 tremor was reported by the USGS. The aftershock occurred at 5:47 a.m. at a depth of 5 miles. The National California Seismic System put the chance of a strong aftershock in the next week at 54%.  http://www.latimes.com/local/lanow/la-me-ln-quake-near-napa-jolts-bay-area-20140824-story.html
I was working at the computer this morning when this one hit, but did not notice it. Arroyo Grande is nearly 300 miles away from Napa and the impact was not obvious here.
Of course, Jesus warned about a time earthquakes and troubles:
8 … And there will be earthquakes in various places, and there will be…troubles. These are the beginnings of sorrows. (Mark 13:8)
This particular quake reminds us that earthquakes can happen when not expected and that things can change quickly.
While those of us who have spent a lot of time in California expect earthquakes to happen, many places around the world are at greater risk for serious earthquakes than most imagine.
Some items of possibly related interest may include:
Earthquakes Today and Bible Prophecy Contains a cool up-to-the-hour update of earthquakes around the world from USGS. It also explains what did Jesus teach about earthquakes and how the Bible describes "the big one" (as well as when it is expected).
Islands and Bible Prophecy What's ahead for islands? What does the Bible prophesy about them?
Just What Do You Mean — Repentance? Do you know what repentance is? Have you truly repented? Repented of what? Herbert W. Armstrong wrote this as a booklet on this important subject.
Weather Blessings and Sorrows Are weather problems a warning? What should be done? Here is a related YouTube video Does God Use Weather?
The Gospel of the Kingdom of God was the Emphasis of Jesus and the Early Church Did you know that? Do you even know what the gospel of the kingdom is all about? You can also see a YouTube video sermon The Gospel of the Kingdom.
When Will the Great Tribulation Begin? 2014, 2015, or 2016? Can the Great Tribulation begin today? What happens before the Great Tribulation in the "beginning of sorrows"? What happens in the Great Tribulation and the Day of the Lord? Is this the time of the Gentiles? When is the earliest that the Great Tribulation can begin? What is the Day of the Lord? Who are the 144,000? Here is a version of the article in the Spanish language: ¿Puede comenzar la Gran Tribulación en 2014 o 2015? ¿Es el Tiempo de los Gentiles? You can also see the English language sermon video: The Great Tribulation from the Mount of Olives.
Does God Have a 6,000 Year Plan? What Year Does the 6,000 Years End? Was a 6000 year time allowed for humans to rule followed by a literal thousand year reign of Christ on Earth taught by the early Christians? Does God have 7,000 year plan? What year may the six thousand years of human rule end? When will Jesus return? 2021 or 20xx? There is also a video titled The 6000 Year Plan: Is the end of humanity's reign almost up?
Physical Preparation Scriptures for Christians. We all know the Bible prophecies famines. Should we do something?