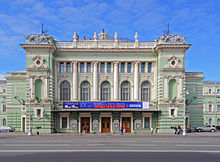 Mariinsky Theatre, Saint Petersberg, Russia (A. Savin)

Back in May of this year, Russia's President Vladimir Putin signed in a new law against foul language.  Certain artists have objected to it:
Russia in July enacted a law threatening fines for publicly displayed profanity in media, films, literature, music and theater. The restriction, the toughest since the Soviet era, aims to protect the Russian language and culture and has been welcomed by those who say cursing is getting out of control. But many artists reject the move as a patronizing and ineffective act of censorship in line with a string of conservative morality laws.
The link above goes to a video about this.  It mentions that Russia has put in place various morality laws to set it apart from the more 'liberal' West.  Apparently in Russia under this law, theaters can get fined $1400 if they allow profanity in acts.  Some Russian artists consider this a form of unnecessary censorship, while one interviewed favored the law and stated that it would lead to a better artist culture.
I would add here that sadly, many 'artists' do need to be censored as what passes for art if often vulgar, lust provoking, and/or otherwise immoral.  Nude shows are called 'performance art' as now is showing actual acts of homosexual intercourse in the West.  Now 'soft pornography' is considered as appropriate family entertainment by many in the Western media.  Even the President of the USA has endorsed a promoter of celebrity pornography.
It has been reported by some that Russia's President Putin sees himself as the leader of a new "Holy Roman Empire" and is the political leader who is standing up for Orthodox Christianity and against the moral decline of the West. He has publicly denounced aspects of the homosexual agenda, and other matters, and is probably the most powerful political leader to do so in the past year or two.
As far as foul language goes, it should not be used by Christians. Notice scriptures from the Old and New Testaments:
11 'You shall not take the name of the Lord your God in vain, for the Lord will not hold him guiltless who takes His name in vain. (Deuteronomy 5:11)

28 "You shall not revile God, nor curse a ruler of your people. (Exodus 22:28)

14 Bless those who persecute you; bless and do not curse. (Romans 12:14)

33 Be not deceived: evil communications corrupt good manners. (1 Corinthians 15:33, KJV)

29 Let no corrupt word proceed out of your mouth, but what is good for necessary edification, that it may impart grace to the hearers. (Ephesians 4:29)
Foul language is unnecessary and should not be used.  Using 'art' as an excuse, does not excuse it.
While I do not believe that Vladimir Putin will lead the final revival of the "Holy Roman Empire" (see Putin claimed to be re-establishing 'Third Holy Roman Empire,' but that is happening elsewhere), I do believe that some of his public 'moral' statements are helping set the stage for the Beast who will lead it.
The amount of foul language tolerated in Western and other societies is excessive and should not be done.
Some items of possibly related interest may include:
The Ten Commandments Reflect Love, Breaking them is Evil Some feel that the ten commandments are a burden. Is that what Jesus, Paul, Peter, James, and John taught? For a more detailed discussion of the first four commandments, please see the video The Ten Commandments: Loving God. For a more detailed discussion of the last six commandments, please see: The Ten Commandments: Loving Your Neighbor. Here is a link to a related article in Mandarin Chinese 十条诫命显示爱,违反诫命的就是邪恶的 .
Can those in the USA/UK see the Handwriting on the Wall? Is everything fine in the USA/UK or is it like the days of Noah? Can we learn from the handwriting that appeared on a wall thousands of years ago? Here is a link to a related YouTube video Can you see the 'Handwriting on the Wall'?
Cross-dressing and other assaults against your children.  What should you do? Is there an agenda to turn your children and/or grandchildren away from biblical morality and towards practices promoted by homosexuals? What does the Bible teach about cross-dressing? What should parents do? If there is an agenda, what has been going on?  There is also a YouTube video on this, titled Cross dressing and Other Assaults Against Your Children.
The Bible Condemns Homosexuality "Same-sex marriage" for "gays" and lesbians is becoming more acceptable to many. What does the Bible teach about homosexuality?  Can homosexuals change?
Pornography: A scourge on society Is pornography harmless fun? Does the Bible teach anything about it? What are the views of some involved with it? Here is a link to a YouTube video Pornography: Harmless Fun or a Scourge on Society?
British and American Moral Decay Public nudity is becoming more prevalent in the Anglo-Saxon lands. What are some of the consequences?
The Eurasian Union, the Kings of the East, and Bible Prophecy Is there a Eurasian union that will be formed? Is one being formed right now? Are any leaders working on that in the 21st century? Does the Bible teach that there will be a Eurasian union? If some type of Eurasian union is formed, who might it benefit and who will it destroy? A related video would be Is The Eurasian Union Rising?
Is Russia the King of the North? Some claim it is. But what does the Bible teach? Here is a link to a video, also titled Is Russia the King of the North?
Russia and Ukraine: Their Origins and Prophesied Future Where do the Russians come from? What about those in the Ukraine? What is prophesied for Russia and its allies? What will they do to the Europeans that supported the Beast in the end?
Ukraine in Prophecy? What is happening in Ukraine? What is known and what is unsure about its future? What is the origin of those who live in Ukraine? What does the Bible teach about the role of the Medes in the end times? Will Ukraine split? Why might part of Ukraine end up in the European Union? Why might part of Ukraine end up in the Eurasian Union? Is war in the prophesied future for Ukraine? What is the ultimate destiny for nearly all Ukrainians?
Barack Obama, Prophecy, and the Destruction of the United States-Second Edition for Second Obama Term This is a 160 page book for people truly interested in prophecies related to Barack Obama and the United States, including learning about many that have already been fulfilled (which the book documents in detail) and those that will be fulfilled in the future. It also has a chapter about a Republican choice. This book is available to order at www.barackobamaprophecy.com. The physical book can also be purchased at Amazon from the following link: Barack Obama, Prophecy, and the Destruction of the United States: Is Barack Obama Fulfilling Biblical, Islamic Catholic, Kenyan, and other America-Related Prophecies? What About Republican Leaders? Second Edition for Second Obama Term.
Barack Obama, Prophecy, and the Destruction of the United States-Second Term-Amazon Kindle edition. This electronic version is available for only US$2.99. And you do not need an actual Kindle device to read it. Why? Amazon will allow you to download it to almost any device: Please click HERE to download one of Amazon s Free Reader Apps. After you go to for your free Kindle reader and then go to Barack Obama, Prophecy, and the Destruction of the United States-Second Term-Amazon Kindle edition.