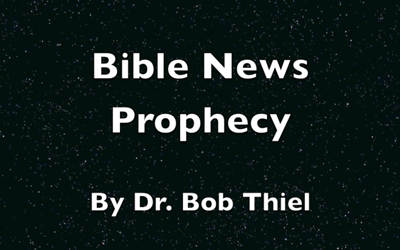 COGwriter The Continuing Church of God is pleased to announce our latest video on our Bible New ProphecyYouTube channel:
The Church of Rome announced celebrations lasting from August 16, 2014 to August 16, 2016 in honor of Catholic saint and priest John Bosco (commonly known as Don Bosco). He is known for working with children and for having Marian-influenced dreams and visions. Was he a false prophet? Did he always advocate true doctrine? May some of his teachings deceive people about Mary, the Beast, and the False Prophet? Dr. Thiel compares of some of Don Bosco's teachings with the Bible. He also cites of Catholic and biblical writings to show how many will be deceived.
Here is a link to our video: Deceitful Year of Don Bosco.
A link to a related written article is: Catholic priest endorses a year of celebrations for 'Marian' false prophet Don Bosco.
Some items of possibly related interest may include:
What Can We Learn from Private "Catholic" Prophecies? There have been those claiming Catholicism over the centuries that have accurately predicted many events, as well as have made many errors. What might Catholic prophecies reveal about the future? Will an antipope help take over the world?
Mary, the Mother of Jesus and the Apparitions Do you know much about Mary? Are the apparitions real? What happened at Fatima? What might they mean for the rise of the ecumenical religion of Antichrist? Are Protestants moving towards Mary? How do the Eastern/Greek Orthodox view Mary? How might Mary view her adorers? Here is a link to a YouTube video Marian Apparitions May Fulfill Prophecy. Here is a link to a sermon video: Why Learn About Fatima?
Do you understand the ramifications of the 'Lady of Guadalupe'? It is claimed that a female apparition appeared near Mexico City on December 12, 1531. How has it affected the world? What might it suggest about the future?
Pope Francis: Could this Marian Focused Pontiff be Fulfilling Prophecy? Pope Francis has taken many steps to turn people more towards his version of 'Mary.' Could this be consistent with biblical and Catholic prophecies? This article documents what has been happening. There is also a video version titled Pope Francis: Could this Marian Focused Pontiff be Fulfilling Prophecy?
Feast of the Immaculate Conception? Did early Christians teach Mary had an immaculate conception and led a sinless life?
Origin of the Marian Dogmas: Where Do Catholic Scholars Say The Four Dogmas of Mary Came From?
Assumption of Mary Did Mary die? Was she taken to heaven on August 15th? What is known? What does the Bible show?
Marcus, the Marcosians, & Mithraism: Developers of the Eucharist? Marcus was a second century heretic condemned for having a ceremony similar to one still practiced by many who profess Christ. Might he also be in the apostolic succession list of the Orthodox Church of Alexandria? Where did the eucharistic host and IHS come from?
Dreams, the Bible, and the Continuing Church of God Does God still use dreams? Did He use any involving those in the Continuing Church of God?
Europa, the Beast, and Revelation Where did Europe get its name? What might Europe have to do with the Book of Revelation? What about "the Beast"? Is an emerging European power "the daughter of Babylon"? What is ahead for Europe? Here is a link to a video titled: Can You Prove that the Beast to Come is European?
Who is the King of the North? Is there one? Do biblical and Roman Catholic prophecies for the Great Monarch point to the same leader? Should he be followed? Who will be the King of the North discussed in Daniel 11? Is a nuclear attack prophesied to happen to the English-speaking peoples of the United States, Great Britain, Canada, Australia, and New Zealand? When do the 1335 days, 1290 days, and 1260 days (the time, times, and half a time) of Daniel 12 begin? When does the Bible show that economic collapse will affect the United States? In the Spanish language check out ¿Quién es el Rey del Norte? Here is a link to a video titled: The Future King of the North.
Who Are The Two Witnesses? What is their job? What does the Bible reveal? What has the Church of God taught on this subject? Might even Roman Catholic prophecies give some clues here? Here is a related link in Spanish/español:¿Quiénes son los dos testigos?
Which Is Faithful: The Roman Catholic Church or the Continuing Church of God? Do you know that both groups shared a lot of the earliest teachings? Do you know which church changed? Do you know which group is most faithful to the teachings of the apostolic church? Which group best represents true Christianity? This documented article answers those questions.