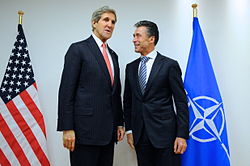 John Kerry and Anders Rasmussen
NATO leaders are meeting in the UK today and the Secretary-General of NATO dismissed Vladimir Putin's peace plan for Ukraine:
September 4, 2014

NEWPORT, WALES—NATO's secretary-general has dismissed Russian President Vladimir Putin's seven-step plan to end the fighting in eastern Ukraine, as alliance leaders gathered in Britain for their first summit in two years.

Anders Fogh Rasmussen derided Putin's approach as a "so-called peace plan."  He said, what counts is what is happening on the ground in eastern Ukraine, where the West says Russian troops are fighting with separatists against the Ukrainian military, a charge Russia denies.

"We continue to call on Russia to pull back its troops from Ukrainian borders, stop the flow of weapons and fighters into Ukraine, stop the support for armed militants in Ukraine and engage in a constructive political process," he said.  "That would be a genuine effort to facilitate a political solution. …

Rasmussen said the alliance will make a joint declaration on the crisis, and agree on what he called "concrete steps" to enhance their cooperation with Ukraine.

NATO is also planning to create a rapid reaction force to enhance its military presence in member states close to Russia, and to deter, and if necessary respond to, any Russian military moves in those areas.  http://www.voanews.com/content/nato-chief-dismisses-putins-ukraine-plan/2438185.html

President Obama arrived for the summit after vowing to "degrade and destroy" the Islamic State militants and promising to protect the small Baltic states from any possible Russian aggression.

Obama , Secretary of State John Kerry and European leaders then huddled privately with Ukraine's president , Petro Poroshenko, even as Moscow reiterated its warnings that any moves by Ukraine to strengthen its ties with NATO could shatter fragile truce overtures in the country.

The summit marks the largest gathering of foreign leaders on British soil: 60 envoys and leaders from the 28 NATO members, the bloc's partners and others. Russia was notable for its absence — the first time in years that Moscow has not been represented at a NATO summit and a sign of the deepening rifts between Moscow and its former Cold War foes. …

While Ukraine is a NATO partner and has said it wants to join the alliance, members are deeply reluctant to agree to the request for fear of provoking Russia and exacerbating the conflict.  http://www.washingtonpost.com/world/as-summit-kicks-off-nato-leaders-talk-tough-on-russia-islamic-state/2014/09/04/81b1b96d-36fa-420b-bd40-38c8aa1fd69b_story.html
Ukraine's President stated that he would be interested in having a cease-fire tomorrow:
September 4, 2014

Ukrainian President Petro Poroshenko said he would order a ceasefire on Friday for Ukraine's armed forces battling pro-Russian separatists, paving the way for implementation of a "stage-by-stage peace plan" for his country.

Speaking on the sidelines of a NATO summit in Wales on Thursday, he added that the ceasefire was conditional on a planned meeting going ahead in Minsk on Friday of envoys from Ukraine, Russia and Europe's OSCE security watchdog. …his talk of reviving Ukraine's bid to join the U.S.-led military alliance could reopen a rift within NATO. …

NATO leaders are expected to approve a package of support for Kyiv, setting up trust funds worth around about $15.8 million US to improve Ukrainian military capabilities in areas such as logistics, command and control and cyber defence.  http://www.cbc.ca/news/world/ukraine-crisis-petro-poroshenko-says-ceasefire-could-come-friday-1.2755208
Russia is not pleased with NATO and the West's approach to Ukraine, and issued a warning:
September 4, 2014

Russian Foreign Minister Sergey Lavrov warned NATO against offering any kind of membership to Ukraine, saying any move in that direction would represent "a blatant attempt to derail all the efforts" toward a peaceful resolution of the conflict.

His nation may not be a member of the alliance, but Ukrainian President Petro Poroshenko was in Wales, too, to meet with leaders including President Obama, to update on the progress he's made — or not — with Russian President Vladimir Putin to end the fighting.

Never one to be upstaged, Putin parlayed a state visit to Mongolia to present his own proposal on Wednesday; a simple, seven-point peace plan — one he scribbled in a notebook on the flight over Siberia.

It calls on both sides to cease military advances, exclude the use of combat aircraft against civilians, and exchange prisoners without preconditions. http://www.cbsnews.com/news/russia-warns-nato-ukraine-membership-would-derail-peace-talks/
Russia does not like NATO (an organization originally formed as a military alliance against the old Soviet Union that Russia dominated).
Vladimir Putin has taken risks to try to keep Ukraine out of NATO–risks that may backfire.  NATO is trying how to best support Ukraine, while hoping to dissuade Russia.  Russia, which has been strengthening its military, still wants Ukraine.
The USA itself is concerned that Russia and China are making technological progress militarily.  A reader sent me the following last night:
Reuters – Sept 3, 2014

Russia and China are trying to close the technology gap with the U.S. military and developing weapons systems that appear designed to counter traditional U.S. advantages, Defense Secretary Chuck Hagel said on Wednesday.

Hagel was speaking before a NATO summit expected to bring Russia's souring relations with the West into sharp focus and the goals of NATO allies to strengthen defense spending. …"While the United States currently has a decisive military and technological edge over any potential adversary, our future superiority is not a given," Hagel told a defense industry forum in Rhode Island.U.S. defense officials have watched as Moscow and Beijing have tested a string of sophisticated weapons, from radar-evading aircraft and anti-ship missiles that fly many times the speed of sound, to integrated air defenses…

China and Russia have been rapidly increasing their security spending and have passed new technological milestones in recent years.

"China and Russia have been trying to close the technology gap by pursuing and funding long-term, comprehensive military modernization programs," Hagel said.  http://news.yahoo.com/russia-china-aim-close-military-technology-gap-u-191613092–finance.html
Notice that Russia and China are starting to close the gaps in technology, Russia and China are spending more for their defense, and Chuck Hagel wants NATO members to spend more as well.  Because the USA has fears of Russia and China, it is encouraging the Europeans to spend more on defense.  The USA will assist the Europeans with US technology as well, even as the Europeans develop their own militay technology in projects such as the Large Hadron Collider, F.A.I.R., and the European Space Agency.
Because of perceived risks from Russia and China, combined with excessive trust for the Europeans, the USA is setting up the situation that will result in Europe rising up and eliminating the USA, along with its Anglo-Saxon allies, such as the UK and Canada (watch also 10 Steps Obama Has Taken Leading to the Rise of the Beast).
In the current NATO conference, steps towards increasing European military power and increasing USA vulnerability to attacks FROM Europe are being taken, partially because of the discussions on how to deal with Russia and support Ukraine. This, ultimately, will not end well for the USA (Daniel 11:39).
Some items of possibly related interest may include:
Who is the King of the North? Is there one? Do biblical and Roman Catholic prophecies for the Great Monarch point to the same leader? Should he be followed? Who will be the King of the North discussed in Daniel 11? Is a nuclear attack prophesied to happen to the English-speaking peoples of the United States, Great Britain, Canada, Australia, and New Zealand? When do the 1335 days, 1290 days, and 1260 days (the time, times, and half a time) of Daniel 12 begin? When does the Bible show that economic collapse will affect the United States? In the Spanish language check out ¿Quién es el Rey del Norte? Here is a link to a video titled: The Future King of the North.
Russia and Ukraine: Origins and Prophesied Future Where do the Russians come from? What about those in the Ukraine? What is prophesied for Russia and its allies? What will they do to the Europeans that supported the Beast in the end? You can also watch the short video Ukraine in Prophecy?
Russia in the Bible and in Prophecy Is Russia mentioned in the Bible? It it is where is it? Is there any evidence of a people moving to the land that the Russians now occupy? What do Catholic and other prophecies say about Russia? What does the Bible teach? How are Protestants often in error on this? Is there more in biblical prophecy for Russia than war? Does God have a plan to save Russia and her allies? Does Russia have a history involving Sabbath keepers? Does scripture tie Russia in with Armageddon? Will Russia help defeat the end time Babylonian power? What did the Apostle John, and the prophets Isaiah, Jeremiah, and Daniel, write about Russia? This is a sermon-length video.
Ezekiel 38: For Russia & Iran in Our Day? Is Ezekiel 38 about to be fufilled? A related video is available titled Ezekiel 38: For Russia, Ukraine, & Iran Now?
Bible News Prophecy July-Sept. 2014: The Coming Eurasian Union Here is the latest magazine from the Continuing Church of God. The cover of which shows Vladimir Putin and features an article about the coming Eurasian Union.
Europa, the Beast, and Revelation Where did Europe get its name? What might Europe have to do with the Book of Revelation? What about "the Beast"? Is an emerging European power "the daughter of Babylon"? What is ahead for Europe? Here is a link to a video titled: Can You Prove that the Beast to Come is European?
European Technology and the Beast of Revelation Will the coming European Beast power would use and develop technology that will result in the taking over of the USA and its Anglo-Saxon allies? Is this possible? What does the Bible teach? Here is a related YouTube video: Military Technology and the Beast of Revelation.
Must the Ten Kings of Revelation 17:12 Rule over Ten Currently Existing Nations? Some claim that these passages refer to a gathering of 10 currently existing nations together, while one group teaches that this is referring to 11 nations getting together. Is that what Revelation 17:12-13 refers to? The ramifications of misunderstanding this are enormous. A related sermon is titled Ten Kings of Revelation and the Great Tribulation.
World War III: Steps in Progress Are there surprising actions going on now that are leading to WWIII? Might a nuclear attack be expected? Does the Bible promise protection to all or only some Christians? How can you be part of those that will be protected? A related video would be Is World War III About to Begin? Can You Escape?
Wars, rumors of wars, and the Apocalypse Jesus foretold a time before the end where there would be wars and rumors of wars. The Apocalypse (the Book of Revelation) warns of the red horseman of war. Now, even secular writers, like Larry Edelson, are worried that wars and rumors of war are the most menacing problem that now haunts the earth? Are they right? What is the solution? This is a sermonette-length video.
Is Russia the King of the North? Some claim it is. But what does the Bible teach? Here is a link to a video, also titled Is Russia the King of the North?
The Eurasian Union, the Kings of the East, and Bible Prophecy Is there a Eurasian union that will be formed? Is one being formed right now? Are any leaders working on that in the 21st century? Does the Bible teach that there will be a Eurasian union? If some type of Eurasian union is formed, who might it benefit and who will it destroy? A related video would be Is The Eurasian Union Rising?
Barack Obama, Prophecy, and the Destruction of the United States-Second Edition for Second Obama Term This is a 160 page book for people truly interested in prophecies related to Barack Obama and the United States, including learning about many that have already been fulfilled (which the book documents in detail) and those that will be fulfilled in the future. It also has a chapter about a Republican choice. This book is available to order at www.barackobamaprophecy.com. The physical book can also be purchased at Amazon from the following link: Barack Obama, Prophecy, and the Destruction of the United States: Is Barack Obama Fulfilling Biblical, Islamic Catholic, Kenyan, and other America-Related Prophecies? What About Republican Leaders? Second Edition for Second Obama Term.
Barack Obama, Prophecy, and the Destruction of the United States-Second Term-Amazon Kindle edition. This electronic version is available for only US$2.99. And you do not need an actual Kindle device to read it. Why? Amazon will allow you to download it to almost any device: Please click HERE to download one of Amazon s Free Reader Apps. After you go to for your free Kindle reader and then go to Barack Obama, Prophecy, and the Destruction of the United States-Second Term-Amazon Kindle edition.