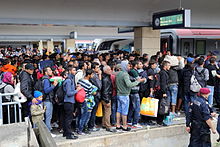 w
Islamic Migrants (photo by Bwag)

Some Arab-Americans support bans on Syrian refugees.  Notice the following report from NBC:
November 21, 2015

They're not rolling out the welcome wagon for the Syrian refugees in the Arab immigrant enclave of Dearborn, Michigan.

And some longtime residents told NBC News they even agree with Gov. Rick Snyder's decision to suspend efforts to bring the long-suffering Syrians to his state after last week's deadly terrorist attacks in Paris.

"We don't need no more troubles, you know?" said Hicham Dawil, who immigrated to the U.S. three decades ago. "I feel bad for the people. On the other hand, look what's happening in France. This is crazy, you know. It's just evil."

Dawil, a father of five college-aged kids all born here who runs his own heating and cooling business, said the ISIS attacks turned his stomach and the fallout affects him as an Arab immigrant.

"We just cannot afford being looked at like, 'Oh, well, you are one of them,'" he said. "Let's say I walk into a lounge … I can see people look at me."

So Dawil supports Snyder's move "100 percent."

Ali Berry, whose roots are in Lebanon, also backs Snyder's ban.

"It's a great idea because we have a bunch of refugees coming from overseas and we don't know what they're about yet, we don't know what they're bringing with them," he said. "We don't know what liability is gonna be on us after they get here. So I think the decision they came up with was the best decision, because at least it gives us time to assess the situation."  http://www.nbcnews.com/storyline/paris-terror-attacks/earlier-arab-immigrants-also-wary-syrian-refugees-n465641
The US House of Representatives passed a bill this week to stop/stem the flow for now, however US President Barack Obama has threatened to veto it should the bill get to him (it still would first need to be approved by the US Senate):
November 19, 2015

President Obama said he will veto a House bill calling for stricter screening of refugees coming into the United States from Iraq or Syria, but the bill passed the House with a veto-proof majority…

The bill, called the American SAFE Act of 2015, requires the director of the FBI to certify to both the National Intelligence Director and the Secretary of Homeland Security that each admitted refugee received a full background check prior to entering the United States.

Additionally, the bill mandates that the Secretary of Homeland Security submit a monthly report to Congressional committees detailing both the number of "applications" and the number of refusals and acceptances.  http://www.ijreview.com/2015/11/475855-obama-threatened-to-veto-congress-on-syrian-refugees-but-the-house-just-took-decisive-action/
How safe is the situation? A few weeks ago, the Washington Post reported the following related to the FBI's view:
October 22, 2015

For the second time this year, the FBI has warned Congress that admitting people displaced by the Syrian civil war into the U.S. is a highly dubious venture, fraught with risks that terrorist fighters could slip in posing as "refugees."

The debate about the security risk posed by Syrian refugees has been raging for months between two sectors of the federal government – the FBI headed by James Comey and the State Department headed by John Kerry.

On Wednesday, Comey testified before Congress. Speaking before the House Homeland Security Committee, Comey said it was not possible for the U.S. to properly vet the Syrian refugees because there are no data points that would show the past activity of the vast majority of Syrians.

Kerry's State Department has repeatedly insisted that refugees are the "most highly scrutinized" and "most rigorously vetted" of all travelers to the United States and Americans should not fear that someone from ISIS could slip into the refugee ranks, despite ISIS operatives promising that this is an avenue they intend to exploit.

"The challenge we're all talking about is that, we can only query against that (data) which we have collected," Comey said. "And so if someone has never made a ripple in the pond in Syria in a way that would get their identity or their interest reflected in our database, we can query our database until the cows come home but there would be nothing show up because we have no record on it. http://www.wnd.com/2015/10/fbi-no-way-to-screen-refugees-coming-to-u-s/#PxBGByJJImb4BRpD.99
Notice also the following:
November 20, 2015

Kerry declares al-Qaida 'neutralized' before Mali massacre

'We're confident that if we stay steady … we're going to defeat Daesh'

(HotAir) The poor timing of Obama administration declarations continues today. Last night, Secretary of State John Kerry tried to bolster confidence in Barack Obama's ISIS strategy by drawing a parallel to the fight against al-Qaeda and ask for just a little more patience. Kerry declared that the US had "neutralized them as an effective force," and that the US was on track to do the same to ISIS even more quickly:   http://www.wnd.com/2015/11/kerry-declares-al-qaida-neutralized-before-mali-massacre/#yRZRiFTtFY7VPeAW.99
The terrorists tend to be patient and have big goals.
October 22, 2015
However, some have a different view:
N0vember 19, 2105

DALLAS — Hillary Clinton said Tuesday that closing the door on refugees fleeing Syria would undermine "who we are as Americans."

"We have always welcomed immigrants and refugees," Clinton said. "We have made people feel that if they did their part, they sent their kids to school, they worked hard, there would be a place for them in America."  …

Ted…Cruz, who is also running for president, said on Tuesday that Syrian refugees should be resettled in Muslim countries in the Middle East.

"What Barack Obama and Hillary Clinton are proposing is that we bring to this country tens of thousands of Syrian Muslim refugees," he said in an interview with CNN's New Day. "I have to say, particularly in light of what happened in Paris, that's nothing short of lunacy."  http://www.cbsnews.com/news/in-dallas-hillary-clinton-weighs-in-on-syrian-refugee-crisis/

November 21, 2015

KUALA LUMPUR, Malaysia — Brushing off refugee worries at home, President Barack Obama crouched alongside migrant children on Saturday and declared they are the opposite of terrorists wreaking havoc from Paris to Mali. Working to put a human face on the refugee crisis, he said, "They're just like our kids."

The refugees Obama encountered at a school for poor children in Malaysia were not from Syria, and unlike the flood of Syrians meeting steep resistance in the U.S., these migrants had already been cleared to resettle in America. Still, Obama said their faces could have been those of kids from Syria, Iraq and other war-torn regions whose pursuit of a life free from violence led them far from their native homes.

"They were indistinguishable from any child in America," Obama said. http://www.cbsnews.com/news/obama-puts-human-face-on-syrian-refugee-debate/
The Syrian refugees, in all proper deference to the US President, are different from other children in the USA, as well as many past refugees.
First, many will not be little children taught Western values, but adults who may blame the USA for their departure and for not doing enough to help them in the USA.
Second, the adults will affect the children with their teachings.  Teachings that likely will include negative comments about what the USA did and/or did not do in Syria.
Third, Bible prophecy warns about problems coming from Syrians.
Does the Syrian migrant situation pose a real risk?
Bible prophecy strongly suggests so.
Notice some of the cursings warned of:
14'But if you do not obey Me, and do not observe all these commandments, 15 and if you despise My statutes, or if your soul abhors My judgments, so that you do not perform all My commandments, but break My covenant, 16 I also will do this to you: I will even appoint terror over you, wasting disease and fever which shall consume the eyes and cause sorrow of heart. And you shall sow your seed in vain, for your enemies shall eat it. 17 I will set My face against you, and you shall be defeated by your enemies. Those who hate you shall reign over you, and you shall flee when no one pursues you (Leviticus 26:14-17).
Terrors (like terrorism) are prophesied for those who were blessed because of God's promises to Abraham, Isaac, and Jacob. And these curses have began.
The Bible also warns:
25 The sword shall destroy outside; There shall be terror within (Deuteronomy 32:25)

12 "Cry and wail, son of man; For it will be against My people, Against all the princes of Israel. Terrors including the sword will be against My people; Therefore strike your thigh. (Ezekiel 21:12)

12 Behold, these are the ungodly,Who are always at ease; They increase in riches…19 Oh, how they are brought to desolation, as in a moment! They are utterly consumed with terrors. (Psalms 73:12,19)

25 Because you disdained all my counsel, And would have none of my rebuke, 26 I also will laugh at your calamity; I will mock when your terror comes, 27 When your terror comes like a storm, And your destruction comes like a whirlwind, When distress and anguish come upon you. (Proverbs 1:25-27)

5 Also they are afraid of height, And of terrors in the way (Ecclesiastes 12:5).
Notice that terror will come from within according to Deuteronomy 32:25. Letting potential terrorists in is a major risk.
Notice also something that Isaiah 9 talks about what happens after a rebuilding:
8 The Lord sent a word against Jacob,
And it has fallen on Israel.
9 All the people will know —
Ephraim and the inhabitant of Samaria —
Who say in pride and arrogance of heart:
10 'The bricks have fallen down,
But we will rebuild with hewn stones;
The sycamores are cut down,
But we will replace them with cedars."
11 Therefore the Lord shall set up
The adversaries of Rezin against him,
And spur his enemies on,
12 The Syrians before and the Philistines behind;
And they shall devour Israel with an open mouth.

For all this His anger is not turned away,
But His hand is stretched out still…

21 Manasseh shall devour Ephraim, and Ephraim Manasseh;
Together they shall be against Judah.

For all this His anger is not turned away,
But His hand is stretched out still. (Isaiah 9:8-12,21)
This seems to be a reference related to terrorists from Syria and Palestine. Isaiah 9 seems to suggest that some of peoples who are alluded to in Psalm 83 (discussed later) will also harass Ephraim and Manasseh after they have suffered. Isaiah 9 ties the identity of Manasseh in with prophetic Samaria; Obadiah 17-18 seems to as well.
Consider that the USA and UK have both agreed to take in Syrian and other Islamic migrants. Could not this be setting them both up for terrorist attacks?
Notice that Isaiah 9:9-10 ties the arrogant Samaritans in with making declarations to rebuild. After the attacks of 9/11/2001, various US politicians made statements consistent with the "we will rebuild" declaration. For example, notice the following quote that then Senator Tom Daschle made to Congress on 9/12/2001 related to the 9/11/2001 attack:
We will rebuild, we will recover.
Others have made similar statements. But notice that God calls those leaders arrogant. While the USA has rebuilt in the area known as 'ground zero,' the USA is not finished being subject to attacks and ultimately, despite having the strongest military, it will be taken over (cf. Daniel 11:39).
The following also seems to be directed against the USA:
9 'Assemble on the mountains of Samaria; See great tumults in her midst, And the oppressed within her. 10 For they do not know to do right, 'Says the Lord, 'Who store up violence and robbery in their palaces.'" 11 Therefore thus says the Lord God: "An adversary shall be all around the land;He shall sap your strength from you,And your palaces shall be plundered." 12 Thus says the Lord: "As a shepherd takes from the mouth of a lion Two legs or a piece of an ear, So shall the children of Israel be taken out Who dwell in Samaria — In the corner of a bed and on the edge of a couch! 13 Hear and testify against the house of Jacob,"Says the Lord God, the God of hosts, 14 'That in the day I punish Israel for their transgressions, I will also visit destruction on the altars of Bethel; And the horns of the altar shall be cut off And fall to the ground. (Amos 3:9-14)
Psalm 83 also warns of a confederation that appears to include Palestinians and Syrians that will end up harming the UK and USA.
While there is a place to take legitimate refugees, letting thousands of potential terrorists into the USA, UK, and elsewhere is a real risk. One thing that the Parisian authorities said about the situation there is that it is not possible to track thousands of people.  Furthermore, some considered to be of no risk, proved to be deadly.
Also there are also some Islamists who clearly want to take advantage of this refugee migration. Perilous times are upon us (cf. 2 Timothy 3:1).
Some items of possibly related interest may include:
Prophecies of Barack Obama? Reasons why Barack Obama is apocalyptic and reasons why Barack Obama is not the Antichrist. This article includes many biblical and non-biblical prophecies, from around the world, that seem to discuss Barack Obama. Did Nostradamus predict Barack Obama dealing with the Antichrist?  Might Barack Obama set the stage for the kings of the North and South as at least one Shiite prophecy suggests?  Read it and decide for yourself if President Obama seems to be fulfilling various prophecies. Watch also the YouTube Barack Obama and the State of the Apocalypse.
The Prophesied 'Islamic' Confederation Where is an Islamic caliphate prophesied? Will one happen? Should you be concerned about it? A related video is Will an Arabic Calphiphate Destroy the West?
Obama Administration Pushing for an Islamic Empire? Because of the rise of groups such as the Islamic State, the Obama Administration and others are pushing for a coalition of Arab nations along with Turkey. Does this resemble the final King of the South of Bible prophecy? Is there an Islamic antichrist? Does the Bible teach that terrorism and the sword will affect the USA and some of its allies? What does the Bible teach in Ezekiel about a confederation involving Egypt? Will an Arabic confederation end in destruction for those who strongly support it? Are the 10 nations in the Arab coalition the ten kings of Revelation 17:12-13? Are the 10 nations including the USA and Turkey the ten nations of Revelation 17:12-13? Who is? Was the pushing of the Obama Administration to do this predicted by in 2009 in a writing by Dr. Thiel? What does the Bible show?
Terror: Will Paris be Destroyed? This is a new video. The Paris office of Charlie Hebdo were attacked in January 2015 and the City of Paris was hit with multiple terrorist attacks in November 2015. Will Paris be destroyed? Is more terrorism prophesied? Will a successful militaristic leader arise in Europe? What do biblical and Catholic prophecies teach? Could any non-biblical prophecies be devices of Satan that will deceive people about what will happen? Dr. Thiel answers these questions and more through scriptures and other writings.
The 'Lost Tribe' of Reuben: France in Prophecy? What is the origin of this in France? What is prophesied to happen to them? A two-part sermon related to history and prophecy is available online: The 'Lost Tribe' of Reuben and France and Prophecy.
Gaza and the Palestinians in Bible Prophecy What does the Bible teach about Gaza and the fate of the Palestinians? Here is a link to a related video: Gaza and Palestine in Prophecy.
Differences Between Islam and the Continuing Church of God What are some of the main differences? Are there any similarities? A video of related interest is titled: Islam: Any Christian Concerns or Similarities?
Iraq, the King of the South, Armageddon, and Prophecy What will happen to Iraq? Is it the prophesied Mystery Babylon? What is Armageddon and how does that have to do with Iraq? Here is a related video Iraq, Armageddon, & Prophecy.
How Will Middle East Peace be Brought About? Can humans bring peace to the Middle East? Here is a link to a related video: Middle East Peace? When?
The 'Peace Deal' of Daniel 9:27 This prophecy could give up to 3 1/2 years advance notice of the coming Great Tribulation. Will most ignore or misunderstand its fulfillment? Here is a link to a related sermon video Daniel 9:27 and the Start of the Great Tribulation.
Who is the King of the West? Why is there no Final End-Time King of the West in Bible Prophecy? Is the United States the King of the West? Here is a version in the Spanish language: ¿Quién es el Rey del Occidente? ¿Por qué no hay un Rey del Occidente en la profecía del tiempo del fin?
When Will the Great Tribulation Begin? 2016, 2017, or 2018? Can the Great Tribulation begin today? What happens before the Great Tribulation in the "beginning of sorrows"? What happens in the Great Tribulation and the Day of the Lord? Is this the time of the Gentiles? When is the earliest that the Great Tribulation can begin? What is the Day of the Lord? Who are the 144,000? Here is a version of the article in the Spanish language: ¿Puede comenzar la Gran Tribulación en 2016 o 2017? ¿Es el Tiempo de los Gentiles? You can also see the English language sermon video: The Great Tribulation from the Mount of Olives.
Anglo – America in Prophecy & the Lost Tribes of Israel Are the Americans, Canadians, English, Scottish, Welsh, Australians, Anglo-Saxon (non-Dutch) Southern Africans, and New Zealanders descendants of Joseph? Where are the lost ten-tribes of Israel? Who are the lost tribes of Israel? What will happen to Jerusalem and the Jews in Israel? Will God punish the U.S.A., Canada, United Kingdom, and other Anglo-Saxon nations? Why might God allow them to be punished first? Here is a link to the Spanish version of this article: Anglo-América & las Tribus Perdidas de Israel. Information is also in the YouTube sermons titled Where are the Ten Lost Tribes? Why does it matter? and British are the Covenant People. A short YouTube of prophetic interest may be Barack Obama and the State of the Apocalypse.
Will the Anglo-Saxon Nations be Divided and Have People Taken as Slaves? Will the lands of the United States, United Kingdom, Canada, Australia, and New Zealand be divided? What about Jerusalem? What does Bible prophecy teach? Are there non-biblical prophecies that support this idea? Who will divide those lands? Who will end up with the lands and the people? Here is a link to a video titled Will the USA and other Anglo-nations be Divided and Their People Made Slaves? Here is a related item in the Spanish language ¿Serán divididas las naciones anglosajonas?
British are the Covenant People What do 'British' and 'Britain' mean in Hebrew? Are the descendants of the Anglo-Saxons people of the covenant? Does the British royal family connect to the throne of David? What does the Bible teach? What does history show us? Is there any DNA evidence related to British-Israelism? When did Christianity make it to the British Isles? Could Jeremiah have made it to the British Isles? What type of Christians made it to the British Isles? Did the last King of England believe in British Israelism?
Hillary Clinton in Prophecy  Prophecy, Hillary Clinton? Are there prophecies that Hillary Clinton may fulfill?  Are there any prophecies that she has already helped fulfill?  Could Hillary Clinton be apocalyptic?  Could Hillary Clinton be the final Antichrist? A video of related interest is titled Hillary Clinton and Bible Prophecy.