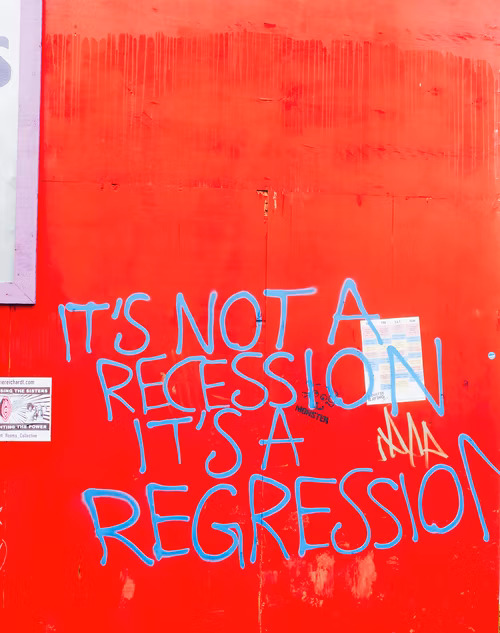 (Unsplash photo)
The USA looks to be in a recession:
US Economy Shrinks 0.9 Percent in 2Q, Signaling Recession

July 28, 2022

The U.S. economy shrank from April through June for a second straight quarter, contracting at a 0.9% annual pace and signaling that the nation may be in a recession.

The decline that the Commerce Department reported Thursday in the gross domestic product — the broadest gauge of the economy — followed a 1.6% annual drop from January through March. Consecutive quarters of falling GDP constitute one informal, though not definitive, indicator of a recession. https://www.newsmax.com/finance/streettalk/economy-gdp-shrinks-by-0-9-percent-recession-inflation/2022/07/28/id/1080713/

Biden economy is now in a technical recession: the first estimate of Q2 GDP came in at -0.9% (technically -0.930%) far below the 0.5% consensus forecast (but right on top of the Atlanta Fed -1.2% tracker), and while an improvement from Q1's -1.6%, this was still the second consecutive quarter of declining GDP which as far as the markets are concerned at least, is the definition of a recession.
Digging into the data, after a big drop in Q1 GDP, the second quarter decrease in real GDP reflected decreases in inventory investment, housing investment, federal government spending, state and local government spending, and business investment. Exports and consumer spending increased. Imports, which are a subtraction in the calculation of GDP, increased. …
So we have a recession…. which means the political push back is about to go into overdrive, starting with Biden's speech … where he desperately tries to convince Americans that according to the new and improved definition of a recession, the US economy is actually growing tremendously. https://www.zerohedge.com/markets/welcome-biden-recession-q2-gdp-unexpectedly-shrinks-09-2nd-consecutive-decline

July 28, 2022

Fox News' White House corespondent Peter Doocy made Joe Biden's Press Secretary Karine Jean-Pierre look like a total fool Wednesday by expertly exposing how she and other Biden minions are attempting to redefine what a recession is in order to claim America isn't in one.

As we have highlighted throughout this week, Biden Administration officials are using semantics to avoid admitting how bad the economy is, with some suggesting 'its not a recession, it's a transition'.

Doocy outright asked Jean-Pierre "If things are going so great, then why is it that WH officials are trying to redefine recession?"

When Jean-Pierre denied that the White House is trying to redefine a recession, Doocy said "If we all understand a recession to be two consecutive quarters of negative GPD growth in a row and you have the White House officials come up here to say no, no, no that's not what a recession is…how is that not redefining recession?"

"Because that's not the definition," the Press Secretary bizarrely replied.

Doocy then read the same definition of a recession as stated by Biden's own economic advisor Brian Deese and asked "What changed?" https://www.infowars.com/posts/video-reporter-exposes-white-houses-blatant-redefining-of-recession/
Note: I saw a report online yesterday that if the US government used the same system of calculating inflation as it did in the 1980s, the rate would have exceeded 17% in the past year.
It should also be pointed out that, because of recessions, people end up deciding to buy less than they did before. Less buying means more people will become/remain unemployed. This also decreases tax revenues.
A typical US government response to economic slowdowns is to increase the money supply. But with inflation being high, the Federal Reserve is currently not in favor of that.
However, it may happen anyway. That has been a political reality in the USA for some time.
Notice also:
Rapidly rising prices put the squeeze on everybody's wallets. A recent study showed that inflation is hitting rural Americans particularly hard. According to the Iowa State University report, people in rural areas now spend 91% of their income on expenses alone. Peter Schiff recently appeared on Rob Schmitt Tonight to talk about the pain of the inflation tax.

Schmitt said the last time Peter was on the show, he painted a "very ugly picture about what's coming for the American economy." Peter said the picture is getting uglier.

I think we're not in recession, which was something that I had been predicting. So, inflation got stronger as the economy got weaker. And I think this recession is just getting started, and it's going to last a long time."

Peter said that when you talk about families struggling with inflation, they're really struggling with government.

Inflation is a tax. It's the way government finances deficit spending. Government spends money. It doesn't collect enough taxes, so it has to run deficits. The Federal Reserve monetizes those defiticts – prints money. They call it quantitative easing, but that's inflation. Government is getting bigger and bigger, and families across America are going to have to bear that burden through higher prices."

https://schiffgold.com/interviews/peter-schiff-americans-paying-for-big-government-through-the-inflation-tax/
The economic reality is that when governments spend money that they do not have they often tend to borrow. This has happened much so, that the USA is in more debt than any country in the history of the world. The Bible shows that this will not end well:
3 For the vision is yet for an appointed time; But at the end it will speak, and it will not lie. Though it tarries, wait for it; Because it will surely come, It will not tarry…5 Indeed, because he transgresses by wine, He is a proud man… 6 "Will not all these take up a proverb against him, And a taunting riddle against him, and say, 'Woe to him who increases What is not his–how long? And to him who loads himself with many pledges'? 7 Will not your creditors rise up suddenly? Will they not awaken who oppress you? And you will become their booty. 8 Because you have plundered many nations, All the remnant of the people shall plunder you. Because of men's blood And the violence of the land and the city, And of all who dwell in it. (Habakkuk 2:3,5,6-8).
The above prophecy DOES apply to the USA in the 21st century–it is specifically for the appointed time of the end. The USA will be taken over as Habakkuk 2, Daniel 11:39, and other prophecies teach, and its debt will be one of the reasons.
While the USA economy will have some ups and not all downs before it collapses, some see problems predominating.
Do you see the winds of change in the USA? If so, what do you plan to do about it? Is your hope, like some at the Federal Reserve, that the US government will continue to spend money it does not have to keep going?
Surely any who claim to believe the Bible realize that will not work indefinitely.
Ultimately, the US dollar itself will have no monetary value (it may have some minor value as a fuel source, novelty, or something else).
Although some realize that the USA is a superpower in decline, most do not really understand how bad it will get.
Without national repentance the USA is doomed.
Since the USA seems to be going more into sin nationally, that type of national repentance seems unlikely. Yet, personal repentance is still possible.
Some items of possibly related interest may include:
Might the U.S.A. Be Gone by 2028? Could the USA be gone by the end of 2028 or earlier? There is a tradition attributed to the Hebrew prophet Elijah that humanity had 6,000 years to live before being replaced by God's Kingdom. There are scriptures, writings in the Talmud, early Christian teachings that support this. Also, even certain Hindu writings support it. Here is a link to a related video: Is the USA prophesied to be destroyed by 2028? In Spanish: Seran los Estados Unidos Destruidos en el 2028?
The Plain Truth About Gold in Prophecy. How Should a Christian View Gold? What do economists and the Bible teach about gold? Gold and silver may drop in value. Inflation/deflation? What do Christians need to know about gold? Two videos of related interest are Beast Prophecies and European Gold and Germany, Gold, and the US Dollar.
USA in Prophecy: The Strongest Fortresses Can you point to scriptures, like Daniel 11:39, that point to the USA in the 21st century? This article does. Two related sermon are available: Identifying the USA and its Destruction in Prophecy and Do these 7 prophesies point to the end of the USA?
Who is the King of the West? Why is there no Final End-Time King of the West in Bible Prophecy? Is the United States the King of the West? Here is a version in the Spanish language: ¿Quién es el Rey del Occidente? ¿Por qué no hay un Rey del Occidente en la profecía del tiempo del fin? A related sermon is also available: The Bible, the USA, and the King of the West.
Who is the King of the North? Is there one? Do biblical and Roman Catholic prophecies for the Great Monarch point to the same leader? Should he be followed? Who will be the King of the North discussed in Daniel 11? Is a nuclear attack prophesied to happen to the English-speaking peoples of the United States, Great Britain, Canada, Australia, and New Zealand? When do the 1335 days, 1290 days, and 1260 days (the time, times, and half a time) of Daniel 12 begin? When does the Bible show that economic collapse will affect the United States? In the Spanish language check out ¿Quién es el Rey del Norte? Here are links to two related videos: The King of the North is Alive: What to Look Out For and The Future King of the North.
The Great Monarch: Biblical and Catholic Prophecies Is the 'Great Monarch' of Catholic prophecies endorsed or condemned by the Bible? Two sermons of related interest are also available: Great Monarch: Messiah or False Christ? and Great Monarch in 50+ Beast Prophecies.
Jesus Returning, David's Throne, and the Stone of Destiny Will Jesus return to the throne of David? What about the Stone of Scone? Here is a link to a related video: Stone of Destiny and Jesus' Return.
The End of US Dollar Dominance Is the USA losing its economic status? What about the petro-gold-yuan? A related video is also available: US Dollar being challenged by Gold-Petro-Yuan.
Physical Preparation Scriptures for Christians. We all know the Bible prophecies famines. Should we do something? Here is a version in the Spanish language Escrituras sobre Preparación física para los Cristianos. Here is a link to a related sermon: Physical preparedness for Christians.
Is God Calling You? This booklet discusses topics including calling, election, and selection. If God is calling you, how will you respond? Here is are links to related sermons: Christian Election: Is God Calling YOU? and Predestination and Your Selection. A short animation is also available: Is God Calling You?
Christian Repentance Do you know what repentance is? Is it really necessary for salvation? Two related sermons about this are also available: Real Repentance and Real Christian Repentance.
Europa, the Beast, and Revelation Where did Europe get its name? What might Europe have to do with the Book of Revelation? What about "the Beast"? Is an emerging European power "the daughter of Babylon"? What is ahead for Europe? Here is a link to a video titled: Can You Prove that the Beast to Come is European?
European Technology and the Beast of Revelation Will the coming European Beast power would use and develop technology that will result in the taking over of the USA and its Anglo-Saxon allies? Is this possible? What does the Bible teach? Here is a related YouTube video: Military Technology and the Beast of Revelation.
Anglo – America in Prophecy & the Lost Tribes of Israel Are the Americans, Canadians, English, Scottish, Welsh, Australians, Anglo-Saxon (non-Dutch) Southern Africans, and New Zealanders descendants of Joseph? Where are the lost ten-tribes of Israel? Who are the lost tribes of Israel? What will
Anglo – America in Prophecy & the Lost Tribes of Israel Are the Americans, Canadians, English, Scottish, Welsh, Australians, Anglo-Saxon (non-Dutch) Southern Africans, and New Zealanders descendants of Joseph? Where are the lost ten-tribes of Israel? Who are the lost tribes of Israel? What will happen to Jerusalem and the Jews in Israel? Will God punish the U.S.A., Canada, United Kingdom, and other Anglo-Saxon nations? Why might God allow them to be punished first? Here is a link to the Spanish version of this article: Anglo-América & las Tribus Perdidas de Israel. Information is also in the YouTube sermons titled Where are the Ten Lost Tribes? Why does it matter? and British are the Covenant People. A short YouTube of prophetic interest may be: Are Chinese threats against Australia for real?
Will the Anglo-Saxon-Celtic Nations be Divided and Have People Taken as Slaves? Will the lands of the United States, United Kingdom, Canada, Australia, and New Zealand be divided? What about Jerusalem? What does Bible prophecy teach? Are there non-biblical prophecies that support this idea? Who will divide those lands? Who will end up with the lands and the people? Here is a link to a video titled Will the USA and other Anglo-nations be Divided and Their People Made Slaves? Here is a related item in the Spanish language ¿Serán divididas las naciones anglosajonas?
British are the Covenant People What do 'British' and 'Britain' mean in Hebrew? Are the descendants of the Anglo-Saxons people of the covenant? Does the British royal family connect to the throne of David? What does the Bible teach? What does history show us? Is there any DNA evidence related to British-Israelism? When did Christianity make it to the British Isles? Could Jeremiah have made it to the British Isles? What type of Christians made it to the British Isles? Did the last King of England believe in British Israelism?
Canada in Prophecy: What Does Bible Prophecy, Catholic Prophecy, and other Predictions Suggest About the Future of Canada? There are prophecies that suggest involvement with Canada. And many are not positive about its future. A sermon of related interest is also available: Canada in Prophecy.
Australia and New Zealand in Prophecy Do biblical prophecies help explain the wealth blessings for Australia and New Zealand? Might cursings from disobedience come in the 21st century? Here is a link to a related sermon: Australia and New Zealand: Origins and Prophecy.
Does God Have a 6,000 Year Plan? What Year Does the 6,000 Years End? Was a 6000 year time allowed for humans to rule followed by a literal thousand year reign of Christ on Earth taught by the early Christians? Does God have 7,000 year plan? What year may the six thousand years of human rule end? When will Jesus return? 2030 or 20xx? There is also a video titled 6000 Years: When will God's Kingdom Come? Here is a link to the article in Spanish: ¿Tiene Dios un plan de 6,000 años?
When Will the Great Tribulation Begin? 2022, 2023, or 2024? Can the Great Tribulation begin today? What happens before the Great Tribulation in the "beginning of sorrows"? What happens in the Great Tribulation and the Day of the Lord? Is this the time of the Gentiles? When is the earliest that the Great Tribulation can begin? What is the Day of the Lord? Who are the 144,000? Here is a version of the article in the Spanish language: ¿Puede la Gran Tribulación comenzar en el 2020 o 2021? ¿Es el Tiempo de los Gentiles? A related video is: Great Tribulation: 2026 or 2027? A shorter video is: Can the Great Tribulation start in 2022 or 2023? Here is a video in the Spanish language: Es El 2021 el año  de La Gran Tribulación o el Grande Reseteo Financiero.