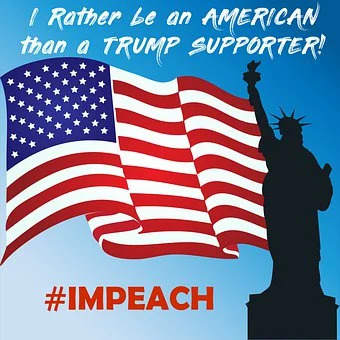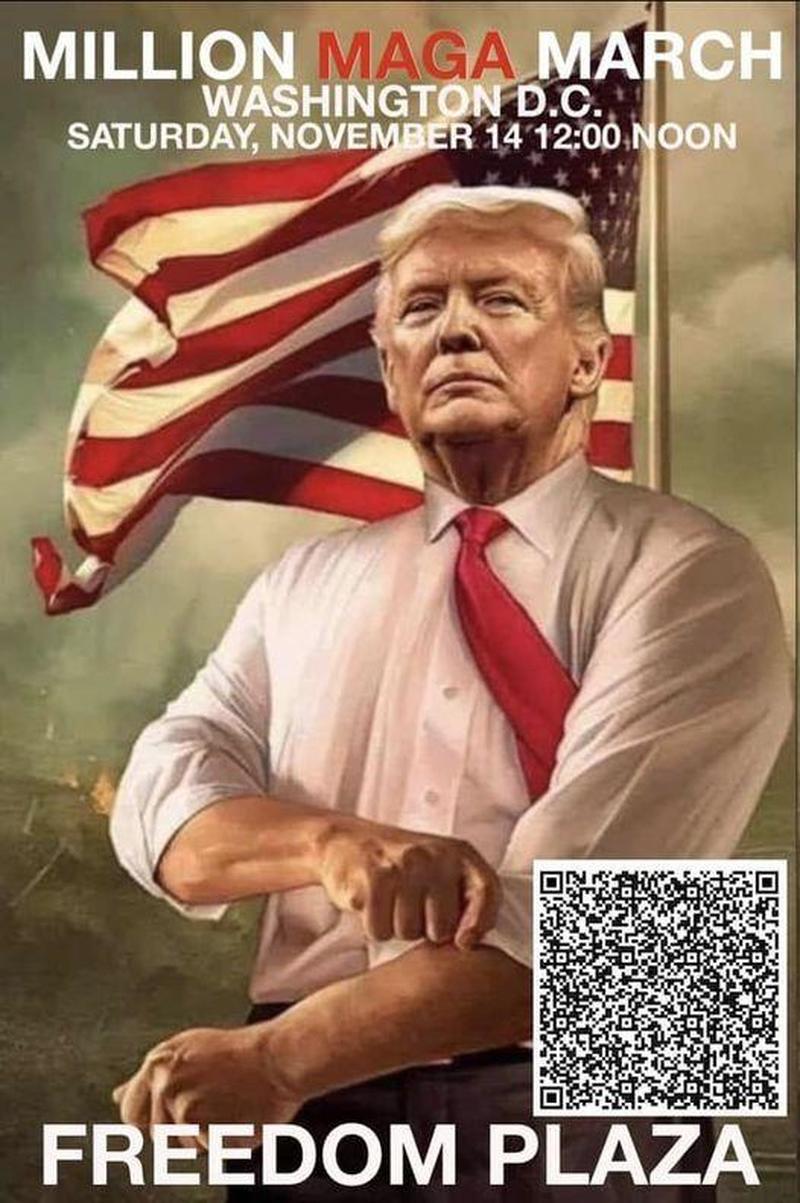 Anti- and Pro- Donald Trump images (Pixabay and Press Release)
Donald Trump was acquitted in the US Senate:
February 13, 2021

WASHINGTON – The U.S. Senate acquitted Donald Trump on Saturday in his second impeachment trial in a year, with fellow Republicans blocking conviction over the former president's role in the deadly assault by his supporters on the U.S. Capitol.

The Senate vote of 57-43 — seven of the 50 Senate Republicans joined the chamber's unified Democrats — fell short of the two-thirds majority needed to convict Trump on a charge of incitement of insurrection after a five-day trial in the same building ransacked by his followers on January 6, shortly after they heard him deliver a fiery speech. https://www.voanews.com/usa/us-politics/senate-acquits-trump-his-second-impeachment-trial
The acquittal was expected. But what is strange is that 45 Republicans voted that the impeachment in this case was unconstitutional, so it makes no sense that 2 changed and voted to convict.
That being said, the Donald also had a comment or two:
Trump Says MAGA "Has Just Begun"

February 13, 2021

Former President Trump has issued the following statement following his Senate acquittal (emphasis ours):

I want to first thank my team of dedicated lawyers and others for their tireless work upholding justice and defending truth.

My deepest thanks as well to all of the United States Senators and Members of Congress who stood proudly for the Constitution we all revere and for the sacred legal principles at the heart of our country.

Our cherished Constitutional Republic was founded on the impartial rule of law, the indispensable safeguard for our liberties, our rights and our freedoms.

It is a sad commentary on our times that one political party in America is given a free pass to denigrate the rule of law, defame law enforcement, cheer mobs, excuse rioters, and transform justice into a tool of political vengeance, and persecute, blacklist, cancel and suppress all people and viewpoints with whom or which they disagree. I always have, and always will, be a champion for the unwavering rule of law, the heroes of law enforcement, and the right of Americans to peacefully and honorably debate the issues of the day without malice and without hate.

This has been yet another phase of the greatest witch hunt in the history of our Country. No president has ever gone through anything like it, and it continues because our opponents cannot forget the almost 75 million people, the highest number ever for a sitting president, who voted for us just a few short months ago.

I also want to convey my gratitude to the millions of decent, hardworking, law-abiding, God-and-Country loving citizens who have bravely supported these important principles in these very difficult and challenging times.

Our historic, patriotic and beautiful movement to Make America Great Again has only just begun. In the months ahead I have much to share with you, and I look forward to continuing our incredible journey together to achieve American greatness for all of our people. There has never been anything like it!

We have so much work ahead of us, and soon we will emerge with a vision for a bright, radiant, and limitless American future.

Together there is nothing we cannot accomplish.

We remain one People, one family, and one glorious nation under God, and it's our responsibility to preserve this magnificent inheritance for our children and for generations of Americans to come.

May God bless all of you, and may God forever bless the United States of America.

https://www.zerohedge.com/political/mcconnell-says-hell-vote-acquit-trump-democrats-have-votes-call-impeachment-witnesses
Yes, Donald Trump may be back.
But, despite many biblically wrong moves by the Biden-Harris Administration, (e.g. see Joe Biden issues memos funding abortions and forcing LGBTQ+ agenda: says this repairs USA's 'moral leadership' and 'Biden Extends, Expands Deportation Protection for Syrians in US'–a terrorism risk? and AP, Mike Gendron, and DR: The first 12 days of Biden-Harris Administration), Donald Trump is NOT going to save the USA.
Based on various prophetic interpretations, it looks like the USA will NOT last a second full presidential term from now (for details, watch Is the USA prophesied to be destroyed by 2028?).
Which means, even if Donald Trump wins in 2024, the USA will still get taken over.
And actually, if he does get in, that may be enough to provoke the Europeans to fulfill prophecies such as Daniel 11:39 (for details see USA in Prophecy: The Strongest Fortresses).
Some items of possibly related interest may include:
Does God Have a 6,000 Year Plan? What Year Does the 6,000 Years End? Was a 6000 year time allowed for humans to rule followed by a literal thousand year reign of Christ on Earth taught by the early Christians? Does God have 7,000 year plan? What year may the six thousand years of human rule end? When will Jesus return? 2028 or or 2031 or 20xx? There is also a video titled 6000 Years: When will God's Kingdom Come? Here is a link to the article in Spanish: ¿Tiene Dios un plan de 6,000 años?
Might the U.S.A. Be Gone by 2028? Are there prophetic reasons to believe that the USA will not last two complete presidential terms? Yes. There is a tradition attributed to the Hebrew prophet Elijah that humanity had 6,000 years to live before being replaced by God's Kingdom. There are scriptures, writings in the Talmud, early Christian teachings that support this. Also, even certain Hindu writings support it. Here is a link to a related video: Is the USA prophesied to be destroyed by 2028?
The Great Tribulation: What Happens First? What events have happened? What are some events that are now happening? And what events need to happen for the Great Tribulation to start? Here is a link to a related sermon video: Counting Down to the Great Tribulation. Here is a video in the Spanish language: Contando los eventos y el inicio de la Gran Tribulación.
When Will the Great Tribulation Begin? 2021, 2022, or 2023? Can the Great Tribulation begin today? What happens before the Great Tribulation in the "beginning of sorrows"? What happens in the Great Tribulation and the Day of the Lord? Is this the time of the Gentiles? When is the earliest that the Great Tribulation can begin? What is the Day of the Lord? Who are the 144,000? Here is a version of the article in the Spanish language: ¿Puede la Gran Tribulación comenzar en el 2020 o 2021? ¿Es el Tiempo de los Gentiles? A related video is: 2021: The Great Tribulation or the Great Reset? Here is a video in the Spanish language: Es El 2021 el año de La Gran Tribulación o el Grande Reseteo Financiero.
Is a Great Reset Coming? Klaus Schwab of the World Economic Forum has proposed a societal change that has been basically endorsed by the Vatican and many world leaders. Does the Bible prophesy a major reset? Here is a link to a related video: Will there be a "Great Reset"?
The Times of the Gentiles Has there been more than one time of the Gentiles? Are we in it now or in the time of Anglo-America? What will the final time of the Gentiles be like? A related sermon is available and is titled: The Times of the Gentiles.
USA in Prophecy: The Strongest Fortresses Can you point to scriptures, like Daniel 11:39, that point to the USA in the 21st century? This article does. A related sermon is titled: Do these 7 prophesies point to the end of the USA?
Who is the King of the West? Why is there no Final End-Time King of the West in Bible Prophecy? Is the United States the King of the West? Here is a version in the Spanish language: ¿Quién es el Rey del Occidente? ¿Por qué no hay un Rey del Occidente en la profecía del tiempo del fin? A related sermon is also available: The Bible, the USA, and the King of the West.
God's Grace is For All Is being Jewish a hindrance to salvation? What about not being a descendant of Israel? What does the Bible really teach? Here is a link to a related sermon titled Race and Grace; Do you view race as God does?
Is God Calling You? This booklet discusses topics including calling, election, and selection. If God is calling you, how will you respond? Here is a link to a related sermon: Could God be Calling You? A short animation is also available: Is God Calling You?
Christian Repentance Do you know what repentance is? Is it really necessary for salvation? A related sermon is also available titled: Real Christian Repentance.
Just What Do You Mean — Repentance? Do you know what repentance is? Have you truly repented? Repented of what? Herbert W. Armstrong wrote this as a booklet on this important subject.
The Gospel of the Kingdom of God This free online pdf booklet has answers many questions people have about the Gospel of the Kingdom of God and explains why it is the solution to the issues the world is facing. Here are links to three related sermons: The World's False Gospel, The Gospel of the Kingdom: From the New and Old Testaments, and The Kingdom of God is the Solution.
Anglo – America in Prophecy & the Lost Tribes of Israel Are the Americans, Canadians, English, Scottish, Welsh, Australians, Anglo-Saxon (non-Dutch) Southern Africans, and New Zealanders descendants of Joseph? Where are the lost ten-tribes of Israel? Who are the lost tribes of Israel? What will happen to Jerusalem and the Jews in Israel? Will God punish the U.S.A., Canada, United Kingdom, and other Anglo-Saxon nations? Why might God allow them to be punished first? Here is a link to the Spanish version of this article: Anglo-América & las Tribus Perdidas de Israel. Information is also in the YouTube sermons titled Where are the Ten Lost Tribes? Why does it matter? and British are the Covenant People. A short YouTube of prophetic interest may be: Are Chinese threats against Australia for real?
Will the Anglo-Saxon-Celtic Nations be Divided and Have People Taken as Slaves? Will the lands of the United States, United Kingdom, Canada, Australia, and New Zealand be divided? What about Jerusalem? What does Bible prophecy teach? Are there non-biblical prophecies that support this idea? Who will divide those lands? Who will end up with the lands and the people? Here is a link to a video titled Will the USA and other Anglo-nations be Divided and Their People Made Slaves? Here is a related item in the Spanish language ¿Serán divididas las naciones anglosajonas?