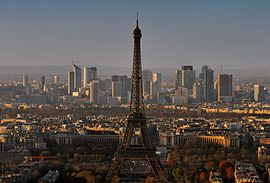 Paris, France

Summit News reported the following:
71% of French Say 'We're Full': No More Immigration

May 19, 2021

A new poll has found that 71 per cent of French people think the country has had enough immigration and that it can't take any more.

The 2021 Fraternity Barometer, a joint effort by the polling firm Ifop and le Labo de la Fraternité, found that almost three quarters of respondents desired to see no more immigration, while a clear majority of 64 per cent said France should no longer accept refugees because of the threat of terrorism.

France has suffered numerous terror attacks carried out by jihadists who were let into the country as "refugees," including the majority of the Paris massacre terrorists.

As we previously highlighted, even so-called "moderate" Michel Barnier, who was the EU's chief Brexit negotiator, is calling for a 3-5 year total ban on all immigration into the EU. … the poll results will make satisfying reading for populist National Rally candidate Marine Le Pen, who is likely to once again face off against Emmanuel Macron in next year's presidential election.

A recent poll found that 60 per cent of military and police officers would vote for Le Pen over Macron in a hypothetical second round run off.

The survey results arrive amidst a national controversy in France prompted by two letters written by both retired and active duty military servicemembers.

They warned that the country was headed towards "civil war" unless President Macron dealt with the "disintegration" of France being caused by Islamists and the "anti-racism" movement.

"If a civil war breaks out, the military will maintain order on its soil because it will be asked to do so," stated the second letter.

A third letter written by 93 former police officers also warned that the country is on the brink of widespread social disorder. https://summit.news/2021/05/19/71-of-french-say-were-full-no-more-immigration/
As far as the "civil war" warning letters, I reported about one of them earlier this month (see Poll: Majority of French Agree With Military Generals That the Country is Heading Towards "Civil War").
71% is a very high percentage.
Obviously the Islamic immigrants in France are not to pleased with this.
What is ahead for the French?
Troubles, economic growth, and disaster.
3 Now as He sat on the Mount of Olives opposite the temple, Peter, James, John, and Andrew asked Him privately, 4 "Tell us, when will these things be? And what will be the sign when all these things will be fulfilled?"

5 And Jesus, answering them, began to say: "Take heed that no one deceives you. 6 For many will come in My name, saying, 'I am He,' and will deceive many. 7 But when you hear of wars and rumors of wars, do not be troubled; for such things must happen, but the end is not yet. 8 For nation will rise against nation, and kingdom against kingdom. And there will be earthquakes in various places, and there will be famines and troubles. These are the beginnings of sorrows. (Mark 13:3-8)
It is likely that troubles for the French will include violent civil unrest, by people like the Islamic migrants.
In December 2010 (see Civil Unrest in Greece (and it was predicted) where I warned:
Civil unrest in Europe is expected. Places such as France, Germany, Spain, Portugal, Italy, and Eastern Europe have potential for this occurrence. In addition to austerity measures, Islamic protests and immigration related issues will also likely be factors in flaming protests and devastating riots. Expanded civil unrest will have major impacts on the euro and on Europe itself.
And on March 18, 2015, I posted:
I expect more civil unrest in Europe. … We may see civil war.  Revelation 13:3-4 supports the idea that the Beast may rise up because of violent civil unrest in Europe. (Thiel B. Austerity protests in Germany–expect more civil unrest in Europe. COGwriter, March 18, 2015)
Why, did I post these things?Because as I had written before, such troubles (cf. Mark 13:8) are consistent with biblical prophecy, etc.
The Bible shows that terrorism is prophesied for descendants of Israel, and that would include the French:
14 'But if you do not obey Me, and do not observe all these commandments, 15 and if you despise My statutes, or if your soul abhors My judgments, so that you do not perform all My commandments, but break My covenant, 16 I also will do this to you: I will even appoint terror over you, wasting disease and fever which shall consume the eyes and cause sorrow of heart. And you shall sow your seed in vain, for your enemies shall eat it. 17 I will set My face against you, and you shall be defeated by your enemies. Those who hate you shall reign over you, and you shall flee when no one pursues you. (Leviticus 26:14-17)

25 The sword shall destroy outside; There shall be terror within (Deuteronomy 32:25)

12 "Cry and wail, son of man; For it will be against My people, Against all the princes of Israel. Terrors including the sword will be against My people; Therefore strike your thigh. (Ezekiel 21:12) 12 Behold, these are the ungodly,Who are always at ease; They increase in riches…19 Oh, how they are brought to desolation, as in a moment! They are utterly consumed with terrors. (Psalms 73:12,19)

25 Because you disdained all my counsel, And would have none of my rebuke, 26 I also will laugh at your calamity; I will mock when your terror comes, 27 When your terror comes like a storm, And your destruction comes like a whirlwind, When distress and anguish come upon you. (Proverbs 1:25-27)

5 Also they are afraid of height, And of terrors in the way (Ecclesiastes 12:5).
More terrorism should be expected in France, as well as other parts of Europe and the USA and Canada, etc.
As France has economic problems and a high Islamic population ("the terror within"?), those factors will likely collide and cause a backlash by the French.
Readers may find it of interest that certain Roman Catholic private prophecies warn of a time of civil war in Europe. Notice that the first one considers this is a major sign:
Desmond Birch (20th century): Civil war breaks out in France and Italy at almost the same time. This is the sign given by many prophets that the Chastisement has begun..(DA. Trial, Tribulation & Triumph: Before During and After Antichrist…The Great King will establish Peace and justice in civil matters on a worldwide basis, and protect the primacy of the Church in spiritual matters. Queenship Publishing Company, Goleta (CA), 1996, p. 554)

The Ecstatic of Tours…The revolution will spread to every French town. Wholesale slaughter will take place. This revolution will last only a few months but it will be frightful; blood will flow everywhere because the malice of the wicked will reach its highest pitch. Victims will be innumerable. Paris will look like a slaughter-house. Persecutions against the Church will be even greater, but it will not last long…Many bishops and priest will be put to death. The archbishop of Paris will be murdered…At this juncture, the French people will turn back to God and implore the Sacred Heart of Jesus and Mary Immaculate…The French people will ask for the good King, he who was chosen by God. He will come, this saviour whom God has spared for France, this King who is not wanted now because he is dear to God's Heart. He will ascend to the throne; he will free the church and reassert the Pope's rights… (Dupont Yves. Catholic Prophecy: The Coming Chastisement. TAN Books, Rockford (IL), 1973, p.37)

Jeanne le Royer (Sister of the Nativity). The storm began in France, and France shall be the first theatre of its ravages after having been its cradle. (Dupont, p.59)
We are getting closer to the time of the end.
The Bible teaches about some reorganizations that will occur in Europe:
12 "The ten horns which you saw are ten kings who have received no kingdom as yet, but they receive authority for one hour as kings with the beast. 13 These are of one mind, and they will give their power and authority to the beast. (Revelation 17:12-13, NKJV throughout unless otherwise specified)
These ten kings have no kingdom, but are to attain one. Thus, this is a type of reorganization in verse 12. Since they give their power to the Beast in verse 13, this is a second reorganization. The "beast" is not shown to have much power prior to Revelation 17:12-13.
According to the late evangelist Dibar Apartian, this involved the French:
"And the ten horns which thou sawest are TEN kings (kingdoms), which have received no kingdom as yet; but receive power as kings one hour with the BEAST" (Rev. 17:12).

France REPRESENTS today one of these 10 Kings. This Union of 10 Kingdoms is already in formation in Europe. In fact, France is at present one of its key members. As this prophecy reveals, this union will receive authority "for one hour" only-that is, a short time-because it is like "iron mixed with miry clay" (Dan. 2:43) …

Ask any average Frenchman what he thinks of his country's union with Germany. He is utterly puzzled at the idea that economic and political barriers are gradually falling between France and Germany. This union for him is unreal but demanded by the circumstances in which France today finds herself. It is a creation of the leaders of the two nations who blindly believe in its destiny. (Apartian D. Prophecy Reveals the Future of France. Plain Truth, August 1963, p. 19)
This will appeal to the French. This Beast leader will be considered a military success (Revelation 13:4). He will also takeover the USA (Daniel 11:39) and then many of the Islamic nations of the Middle East and North Africa (Daniel 11:40-43).
But his power will not last.
The Bible tells that the European Beast power will be destroyed (Revelation 19:19-20) and that massive destruction will one day come to Europe from armies from its north and east (Jeremiah 50:41-43; Daniel 11:44-45; cf. Joel 2:4-10,20).
44 But news from the east and the north shall trouble him; therefore he shall go out with great fury to destroy and annihilate many. 45 And he shall plant the tents of his palace between the seas and the glorious holy mountain; yet he shall come to his end, and no one will help him. (Daniel 11:44-45)

50:41 "Behold, a people shall come from the north,
And a great nation and many kings
Shall be raised up from the ends of the earth.
42 They shall hold the bow and the lance;
They are cruel and shall not show mercy.
Their voice shall roar like the sea;
They shall ride on horses,
Set in array, like a man for the battle,
Against you, O daughter of Babylon.

43 "The king of Babylon has heard the report about them,
And his hands grow feeble;
Anguish has taken hold of him,
Pangs as of a woman in childbirth…"(Jeremiah 50:41-43).

20 "But I will remove far from you the northern army,
And will drive him away into a barren and desolate land,
With his face toward the eastern sea
And his back toward the western sea;
His stench will come up,
And his foul odor will rise,
Because he has done monstrous things." (Joel 2:20)
Presuming they get to Paris, it will not fare well. A short video to consider is Terror: Will Paris be Destroyed?
Until then, we should watch world events as we see elements that fulfill biblical prophecies being unfolded.
Jesus said:
37 And what I say to you, I say to all: Watch!" (Mark 13:37)
Related to Islam's future in Europe, we made the following video on our Bible News Prophecy YouTube channel:
On June 8, 2018, Austria's Chancellor Sebastian Kurz announced the closing of seven Islamic mosques in an effort to reduce "political Islam." In the past several years, at least 6 European nations have banned the wearing of a commonly used garment by Islamic females. Heinz-Christian Strache (later Vice Chancellor of Austria) has declared that Islam has no place in Europe. Did Germany's Angela Merkel call multiculturalism a failure? Will there be deals between the Muslims and the Europeans? Will a European Beast leader rise up after a reorganization that will eliminate nationalism? Will Europe push out Islam? What does Catholic prophecy teach? What does the Bible teach in Daniel and Revelation? Is Islam prophesied to be pushed out of Europe? Dr. Thiel addresses these issues and more.
Here is a link: Will Islam be Pushed Out of Europe?
Attitudes in France are shifting and are helping set the stage for Islam to be pushed out of Europe.
Some items of possibly related interest may include:
The 'Lost Tribe' of Reuben: France in Prophecy? What is the origin of this in France? What is prophesied to happen to them? A two-part sermon related to history and prophecy is available online: The 'Lost Tribe' of Reuben and France and Prophecy.
Who is the King of the North? Is there one? Do biblical and Roman Catholic prophecies for the Great Monarch point to the same leader? Should he be followed? Who will be the King of the North discussed in Daniel 11? Is a nuclear attack prophesied to happen to the English-speaking peoples of the United States, Great Britain, Canada, Australia, and New Zealand? When do the 1335 days, 1290 days, and 1260 days (the time, times, and half a time) of Daniel 12 begin? When does the Bible show that economic collapse will affect the United States? In the Spanish language check out ¿Quién es el Rey del Norte? Here are links to two related videos: The King of the North is Alive: What to Look Out For and The Future King of the North.
Why Terrorism? Is Terrorism Prophesied? What does the Bible teach? Which nations may be affected? Here is a link to a related sermon: Terrorism, Christianity, and Islam.
Is the Future King of the South Rising Up? Some no longer believe there needs to be a future King of the South. Might Egypt, Islam, Iran, Arabs, or Ethiopia be involved? Might this King be called the Mahdi or Caliph? What does the Bible say? A YouTube video of related interest may be: The Future King of the South is Rising. Here is a version the Spanish language: ¿Esta Surgiendo el Rey Del Sur?
The Arab and Islamic World In the Bible, History, and Prophecy The Bible discusses the origins of the Arab world and discusses the Middle East in prophecy. What is ahead for the Middle East and those who follow Islam? What about the Imam Mahdi? What lies ahead for Turkey, Iran, and the other non-Arabic Muslims? An item of possibly related interest in the Spanish language would be: Líderes iraníes condenan la hipocresía de Occidente y declaran que ahora es tiempo para prepararse para el Armagedón, la guerra, y el Imán Mahdi.
The Prophesied 'Islamic' Confederation Where is an Islamic caliphate prophesied? Will one happen? Should you be concerned about it? A related video is Will an Arabic Calphiphate Destroy the West?
The Great Monarch: Biblical and Catholic Prophecies Is the 'Great Monarch' of Catholic prophecies endorsed or condemned by the Bible? Two sermons of related interest are also available: Great Monarch: Messiah or False Christ? and Great Monarch in 50+ Beast Prophecies.
Europa, the Beast, and Revelation Where did Europe get its name? What might Europe have to do with the Book of Revelation? What about "the Beast"? Is an emerging European power "the daughter of Babylon"? What is ahead for Europe? Here is a link to a video titled: Can You Prove that the Beast to Come is European?
European Technology and the Beast of Revelation Will the coming European Beast power would use and develop technology that will result in the taking over of the USA and its Anglo-Saxon allies? Is this possible? What does the Bible teach? Here is a related YouTube video: Military Technology and the Beast of Revelation.
Four Horsemen of the Apocalypse What do each of the four horseman of the Apocalypse represent? Have they began their ride? Did Jesus discuss the any of this? Might their rides coincide with the "beginning of sorrows? Do they start their ride prior to the Great Tribulation? Did Nostradamus or any other 'private prophets' write predictions that may mislead people so that they may not understand the truth of one or more of the four horseman? There is also a related YouTube video titled The Four Horsemen of the Apocalypse.
World War III: Steps in Progress Are there surprising actions going on now that are leading to WWIII? Might a nuclear attack be expected? Does the Bible promise protection to all or only some Christians? How can you be part of those that will be protected? A related video would be Is World War III About to Begin? Can You Escape?
Does God Have a 6,000 Year Plan? What Year Does the 6,000 Years End? Was a 6000 year time allowed for humans to rule followed by a literal thousand year reign of Christ on Earth taught by the early Christians? Does God have 7,000 year plan? What year may the six thousand years of human rule end? When will Jesus return? 2028 or 20xx? There is also a video titled 6000 Years: When will God's Kingdom Come? Here is a link to the article in Spanish: ¿Tiene Dios un plan de 6,000 años?
Germany's Assyrian Roots Throughout History Are the Germanic peoples descended from Asshur of the Bible? Have there been real Christians in Germanic history? What about the "Holy Roman Empire"? There is also a You-Tube video sermon on this titled Germany's Biblical Origins.
Germany in Biblical and Catholic Prophecy Does Assyria in the Bible equate to an end time power inhabiting the area of the old Roman Empire? What does prophecy say Germany will do and what does it say will happen to most of the German people?
Can You Prove that the Beast to Come is European? The Book of Revelation tells of a beast power that will rise up. Some think that this must be Russia or could be Islamic, while others say that this power is European. The Book of Daniel tells of the rise of an end time King of the North that some think must be referring to a Russian leader, while others say that this power is European. How can you be sure? This YouTube video has all the scriptural proofs that you should need to prove that this power must be a European one.