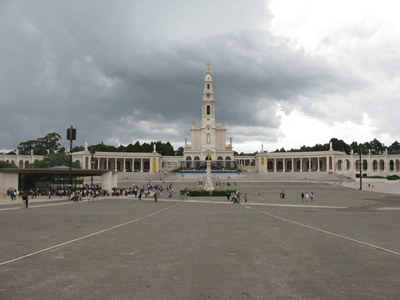 Fatima Sanctuary, Portugal (Photo by Joyce Thiel, May 2011)
The official Marian shrine in Wisconsin is becoming very popular, as is a non-Vatican-officially-accepted one in Bosnia:
Virgin Mary shrine in Wis. surprised by soaring attendance

USA Today – July 6, 2011 By Alex Morrell, Green Bay Press-Gazette

The Catholic Diocese of Green Bay expected the small shrine here to generate interest after it was officially recognized as a site where the Virgin Mary had appeared — the first and only such site in the United States.

Diocesan officials just weren't prepared for the intense response and flood of visitors to the Our Lady of Good Help shrine…According to Catholic Online, the shrine is one of only 12 recognized sites around the world, joining the ranks of shrines in Lourdes, France; Guadalupe, Mexico; and Fatima, Portugal.

http://www.usatoday.com/news/religion/2011-07-06-good-help-virgin-mary-shrine-wisconsin_n.htm

Reported Visions of Virgin Mary Draw Hordes of Pilgrims to Bosnian Village

ABC News – July 5, 2011
This interest is not a surprise to me.
While at Fatima, Portugal, I was surprised by the size of its entire sanctuary complex, but not the vast amount of visitors which came.  (The above photo gives the impression that there were not a lot of visitors, but that was mainly because it had been raining which caused most to clear out of the sanctuary when that was taken.)
My wife Joyce and I saw thousands of visitors in Fatima on May 29, 2011.  And that is much less than the amount who tend to show up there on May 13 and October 13 (the days of the first and last appearance of the apparition) each year.  Millions visit Fatima, Portugal each year, with the vast majority of them believing that Mary actually appeared there (though the apparition in Fatima never actually identified herself as Mary).
As far as Bosnia, perhaps I should report that the "Lady" in Medjugorje, Bosnia allegedly said:
All religions are equal before God…In God there are no divisions or religions; it is you in the world that created divisions…God directs all denominations as a king directs his subjects…It is you who are divided on the earth.  The Muslims and the Orthodox, like the Catholics, are equal before my Son and before me, for you are all my children. (Ferrara C.  Setting the Record Straight, p. 20)
Catholics may be interested to realize that "Msgr. Pavao Zanic," the former Bishop of Mostar (which includes Medjugorje), in 1990 wrote:
For even a short description of the falsehoods about Medjugorje we would need 200 pages, but for now all I will give is this short summary…Marina B…brought a priest from Panama to my office in August 1989.  His name: Presbitero Rodriguez Teofilo, pastor of Nuestra Senora de Lourdes…  The priest asked me for the reasons why I do not believe in the "apparitions".  I told him that I have at least 20 reasons not to believe…He asked me to please tell him at least one reason.  I told him about the case of the ex-franciscan priest Ivica Vego.  Due to his disobedience, by an order of the Holy father the Pope, he was thrown out of his franciscan religious order OFM by his General, dispensed from his vows and suspended "a divinis".  He did not obey this order and he continued to celebrate Mass, distribute the sacraments and pass the time with his mistress.  It is unpleasant to write about this, yet it is necessary in order to see who Our Lady is speaking of.  According to the diary of Vicka and the statements of the "seers", Our Lady mentioned 13 times that he is innocent and that the bishop is wrong.  When his mistress, sister Leopolda, a nun, became pregnant, both of them left Medjugorje and the religious life and began to live together near Medjugorje where their child was born.  Now they have two children.  His prayerbook is still sold in Medjugorje and beyond in hundreds of thousands of copies. (Zanic P.  The Truth About Medjugorje.  1990.   http://www.newjerusalem.com/bishop-truth.htm  viewed 05/16/2011)
Yet, many still believe that Mary was seen there.  In 1985, Cardinal Ratzinger "banned pilgrimages to the site, but this has been widely ignored.  Instead the seers have grown wealthy as a result of their claims" (Caldwell S. Pope finally launches crackdown on world's largest illicit Catholic shrine and suspends 'dubious' priest.  London Daily Mail, September 8, 2008.   http://www.dailymail.co.uk/news/worldnews/article-1052230/Pope-finally-launches-crackdown-worlds-largest-illicit-Catholic-shrine-suspends-dubious-priest.html#ixzz1MHPiM32z viewed 05/13/11).  The banning was ignored because many believe that because some of the messages seem fine (and the devil is subtle enough not to make all the messages clearly false), some are curious, and others believe that various claimed healings at Medjugorje are proof that it is valid anyway.  But obviously Mary of the Bible would not have made false statements justifying a fornicating priest nor would she have endorsed the other religions as was claimed in Medjugorje.  Yet, the situation at Medjugorje is currently under investigation by the Vatican, and hopefully it will conclude that whatever is happening there is not from God nor Mary of the Bible.
It is my position that it is very likely that apparitions that people will claim will be Mary, the mother of Jesus, will be part of the signs and lying wonders that are mentioned in 2 Thessalonians 2:9 and Matthew 24:24 (cf. Isaiah 47).
The increased interest in Marian apparitions because of Fatima, Wisconsin, and even Medjugorje, are helping set the stage for this.
An article of possibly related interest may be:
Mary, the Mother of Jesus and the Apparitions Do you know much about Mary? Are the apparitions real? What happened at Fatima? What might they mean for the rise of the ecumenical religion of Antichrist? Are Protestants moving towards Mary? How do the Orthodox view Mary? How might Mary view her adorers?