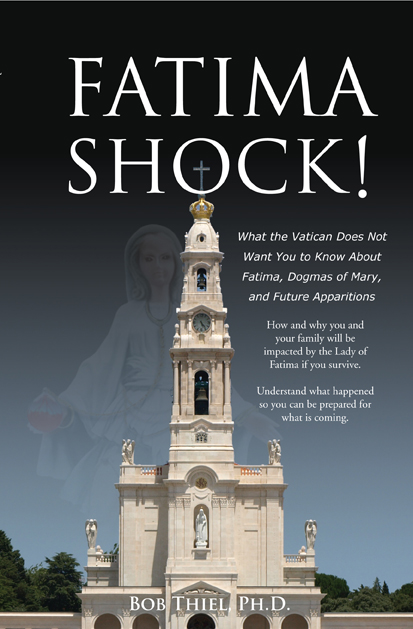 It is time to announce my just released book, Fatima Shock!
For those unfamiliar with Fatima, Fatima was the name of Muhammad's favorite daughter.  Muslims often name their daughters Fatima (similar to Catholics naming their daughters Mary).  A small town in Portugal was renamed Fatima after a Muslim princess named Fatima converted to Roman Catholicism.  In 1917, three children claimed to have a series of monthly visits from an apparition who finally identified herself with the rosary.  The apparition is known as "Our Lady of Fatima" or "the Virgin of Fatima" (she never referred to herself as Mary).  Hollywood did a movie about this decades ago called The Miracle of Our Lady of Fatima (which I have seen).
The apparition, which many in the Catholic world believe was Jesus' mother Mary, gave various "secrets," several of which were not written down until after they had apparently been fulfilled.  Many believe that Fatima holds the key to the future and that the forces of evil can be stopped if various portions of the messages of Fatima are heeded.
Notice two press releases that I recently received from the people behind the publication called the Fatima Crusader:
"Fatima: Your Last Chance!"
Offers Alternative
To One-World Dictatorship

Our Lady told us there is one way to world peace, and it is not through a worldwide political power. It is through obeying Her request: The Pope and the bishops must consecrate Russia to Her Immaculate Heart…

The solution to all our ills is that simple. And there is no other solution…The forces of the New World Order are gathering. We must oppose them NOW with Our Lady of Fatima's one and only solution!  (Our Lady's Electronic Press Release: May 4, 2012)

"Fatima: Your Last Chance!"
Says It All:
There Is No Other Option!…

There is only one hope, only one Person who can help the Church now: Our Lady of Fatima…We are going to Rome from May 13-18 for "Fatima: Your Last Chance!" to remind the Pope and the bishops they have but one option to save the Church and the world.  (Our Lady's Electronic Press Release: May 8, 2012)
But Fatima is not any one's last chance–Jesus is, but those who misunderstand various aspects of Fatima do not realize the real solution.
Multiple millions of people consider Fatima a very big deal.  The Fatima sanctuary is one of the biggest tourist draws for the entire nation of Portugal–millions visit it each year (my wife Joyce and I visited it last May while researching Fatima Shock!).
There is still a lot of confusion about Fatima and its messages according to a report out several hours ago from the Catholic News Service (Rocca F.  Half a century later, still answering Fatima questions.  Catholic News Service, May 10. 2012. http://www.catholicnews.com/data/stories/cns/1201913.htm).
Yet, if those who follow Fatima knew the truth about what was originally reported in Fatima, the truth about several of the messages (and messengers), etc. they would realize that Fatima is part of the problem, not the solution.
Although most non-Catholics do not think that Fatima can affect them, if they live long enough this century, they will find that this is not the case.  Fatima is a much bigger deal than people realize and seems to tie into a variety of prophecies throughout the Bible (e.g. Isaiah 47, Matthew 24, 2 Thessalonians 2, Revelation 17).
The truth about Fatima, the messages of Fatima, the "secrets" of Fatima, the Vatican's views of Fatima, and how Fatima is expected to impact the future are all covered in detail in Fatima Shock!
Fatima Shock! also, and mainly from Catholic writings, exposes where the "rosary" came from, where many "dogmas of Mary" came from, and explains how Satan has used apparitions in the past to interfere with the Church of God and to promote non-biblical "Christianity."  Fatima Shock! also explains what appears to be Satan's plans for apparitions in the future based upon biblical and other prophecies.
Fatima Shock! is available at www.fatimashock.com; Amazon.com (http://www.amazon.com/Fatima-Shock-Truth-Future-Apparitions/dp/0984087176/ref=sr_1_3?ie=UTF8&qid=1336687621&sr=8-3); AmazonKindle (http://www.amazon.com/Fatima-Shock-ebook/dp/B0081APXBC/ref=sr_1_1?ie=UTF8&qid=1336687621&sr=8-1); Barnes & Noble Nook (http://www.barnesandnoble.com/w/fatima-shock-bob-thiel/1110624059?ean=2940014385640)
Learn the real truth.  Read Fatima Shock!