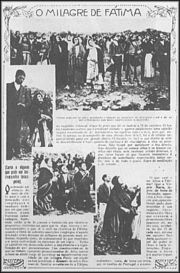 A photostatic copy of a page from Ilustração Portugueza, October 29, 1917
Today the pro-Roman Catholic news agency Zenit reported the following:
New Book Presents Fatima to Another Generation

Father Apostoli Discusses the Significance of Mary's Apparitions
By Traci Osuna

YONKERS, New York, MAY 31, 2011 (Zenit.org).- There's a lot to the story of Fatima that many Catholics don't know, according to the author of a new book on the 1917 miracle.

In "Fatima For Today: The Urgent Marian Message of Hope," (Ignatius Press), Father Andrew Apostoli brings the story of Fatima to a new generation.

"[Catholics] are learning a lot that they didn't know about Fatima," says Father Apostoli told ZENIT. "A lot of good Catholics probably have a general idea … the rough lines of it and some details, but there's a lot to the story."
I would not call this book truly "new" as I pre-ordered it and got my copy in December 2010.  But since I was in Fatima on Sunday, let me state that Priest Apostoli doesn't really know the truth about Fatima.
A careful review of even early Catholic investigative writings document that what was seen there in 1917 was not possibly Mary of the Bible.  And the official position of the Vatican is that no one needs to believe the "messages" purportedly given there.
Anyway, I plan to write more about this in the future as I am currently working on a book related to Fatima.  But for now, let me say that in the 58 icon shops I checked outSunday (May 29, 2011) that sold statues allegedly of "Mary", that not one of the statues I saw looked like what the children who claimed to see the "Lady of the apparitions" initially described the "Lady" as looking like.
For more information on Fatima and other mystic Catholic claims, please check out the following:
Mary, the Mother of Jesus and the Apparitions Do you know much about Mary? Are the apparitions real? What happened at Fatima? What might they mean for the rise of the ecumenical religion of Antichrist? Are Protestants moving towards Mary? How do the Orthodox view Mary? How might Mary view her adorers?
Catholic Prophecies: Do They Mirror, Highlight, or Contradict Biblical Prophecies? People of all faiths may be surprised to see what various Roman and Orthodox Catholic prophets have been predicting as many of their predictions will be looked to in the 21st century.