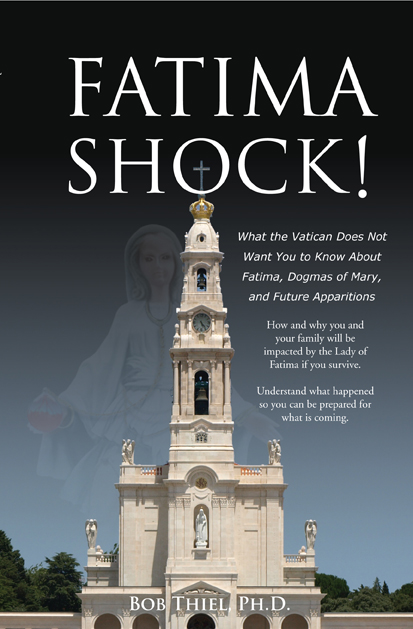 Today is called "Our Lady of Fatima Day" on certain Catholic calendars.  95 years ago, on May 13, 1917, three children, aged 10, 9, & 7 saw a small lady in a short skirt who appeared in the Portuguese hamlet called Fatima.  Millions will be observing today in honor of that "Mother" (cf. Revelation 17:5).
The oldest child (Lucia) who saw the apparition in Fatima, Portugal thought that what she saw could be the devil, as did her parish priest.  A series of monthly visits beginning May 13, 1917 continued culminating in something commonly referred to as "the miracle of the sun" on October 13, 1917.
The apparition, which many in the Catholic world believe was Jesus' mother Mary, gave various "secrets," several of which were not written down until after they had apparently been fulfilled. Many actually believe that Fatima holds the key to the future and that the forces of evil can be stopped if various portions of the messages of Fatima are heeded.
Most people who believe in Fatima have no idea that what appeared did not at all resemble images that Catholics associate with Mary.  What appeared was a small feminine-appearing apparition wearing a short-skirt.  The "Lady of Fatima" more resembled various images of the goddess Diana than images that most associate with Mary.  The messages, when properly understood, do not square with Mary nor the God of the Bible.
Yet, if those who follow Fatima knew the truth about what was originally reported in Fatima, the truth about several of the messages (and messengers), etc. they would realize that Fatima is part of the problem, not the solution.  Despite the truth, notice what some followers and promoters of Fatima are now saying:
All Roads Now Lead To Fatima     May 11, 2012…
Where am I going? What is my ultimate destination?

From May 13 to May 18, "Fatima: Your Last Chance!" will convene in Rome to respectfully pose this question to Pope Benedict: Holy Father, where are you going?…

Our Lady of Fatima has made a direct request of the Holy Father and the bishops: Consecrate Russia to My Immaculate Heart.

So far, as author and conference speaker John Salza will discuss, 7 Popes have failed to lead the bishops in performing this simple act of consecration that comes with a wonderful promise: the conversion of Russia and world peace.

This seems incredible, incomprehensible, but it is nevertheless true.

Our Lady sealed the authenticity of Fatima with a spectacular public miracle — The Miracle of the Sun — witnessed by 70,000 people. And two of the three Fatima seers have been beatified.

If the Church accepts the authenticity of Fatima and the holiness of its messengers, as it does, why balk at the consecration? This is a question that "Fatima: Your Last Chance!" will ask.

Our Lady's Apostolate is prepared to ask this question plainly and forcefully because we love the Pope and the Church. We want the Holy Father and the bishops to save themselves and us by doing the only thing still in their power: Obey Our Lady.
The "Lady of Fatima" will not bring world peace, but seems to be a factor in the emergence of the final Beast power.  The type of "peace" brought forth will not be a type endorsed by the God of the Bible.
Although most non-Catholics do not think that Fatima can affect them, if they live long enough this century, they will find that this is not the case. Fatima is a much bigger deal than people realize and seems to tie in with a variety of prophecies throughout the Bible (e.g. Isaiah 47, Matthew 24, 2 Thessalonians 2, Revelation 17).
Did you know that apparitions that some believe to be Mary were partially responsible for how the Greco-Roman churches gained influence over the Church of God in Asia Minor in the third century and Europe in the Middle Ages?  Did you know that basically because of apparitions in Mexico and Russia that nearly all of Latin America became "Catholic" and Russia became accepting of icons?  Did you know that Satan has many in Asia and elsewhere looking to female apparitions and apparently has had his seers prophesy that one or more future "Marian" apparitions will help the Beast/Great Monarch rise up?  Did you know any of this?
Jesus warned that nearly everyone would be deceived in the end (Matthew 24:24) and apparitions seem likely to be part of why. There are over 1,000 scriptural and other references in Fatima Shock! intended to help you, your friends, and your loved ones be able to deal with the coming additional deception.
Fatima Shock! also, and mainly from Catholic writings, exposes where the "rosary" came from, where many "dogmas of Mary" came from, and explains how Satan has used "Marian" apparitions in the past to interfere with the Church of God and to promote non-biblical "Christianity." Fatima Shock! also explains what appears to be Satan's plans for apparitions in the future based upon biblical and other prophecies.
Fatima Shock! is available at www.fatimashock.com; Amazon.com (http://www.amazon.com/Fatima-Shock-Truth-Future-Apparitions/dp/0984087176/ref=sr_1_3?ie=UTF8&qid=1336687621&sr=8-3); AmazonKindle (http://www.amazon.com/Fatima-Shock-ebook/dp/B0081APXBC/ref=sr_1_1?ie=UTF8&qid=1336687621&sr=8-1); Barnes & Noble Nook (http://www.barnesandnoble.com/w/fatima-shock-bob-thiel/1110624059?ean=2940014385640)
Follow the Apostle Peter's admonition, "always be ready to give a defense to everyone who asks" (1 Peter 3:15).  Learn the real truth to be able to answer those who point to non-biblical signs and wonders.  Read Fatima Shock!