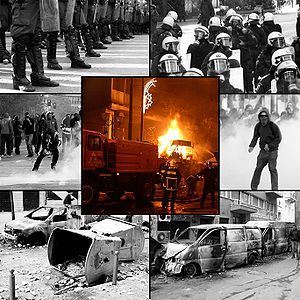 The Greeks are protesting again:
February 20, 2013

ATHENS — Tens of thousands of Greeks took to the streets of Athens on Wednesday as part of a nationwide strike against austerity that confined ferries to ports, shut schools and left hospitals with only emergency staff.Beating drums, blowing whistles and chanting "Robbers, robbers!," more than 60,000 people angry at wage cuts and rising taxes marched to parliament in the biggest protest for months over austerity policies required by international lenders.In the capital, riot police fired tear gas at hooded youths hurling rocks and bottles during a demonstration, mostly of students and pensioners, which ended peacefully.

The two biggest labor unions brought much of crisis-hit Greece to a standstill with a 24-hour protest strike against policies which they say deepen the hardship of people struggling through the country's worst peacetime downturn.

Representing 2.5-million workers, the unions have gone on strike repeatedly since a debt crisis erupted in late 2009, testing the government's will to impose the painful conditions of an international bailout in the face of growing public anger.

"Today's strike is a new effort to get rid of the bailout deal and those who take advantage of the people and bring only misery," said Ilias Iliopoulos, secretary general of the ADEDY public sector union, which organized the walkout along with private sector union GSEE.

"A social explosion is very near," he told Reuters from a rally in a central Athens square as police helicopters clattered overhead.

The eight-month-old coalition of Prime Minister Antonis Samaras has been eager to show it will implement reforms promised to the European Union and International Monetary Fund, which have bailed Athens out twice with over 200 billion euros.

The government has cracked down on striking workers, invoking emergency laws twice this year to get seamen and subway workers back to work after week-long walkouts that paralyzed public transport in Athens and led to food shortages on islands.

Demonstrations were also held in Greece's second-biggest city, Thessaloniki, and on the island of Crete where dozens of protesters hit the streets waving black flags.

In Athens, crowds began to disperse from Syntagma Square outside parliament, but minor clashes between riot police and hooded youths moved to side streets.

Labor unrest has picked up in recent weeks. A visit by French President Francois Hollande in Athens on Tuesday went largely unreported because Greek journalists were on strike.

"The period of virtual euphoria is over," said opposition leader Alexis Tsipras, whose Syriza party has regained a narrow opinion poll lead over the governing conservatives.

"Those who thought Samaras would renegotiate the terms of the bailout … are now faced with the harsh reality of unpaid bills, closed shops and lost jobs," he said.  http://www.voanews.com/content/reuters-thousands-protest-greek-austerity-measures-in-greece-amid-union-strikes/1607298.html
For several years, I warned that there may be civil unrest in Europe in general as well as in Greece in particular–and some of this has happened.  More severe social unrest and rioting is expected.
What is starting to happen now in Greece is consistent with what I expected last June when the new government took control (notice 6/18/12 COGwriter news post headline: Greece Potentially Has New Government, But Protests Loom on Horizon).
The Bible itself teaches that Europe will have strong and weak parts (Daniel 2:41-43), reorganize (Revelation 17:12-13), and support a particular religion (Revelation 13).  Europe already has strong and weak parts and keeps discussing a variety of forms of reorganization.
The USA itself is not immune to to civil unrest, and when it has a series of physical crises hit it and its debt hampers it, massive rioting is likely there as well. Unrest in the USA is discussed in my book Barack Obama, Prophecy, and the Destruction of the United States-Second Edition for Second Obama Term.
We are likely to riots in many places. Jesus foretold a time of "troubles" (Mark 13:8) and civil unrest and protests are consistent with that.
Some articles of possibly related interest may include:
Who is the King of the North? Is there one? Do biblical and Roman Catholic prophecies point to the same leader? Should he be followed? Who will be the King of the North discussed in Daniel 11? Is a nuclear attack prophesied to happen to the English-speaking peoples of the United States, Great Britain, Canada, Australia, and New Zealand? When do the 1335 days, 1290 days, and 1260 days (the time, times, and half a time) of Daniel 12 begin? When does the Bible show that economic collapse will affect the United States?
Europa, the Beast, and Revelation Where did Europe get its name? What might Europe have to do with the Book of Revelation? What about "the Beast"? Is an emerging European power "the daughter of Babylon"? What is ahead for Europe?
Barack Obama, Prophecy, and the Destruction of the United States-Second Edition for Second Obama Term This is a 160 page book for people truly interested in prophecies related to Barack Obama and the United States, including learning about many that have already been fulfilled (which the book documents in detail) and those that will be fulfilled in the future. It also has a chapter about a Republican choice. This book is available to order at www.barackobamaprophecy.com. The physical book can also be purchased at Amazon from the following link: Barack Obama, Prophecy, and the Destruction of the United States: Is Barack Obama Fulfilling Biblical, Islamic Catholic, Kenyan, and other America-Related Prophecies? What About Republican Leaders? Second Edition for Second Obama Term.
Barack Obama, Prophecy, and the Destruction of the United States-Second Term-Amazon Kindle edition. This electronic version is available for only US$2.99. And you do not need an actual Kindle device to read it. Why? Amazon will allow you to download it to almost any device: Please click HERE to download one of Amazon s Free Reader Apps. After you go to for your free Kindle reader and then go to Barack Obama, Prophecy, and the Destruction of the United States-Second Term-Amazon Kindle edition.