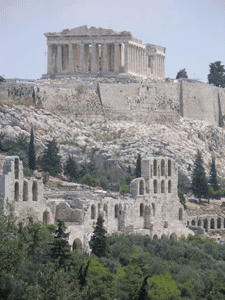 Parthenon on the Acropolis in Athens
Greece is having a major fire that may affect its government:
Hundreds flee wildfire torching homes near Athens

Sun Aug 23, 2009
By Angeliki Koutantou and Dina Kyriakidou

ATHENS, Aug 23 (Reuters) – Wildfires torched scores of homes and thousands of acres of forest in the outskirts of Athens on Sunday and sent hundreds of residents fleeing their homes, authorities said.

Thick plumes of smoke hung over the Acropolis as the flames, fanned by strong winds, raged unchecked for a second day, testing state resources and the conservative government, which is facing a snap election by March.

Hundreds abandoned their homes overnight as the blaze reached residential communities around Athens. Many were frantically trying to stop the flames from reaching houses with garden hoses and tree branches.

"We are facing a great ordeal," Prime Minister Costas Karamanlis said. "The fire department is making a superhuman effort."

The handling of the fire, the biggest since Greece's worst wildfires in living memory killed 65 people in a 10-day inferno in 2007, will be crucial for his political fate as snap polls loom. His government, which is clinging to a one-seat majority in parliament, trails the socialist opposition in opinion polls.

Greek authorities declared a state of emergency in eastern Attica on Saturday where the flames seared about 30,000 acres (12,140 hectares) of forest, farming fields and olive groves.

"More than 120,000 stremmas (30,000 acres) have been burnt. It is an ecological disaster," Athens prefect Yiannis Sgouros told Greek television.

Greece has asked its allies for help and five fire fighting aircraft from Italy, France and Cyprus were expected to arrive on Sunday, fire officials said. http://www.reuters.com/article/latestCrisis/idUSLN250275
There are frequent wildfires also in California.  They destroy property and make breathing more difficult.
How this particular fire will ultimately affect Greece is unclear.  But it may affect the political leadership there.  Historically, Greece has played a role in many biblical prophecies.
Alexander the Great's Greco-Macedonian empire was one of the beasts in some of Daniel's writings (Daniel 7:6; 8:1-8).
Part of the Greek empire was the first King of the North in Daniel 11 (specifically vss. 4-5).
Antiochus Epiphanes, who somewhat fulfilled many verses related to the King of the North (Daniel 11:21-31–even though some of those verses will be fulfilled again by another per Jesus' statement in Matthew 24:15), was also Greek. 

In the end-time Greece is expected to be supportive of the final King of the North–a European leader that will promote an ecumenical world religion that will pretend to be Christian.
Two articles of possibly related interest may include:
Who is the King of the North? Is there one? Do biblical and Roman Catholic prophecies point to the same leader? Should he be followed? Who will be the King of the North discussed in Daniel 11? Is a nuclear attack prophesied to happen to the English-speaking peoples of the United States, Great Britain, Canada, Australia, and New Zealand? When do the 1335 days, 1290 days, and 1260 days (the time, times, and half a time) of Daniel 12 begin? When does the Bible show that economic collapse will affect the United States?
Europa, the Beast, and Revelation Where did Europe get its name? What might Europe have to do with the Book of Revelation? What about "the Beast"? What is ahead for Europe?