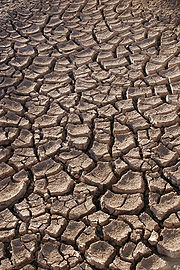 In today's TW News & Prophecy, the Living Church of God reported:
The United States is experiencing disasters of biblical "extremes." Vast areas of the country are suffering drought, flooding, or wildfires.Much of the central U.S. is under water, as the Mississippi and Missouri Rivers and many of their tributaries overflow their banks and levees. Levees have been blown up and flood gates opened, flooding tens of thousands of acres of farmland and hundreds of homes, in order to spare larger towns down river. All this prompted one Army Corps of Engineers spokesman to comment, "There's never been a flood of this magnitude on the upper Mississippi" (USA Today, May 5, 2011). If record snow packs in the Rocky and Cascade Mountains melt too rapidly there could be additional devastating flooding.

Meanwhile, 52 "major" wildfires are burning across the U.S. So far in 2011, more than 32,000 wildfires of various sizes have burned more than 7,000 square miles–an area larger than the state of Connecticut. This is about three million acres more than last year.

Forecasts call for continued major drought conditions in western Texas, Kansas and Oklahoma, and eastern New Mexico, Colorado, and Arizona (Reuters, June 22, 2011).

Long ago God warned the rebellious Israelites, "I also withheld rain from you, when there were still three months to the harvest. I made it rain on one city, I withheld rain from another city. One part was rained upon, and where it did not rain the part withered… Yet you have not returned to Me" (Amos 4:7-8).

Regrettably, this is exactly what is happening today, in a nation that is turning away from God and His ways!
Famines and troubles, of course,  are biblically expected:
7…And there will be famines, pestilences, and earthquakes in various places. 8 All these are the beginning of sorrows. (Matthew 24:7-8).

8 For nation will rise against nation, and kingdom against kingdom. And there will be earthquakes in various places, and there will be famines and troubles. These are the beginnings of sorrows. (Mark 13:8)
The weather situations around the world affect many things, including the economy, people's lives, and the food supply. The fact that so much is happening now, may be consistent with certain end time prophecies. But the end is not yet.
LCG has long had a booklet of possibly related interest titled "Who Controls the Weather? " that is available for those interested in more on the weather and Bible prophecy.
Now there is good news as ultimately, God's kingdom will come and those issues will be gone (Revelation 7:16). But a terrible hour of trial is coming first (Revelation 3:10).
Some articles of possibly related interest may include:
The Gospel of the Kingdom of God was the Emphasis of Jesus and the Early Church Did you know that? Do you even know what the gospel of the kingdom is all about? True religion should be based upon the true gospel.
Can the Great Tribulation Begin in 2010, 2011, or 2012? Can the Great Tribulation begin today? What happens before in the "beginning of sorrows"? What happens in the Great Tribulation and the Day of the Lord? When is the earliest that the Great Tribulation can begin? What is the Day of the Lord?
Physical Preparation Scriptures for Christians. We all know the Bible prophecies famines. Should we do something?
Anglo – America in Prophecy & the Lost Tribes of Israel Are the Americans, Canadians, British, Scottish, Welsh, Australians, Anglo-Southern Africans, and New Zealanders descendants of Joseph? Where are the lost ten-tribes of Israel? Who are the lost tribes of Israel? What will happen to the Jews in Israel? Will God punish the U.S.A., Canada, United Kingdom, and other Anglo nations? Why might God allow them to be punished first?
Will the Anglo-Nations be Divided and Have People Taken as Slaves? Will the lands of the United States, United Kingdom, Canada, Australia, and New Zealand be divided? What does Bible prophecy teach? Are there non-biblical prophecies that support this idea? Who will divide those lands? Who will end up with the lands and the people?