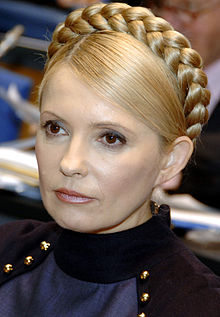 Yulia Tymoshenko 
The Parliament of Ukraine took some steps today:
February 22, 2014

Ukraine's parliament has voted to dismiss President Viktor Yanukovych and called for early presidential elections on May 25, but the embattled leader says he will not resign or leave Ukraine.

Parliament on Saturday also voted to free jailed opposition leader Yulia Tymoshenko, a former Ukrainian prime minister. She was later released from a prison hospital in the northeastern city of Kharkiv where she was serving time for abuse of power.

Tymoshenko, a long-time adversary of Yanukovych, said after her release that the "dictatorship has fallen."

She later delivered a fiery speech to thousands of supporters in Kyiv's Independence Square, the epicenter of Ukraine's protest movement, telling the crowd, "You are heroes, you are the best of Ukraine," before breaking down in tears.

She also honored the protesters who have lost their lives.

In an interview Saturday with a Ukrainian television station, Yanukovych said he intends to remain in office. He called the violent uprising against him an example of a "coup," and compared it to the Nazis' rise to power in Germany in the 1930s.

The president, who is in Kharkiv near the Russian border, also said all decisions made by Ukraine's parliament Saturday were illegal.  http://www.voanews.com/content/interfax-ukraines-yanukovych-says-he-will-not-resign/1857091.html
22 February 2014

KIEV, Ukraine — Abandoned by his own guards and reviled across the Ukrainian capital but still determined to recover his shredded authority, President Viktor F. Yanukovych fled Kiev on Saturday to denounce what he called a violent coup, as his official residence, his vast, colonnaded office complex and other once impregnable centers of power fell without a fight to throngs of joyous citizens stunned by their triumph.

While Mr. Yanukovych's nemesis, former Prime Minister Yulia V. Tymoshenko, was released from a penitentiary hospital, Parliament found the president unable to fulfill his duties and exercised its constitutional powers to set an election for May 25 to select his replacement. But with both Mr. Yanukovych and his Russian patrons speaking of a "coup" carried out by "bandits" and "hooligans," it was far from clear that the day's lightning-quick events would be the last act in a struggle that has not just convulsed Ukraine but expanded into an East-West confrontation reminiscent of the Cold War.  http://www.nytimes.com/2014/02/23/world/europe/ukraine.html
There are two regions and two clashing attitudes in Ukraine. As I have written before, perhaps there could be a split there. Both Russia and the European Union are truly interested in Ukraine. Ukrainians, like many others, are impressed with economic interests. The EU is more economically impressive than Russia or Russia's agreed to Eurasian Union is.
The protestors mainly want to be part of the European Union and President Yanukovych wants to move closer to Russia.  President Yanukovych's basic position seems to be that he tried to negotiate an economic package with the European Union, which balked, but did get a commitment for a major aid package from Russia.  But as Russia does not Ukraine to be part of the European Union, President Yanukovych complied and stopped making certain efforts in that direction.  Those in Kiev and elsewhere protested, though many in eastern Ukraine are more comfortable with Russia than the Europeans.  Religiously, many in the east are Russian Orthodox (and many there speak Russian as there primary language as well).
President Yanukovych's other position is that he was properly elected and should not be forced out of office by Parliament or any protestors.  However, if more of his security forces defect to the side of the opposition (and many have), his position may become irrelevant, unless the Ukrainian and/or Russian military decides to support him. That could happen.
Unless Ukraine actually splits, Bible prophecy seems to indicate that it would support the European Union for a time, but that ultimately Ukraine will side with Russia (see Russia and Ukraine: Origins and Prophesied Future).
Some items of possibly related interest may include:
Europa, the Beast, and Revelation Where did Europe get its name? What might Europe have to do with the Book of Revelation? What about "the Beast"? Is an emerging European power "the daughter of Babylon"? What is ahead for Europe? Here is a link to a video titled: Can You Prove that the Beast to Come is European?
Who is the King of the North? Is there one? Do biblical and Roman Catholic prophecies for the Great Monarch point to the same leader? Should he be followed? Who will be the King of the North discussed in Daniel 11? Is a nuclear attack prophesied to happen to the English-speaking peoples of the United States, Great Britain, Canada, Australia, and New Zealand? When do the 1335 days, 1290 days, and 1260 days (the time, times, and half a time) of Daniel 12 begin? When does the Bible show that economic collapse will affect the United States? In the Spanish language check out ¿Quién es el Rey del Norte? Here is a link to a video titled: The Future King of the North.
WTO/TTIP and the Babylonian Beast Will international trade agreements like WTO/TTIP/CETA lead to the fulfillment of end time prophecies concerning the Babylonian Beast power that the Book of Revelation warns against? What does the Bible teach? A related video would be WTO Trade Deal and the Rise of the European Beast Power.
The Eurasian Union, the Kings of the East, and Bible Prophecy Is there a Eurasian union that will be formed? Is one being formed right now? Are any leaders working on that in the 21st century? Does the Bible teach that there will be a Eurasian union? If some type of Eurasian union is formed, who might it benefit and who will it destroy? A related video would be Is The Eurasian Union Rising?
Is Russia the King of the North? Some claim it is. But what does the Bible teach? Here is a link to a video, also titled Is Russia the King of the North?
Russia and Ukraine: Origins and Prophesied Future Where do the Russians come from? What about those in the Ukraine? What is prophesied for Russia and its allies? What will they do to the Europeans that supported the Beast in the end?
Some Similarities and Differences Between the Eastern Orthodox Church and the Continuing Church of God Both groups claim to be the original church, but both groups have differing ways to claim it. Both groups have some amazing similarities and some major differences. Do you know what they are?