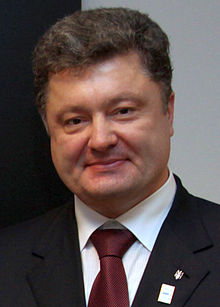 Ukrainian President Petro Poroshenko

The head of the Kiev government is warning about a potential large scale attack:
June 4, 2015

Ukrainian President Petro Poroshenko has warned that there are 9,000 Russian troops in the rebel-controlled area of eastern Ukraine and warned the country must be on alert for a large-scale attack.

Poroshenko made the comment in a speech to parliament Thursday, saying there exists a "colossal" threat of major new attacks.

He also defended his decision not to introduce martial law.

"We cherish democracy because we believe in it," said he, adding that "an authoritarian Ukraine would lose the world's support and forfeit a key difference that distinguishes it from Russia, thus becoming its prey."

He spoke a day after a major battle flared outside a main separatist stronghold in eastern Ukraine.

Each side blamed the other for Wednesday's violence, which Ukrainian officials say began near Donetsk when about 1,000 pro-Russian rebel fighters, backed by artillery and tanks, launched a pre-dawn attack just west of the city.

Death toll climbs

Rebels reported 15 civilian and combatant deaths, while authorities in Kyiv said at least three government troops were killed and 30 others wounded in the town of Marinka.

Ukraine Prime Minister Arseniy Yatsenyuk accused Russia of inciting the new fighting, saying Moscow had ordered militants to begin military operations near Donetsk, some 50 kilometers from the Russian border.

The Kremlin insists it has no direct role in the crisis, and has repeatedly denied supporting the rebellion with arms and fighters.

Wednesday's fighting comes one week after a Reuters correspondent published an eyewitness account of a huge Russian military buildup near the Ukraine border. The report cited troops and hundreds of pieces of weaponry marshaled on Russian soil at a makeshift firing range 50 kilometers from the Ukraine border.

It also said many Russian vehicles had been stripped of identifying markings and that many of the troops had removed insignias from their fatigues.

NATO on Russian support

The report was widely seen as corroborating ongoing NATO claims that Russia – despite a February cease-fire – continues to provide hardware and personnel support to rebels.

NATO chief Jens Stoltenberg, speaking in May, described the Russian support as "a steady flow of heavy equipment, tanks, artillery, ammunition, air defense systems and lots of training" to separatists.

The February truce agreement, mediated by Germany and Russia, required the warring sides to withdraw heavy weapons from the line of contact. But international observers say those provisions have been routinely violated. http://www.voanews.com/content/poroshenko-ukraine-faces-colossal-threat-in-east/2807065.html
There is no doubt that Russia wants Ukraine. Russia is trying to figure out the best way to do that and currently it seems to believe that covert operations are still in its best interest.
As far as NATO goes, it was basically formed to attempt to contain the old Soviet Union.  Now, NATO (a treaty between much of Europe and the USA and Canada) is basically there to attempt to contain Russia, despite occasional claims related to it to the contrary.
Europe itself is heavily involved with trying to resolve the situation between Russia and Ukraine. Europe wants Ukraine as part of its European Union, while it also wants to get along with Russia and lift sanctions. The USA wants Ukraine part of the European Union and tends to favor more sanctions.
But many simply do not realize how bad Vladimir Putin wants Ukraine.
Here are some comments from a writer on BBC about the West and Russia:
June 4, 2015

Why do America and Europe persist with the notion that they can work in partnership with Vladimir Putin? Never mind that he is the only leader since former Iraqi President Saddam Hussein to annex part of another sovereign country, he now appears to be the only major world statesman who has openly supported Fifa president Sepp Blatter.

Western politicians ought by now to have realised that this is not a man with whom they can do meaningful business.

Yet Kremlin misdemeanour after Kremlin misdemeanour, the West keeps returning to the table.

As if US Secretary of State John Kerry, for example, hadn't been humiliated enough by being made to wait for two hours before his last meeting with Mr Putin in Russia, he was back again two weeks ago in Sochi.

The purpose of that trip is a worrying mystery:

either he was trying to negotiate a solution with his Russian counterpart, Sergei Lavrov – and there is no solution that meets the interests of both Russia and Ukraine
or he was putting the final touches to a shabby deal already done giving Russia what it wants

We don't yet know which.  …

Appeasing the Russian leadership hasn't worked in the past, and it won't work now. It's wrong in principle, and it's bad policy to boot.

If the West does (or already has done) some kind of backroom deal with Russia, allowing it a Cold War sphere of influence around its borders, this condemns millions of people in several supposedly independent former Soviet countries to a return to domination by Moscow.

But even this would bring little improvement in East-West relations.

The Russian leadership believes these countries are theirs.

The West would not get so much as a thank you – just like the last time this terrible mistake was made, in Yalta during World War Two.  http://www.bbc.com/news/world-europe-32967628
Russia does not just want Ukraine.  It wants Georgia, Moldova, the Balkans, and as much of the former Soviet Union as possible.  Either directly, or at least indirectly as part of its Eurasian Union.
Yet the Bible shows, that for a time, there will be cooperation between Russia and Europe (cf. Revelation 13:4,8), but that will end. The Bible also shows that the time will come when the "kings of the Medes" will get together and that ultimately that Russia will turn against Europe (Daniel 11:44-45; Jeremiah 50:41-43; 51:11; Isaiah 13:1-8). Medes were in the areas of Russia and Ukraine. For now, we are seeing some 'sorting out' in that part of the world. Those in all the Ukrainian region need our prayers–the situation is tense, and more are likely to die.
Neither the European Union nor the Eurasian Union are the real answer, though they could, for a time, end direct conflict. What is needed is the return of Jesus Christ and the establishment of the kingdom of God.
Some items of possibly related interest may include:
The Eurasian Union, the Kings of the East, and Bible Prophecy Is there a Eurasian union that will be formed? Is one being formed right now? Are any leaders working on that in the 21st century? Does the Bible teach that there will be a Eurasian union? If some type of Eurasian union is formed, who might it benefit and who will it destroy? A related video would be Is The Eurasian Union Rising?
Russia and Ukraine: Origins and Prophesied Future Where do the Russians come from? What about those in the Ukraine? What is prophesied for Russia and its allies? What will they do to the Europeans that supported the Beast in the end? You can also watch the short video Ukraine in Prophecy?
Russia in the Bible and in Prophecy Is Russia mentioned in the Bible? It it is where is it? Is there any evidence of a people moving to the land that the Russians now occupy? What do Catholic and other prophecies say about Russia? What does the Bible teach? How are Protestants often in error on this? Is there more in biblical prophecy for Russia than war? Does God have a plan to save Russia and her allies? Does Russia have a history involving Sabbath keepers? Does scripture tie Russia in with Armageddon? Will Russia help defeat the end time Babylonian power? What did the Apostle John, and the prophets Isaiah, Jeremiah, and Daniel, write about Russia? This is a sermon-length video.
Ezekiel 38: For Russia & Iran in Our Day? Is Ezekiel 38 about to be fufilled? A related video is available titled Ezekiel 38: For Russia, Ukraine, & Iran Now?
Bible News Prophecy July-Sept. 2014: The Coming Eurasian Union Here is the latest magazine from the Continuing Church of God. The cover of which shows Vladimir Putin and features an article about the coming Eurasian Union.
Europa, the Beast, and Revelation Where did Europe get its name? What might Europe have to do with the Book of Revelation? What about "the Beast"? Is an emerging European power "the daughter of Babylon"? What is ahead for Europe? Here is a link to a video titled: Can You Prove that the Beast to Come is European?
European Technology and the Beast of Revelation Will the coming European Beast power would use and develop technology that will result in the taking over of the USA and its Anglo-Saxon allies? Is this possible? What does the Bible teach? Here is a related YouTube video: Military Technology and the Beast of Revelation.
Must the Ten Kings of Revelation 17:12 Rule over Ten Currently Existing Nations? Some claim that these passages refer to a gathering of 10 currently existing nations together, while one group teaches that this is referring to 11 nations getting together. Is that what Revelation 17:12-13 refers to? The ramifications of misunderstanding this are enormous.
World War III: Steps in Progress Are there surprising actions going on now that are leading to WWIII? Might a nuclear attack be expected? Does the Bible promise protection to all or only some Christians? How can you be part of those that will be protected? A related video would be Is World War III About to Begin? Can You Escape?
WTO/TTIP and the Babylonian Beast Will international trade agreements like WTO/TTIP/CETA lead to the fulfillment of end time prophecies concerning the Babylonian Beast power that the Book of Revelation warns against? What does the Bible teach? A related video would be WTO Trade Deal and the Rise of the European Beast Power.
Is Russia the King of the North? Some claim it is. But what does the Bible teach? Here is a link to a video, also titled Is Russia the King of the North?
Who is the King of the North? Is there one? Do biblical and Roman Catholic prophecies for the Great Monarch point to the same leader? Should he be followed? Who will be the King of the North discussed in Daniel 11? Is a nuclear attack prophesied to happen to the English-speaking peoples of the United States, Great Britain, Canada, Australia, and New Zealand? When do the 1335 days, 1290 days, and 1260 days (the time, times, and half a time) of Daniel 12 begin? When does the Bible show that economic collapse will affect the United States? In the Spanish language check out ¿Quién es el Rey del Norte? Here is a link to a video titled: The Future King of the North.
Germany's Assyrian Roots Throughout History Are the Germanic peoples descended from Asshur of the Bible? Have there been real Christians in Germanic history? What about the "Holy Roman Empire"? There is also a You-Tube video sermon on this titled Germany's Biblical Origins.
Germany in Biblical and Catholic Prophecy Does Assyria in the Bible equate to an end time power inhabiting the area of the old Roman Empire? What does prophecy say Germany will do and what does it say will happen to most of the German people? Here is a link to a video Is the USA Pushing Germany to Start WWIII?
Anglo – America in Prophecy & the Lost Tribes of Israel Are the Americans, Canadians, English, Scottish, Welsh, Australians, Anglo-Saxon (non-Dutch) Southern Africans, and New Zealanders descendants of Joseph? Where are the lost ten-tribes of Israel? Who are the lost tribes of Israel? What will happen to Jerusalem and the Jews in Israel? Will God punish the U.S.A., Canada, United Kingdom, and other Anglo-Saxon nations? Why might God allow them to be punished first? Here is a link to the Spanish version of this article: Anglo-América & las Tribus Perdidas de Israel. Information is also in the YouTube sermons titled Where are the Ten Lost Tribes? Why does it matter? and British are the Covenant People. A short YouTube of prophetic interest may be Barack Obama and the State of the Apocalypse.
Barack Obama, Prophecy, and the Destruction of the United States-Second Edition for Second Obama Term This is a 160 page book for people truly interested in prophecies related to Barack Obama and the United States, including learning about many that have already been fulfilled (which the book documents in detail) and those that will be fulfilled in the future. It also has a chapter about a Republican choice. This book is available to order at www.barackobamaprophecy.com. The physical book can also be purchased at Amazon from the following link: Barack Obama, Prophecy, and the Destruction of the United States: Is Barack Obama Fulfilling Biblical, Islamic Catholic, Kenyan, and other America-Related Prophecies? What About Republican Leaders? Second Edition for Second Obama Term.
Barack Obama, Prophecy, and the Destruction of the United States-Second Term-Amazon Kindle edition. This electronic version is available for only US$2.99. And you do not need an actual Kindle device to read it. Why? Amazon will allow you to download it to almost any device: Please click HERE to download one of Amazon s Free Reader Apps. After you go to for your free Kindle reader and then go to Barack Obama, Prophecy, and the Destruction of the United States-Second Term-Amazon Kindle edition.